Biomedical engineering is the intersection of engineering science and design with medical science and the health care industry. If you choose to major in biomedical engineering, you will attain an interdisciplinary education that combines studies in science, math and engineering design with a focus on engineering concepts and systems as they related to the life sciences.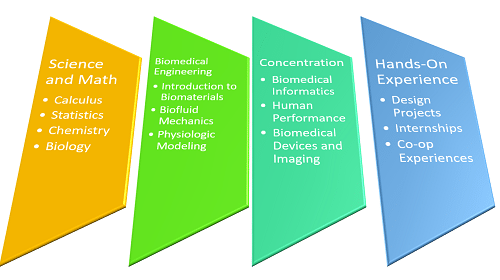 Science and Math for Biomedical Engineering Majors
As the title of the degree path suggests, science courses – particularly courses in the life and natural sciences – are an integral part of a biomedical engineering program. Coursework in other sciences and in college-level mathematics are also crucial.
The Accreditation Board for Engineering and Technology (ABET) requires that students in a biomedical engineering degree program take courses in statistics, calculus and differential equations. Beyond math, basic courses in chemistry and physics are mandatory, as well. Biology courses for biomedical engineering students might include laboratory biology coursework, human physiology, foundations of biological inquiry and biology of the eukaryotic cell.
In order to meet ABET accreditation requirements, bachelor's degree programs in any branch of engineering must include 32 credits of study in math and basic science courses. 
Biomedical Engineering Coursework
What other requirements does ABET impose on accredited programs? Graduates of biomedical engineering programs should be able to achieve several learning outcomes. They should know how to measure living systems and how to interpret the data they collect. By the time they complete their bachelor's degrees, aspiring biomedical engineers should be able to solve issues in the field of biomedical engineering by designing and developing components, devices, systems and processes. Their designs must take into account interactions between the living systems of human biology and physiology and the non-living systems of engineering technology.
To attain these skills, students take general engineering courses as well as biomedical engineering studies. Early coursework might include introduction to engineering, fundamentals of engineering design and circuit analysis as well as introductory courses in biomaterials, bioelectricity and biomechanics. Other required courses might include biofluid mechanics, physiological systems, bioinstrumentation, physiologic modeling and biomedical instrumentation and measurements.
ABET has a different set of requirements for biological engineering programs than for biomedical or bioengineering programs.
Specialized Coursework in Biomedical Engineering
There are many areas of specialization within this interdisciplinary field of engineering. In fact, the Biomedical Engineering Society recognizes more than a dozen focus areas biomedical engineers can go into over the course of their careers. Because the branch of engineering is so broad, many engineering schools allow aspiring biomedical engineers to pursue a concentration in the aspects of biomedical engineering that most interest them. Just a few of the concentration options that might be available to you in a biomedical engineering degree program are biomedical informatics, neuroengineering, biomaterials and tissue engineering, biomedical devices and imaging and biomechanics and human performance engineering.
The concentration you choose will determine what classes you take with your technical electives and free electives. A student who chooses a neuroengineering concentration will likely take courses in physiological control systems, biology of neuron function, sensation and perception, neural signals and neural aspects of posture and locomotion. A biomedical devices and imaging concentration is more likely to include studies in biomedical imaging systems, biomedical signals, experimental design in biomedical research and biomedical instrumentation.
Together, your general engineering, biomedical engineering and specialized concentration classes will add up to at least one and a half years of engineering science and design coursework.
Experience in Biomedical Engineering
Employers of biomedical engineers value experience, even when hiring for entry-level positions. Fortunately, biomedical engineering students have plenty of opportunity to gain this work experience even before they graduate. For one thing, the curriculum at an ABET-accredited program typically includes plenty of hands-on engineering design work, according to the United States Bureau of Labor Statistics (BLS). You will also have to complete a mandatory major design experience in your field of study. Design projects in biomedical engineering can be intriguing, with examples being new ways of diagnosing diseases, preventing infections and developing high-tech surgical tools.
Biomedical engineering students can also gain work experience in real-life work settings through internships and co-op experiences. Though both of these programs are intended to train students in their field during their education, there are significant differences. An internship, which can be a part-time or full-time position and which may be paid or unpaid, typically lasts just one term. Cooperative programs are full-time paid positions that may last for a year or more, often alternating with semesters of full-time study.
Co-op and internship opportunities for biomedical engineering students often take place in hospitals, pharmaceutical companies and medical device manufacturing companies, according to the BLS.
Additional Resources
What degree do I need to be a Biomedical Engineer?
What Is the Difference Between a Chemical Engineering Degree and a Biomedical Engineering Degree?
Can I Earn an Engineering Degree and Still Get a Well-Rounded Education?
Top 10 Highest Paying Engineering Careers
Top 50 Degrees For Changing The World