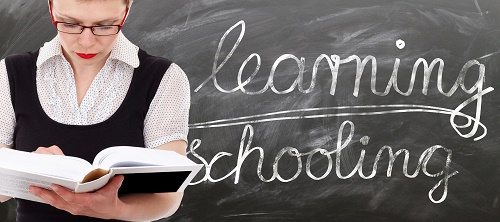 IMAGE SOURCE: Pixabay, public domain
Across the country, educators are required to have a bachelor's degree before they can get jobs teaching children at the kindergarten through 12th grade level. However, this bachelor's degree doesn't always have to be in the field of education or teaching preparation. Students can take multiple paths into a career in education. Some start out as education majors, while others earn a degree in another field and pursue an alternate route to attaining a teaching certification.
A Teacher's Education
The typical entrance to a teaching career includes an undergraduate degree program in education or in teaching. Students who intend to teach at the lower grade levels usually pursue a degree in elementary education. Teachers at the high school level might study secondary education. Aspiring middle school teachers need to check with their state's certification requirements, since some states classify them as elementary school teachers while others categorize them as middle school or even secondary school educators.
A teacher preparation program trains aspiring teachers to manage classrooms and educate students effectively. In addition to learning in the classroom, college students pursuing an education degree will complete a student teaching field experience to gain hands-on knowledge of how to manage a classroom and work with students.
At the elementary, middle and high school levels, many states require that aspiring teachers major in a content area as well as education, according to the United States Bureau of Labor Statistics (BLS). In these states, aspiring teachers would double major in a subject like science, mathematics, history or English as well as education.
Alternate Certification Paths for Aspiring Teachers
What happens if you decide you want to be a teacher after earning your bachelor's degree, or near the end of your undergraduate education in another subject? Fortunately, every state allows aspiring teachers to complete an alternate path to attaining their teaching certification, according to the BLS.
Because they already have a bachelor's degree in an unrelated subject, these candidates need only the teacher preparation education, rather than an entirely new degree. Different states have different requirements for completing alternative route certification requirements. In some states, candidates begin teaching under the guidance of a certified teacher while they take education courses and earn their full teaching certification once they finish their teacher preparation studies. Other states may require aspiring teachers to complete their coursework in education before they start working in the classroom. These alternative route certification paths sometimes lead to a master's degree in teaching, the BLS reported.
The education courses aspiring educators take when they pursue an alternate certification route cover much of the same coursework as students would take when majoring in education. They will learn about teaching methods, effective education practices, classroom management methods, child and adolescent development and how to educate students at different age levels and abilities. They also complete a field experience requirement.
Majoring in education right off the bat may be the more traditional and direct route to a teaching career, but it's not the only way to achieve your professional goals. Many educators now take the alternative route to teaching certification, and having a different educational background can help you bring new and varied insights to the field.