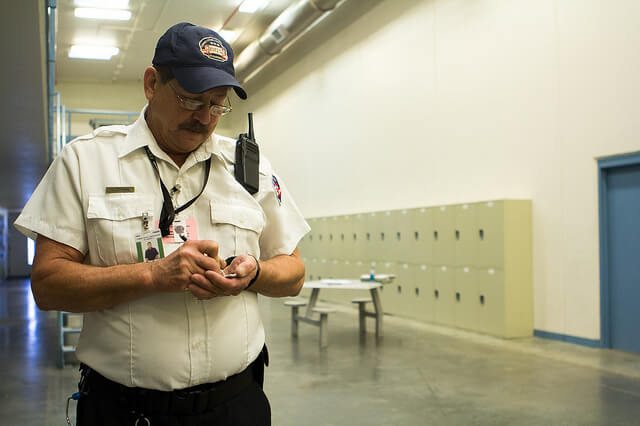 image source
When a person has paid their debt to society, we still expect them to need monitoring to keep on the straight and narrow, at least until they adjust into life outside of prison. Someone has to keep an eye on former offenders to make sure they do not offend again, or that they do not fall into the same bad company, dangerous habits, or addictions that led to the crime in the first place. That person is a Probational Officer.
Probational Officers and Correctional Treatment Specialists are similar positions, the latter works within prisons, the former outside. They both require a 4 year degree as well as the ability to pass oral, written, and psychological exams.
Education and Training
Obtaining a bachelor's degree in one of the following will be helpful:
social work
criminal justice
behavioral sciences
Some employees will require a master's degree for advanced positions, but for most entry-level positions an undergraduate degree should suffice.
In addition to a degree most Probational Officers must finish a one year government training program in the state they wish to serve. Some PO's specialize in certain casework, such as domestic violence offenders; they would then complete their training within the specialization so that they are better prepared to help offenders of that charge.
Licenses
Most agencies require applicants to fall within the following parameters before being hired and licensed:
must be 21 or over
no older than age 37 (Federal requirement)
valid driver's license
candidates must have a record free of felony convictions
candidate must submit to drug test
Job Expectations
Probation Officers work with criminal offenders; some of these folks may be dangerous. Some PO's carry a firearm or pepper spray. This is not a TV show: this is real life, so know what you're getting into!
However, in real life you may be just checking in with your offenders briefly and spending the bulk of your time filling out extensive paperwork. The courts will require your presence from time to time, but most often all that paperwork will be the heavy load of your job. This can be a stressful work environment as you will have hard deadlines and you will be on-call if anything comes up with one of your offenders.
Outlook
According to the U.S. Bureau of Labor Statistics, not a whole lot of growth projected from 2012 to 2022. However, these are national statistics. The employment growth will vary depending on the state and local governments. Probation and Parole Officers will be always be needed to supervise individuals released from our prison system. We do not yet trust computers to take over that responsibility!
There should be a steady amount of job openings every year as older PO's opt to retire and make way for those just entering the field. Because this is a state or city government position, many people serve their 20 years and look into second career options. This will keep job opportunities plentiful for qualifying applicants.
According to the BLS, in May of 2012 the annual wage for a Probation Officer was $48,190. Not too bad for a bachelor's degree career however, keep in mind the demands are high for PO's, and extensive travel and paperwork will contribute to more hours of work.