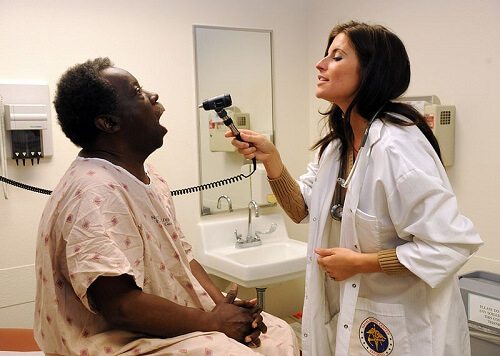 IMAGE SOURCE: Wikimedia Commons, public domain
Overview
Nurse practitioners are advanced nursing professionals who work either with a physician or healthcare team or independently to treat patients. These professionals, also called advanced practice registered nurses (APRNs), have an advanced education and often a good deal of clinical experience working with patients. Like doctors, nurse practitioners can serve as primary care providers or healthcare specialists. Like other nursing professionals, they note patients' medical histories, administer treatments, operate medical equipment and carry out tests. Nurse practitioners are qualified to perform duties outside the range of registered nurses, including examining patients, diagnosing medical conditions and writing prescriptions for medications or laboratory tests. In some states, they can work independently, only consulting physicians when necessary.
Education
To become a nurse practitioner, candidates will ultimately need to earn an advanced degree. First, though, they must complete all requirements necessary to become a registered nurse (R.N.), including earning a diploma, associate's or bachelor's degree in nursing and attaining a nursing license in their state of employment. A bachelor's degree in nursing is the preferred qualification for admittance into a graduate-level nursing program, but some programs are designed to bridge the academic gap between the diploma or associate's degree and the master's degree level of study. Alternative options to earning a master's degree in nursing include pursuing a Doctor of Nursing Practice (DNP) or a Ph.D. in nursing.
In a master's degree in nursing program, students with a registered nurse background will study advanced material in nursing. Typical subjects of study include:
Advanced pathophysiology
Advanced pharmacology
Acute disease management
Chronic disease management
Diagnostic reasoning
Epidemiology (the study of medical conditions)
Health policy
Health promotion
Laboratory/radiography diagnostics
Physical assessment
Statistics and research methods
Master of Science in Nursing students will also complete clinical rotations. They may choose a specialty, such as family practice, mental health, women's health, pediatrics or geriatrics, as well. In any specialty, students must also learn important skills like thinking critically and acting as a leader.
Once aspiring nurse practitioners complete a Master of Science in Nursing program, they are not yet qualified to work as an APRN. First, they must attain a license from the state in which they intend to practice as a nurse practitioner, complete a certification examination, and seek certification from the professional organization relevant to their specialty. Only then are they free to use the title "nurse practitioner."
Employment
Nurse practitioners earn a median salary of $89,960 per year, well above the $65,470 median salary of registered nurses, according to the United States Bureau of Labor Statistics (BLS). They also enjoy a positive job outlook, with job opportunities expected to grow much faster for this profession than for the average of all careers. Over a decade, the BLS predicts just 11 percent job growth for all occupations and 19 percent job growth for registered nurses. Nurse practitioners, however, can expect to see job opportunities increase by 34 percent over the same span of time. Factors such as a shortage of physicians in some areas and more widespread access to healthcare services will create a demand for these nursing professionals, with their advanced education and ability to work independently.
Conclusion
Nurse practitioners are nurses with advanced educations and clinical experience. They are already important parts of the healthcare field, and the demand for these healthcare professionals is rapidly increasing.