Maybe you can do one hundred burpees without breaking a sweat or run a half marathon before breakfast. If your commitment to fitness extends beyond your own achievements—to encompass helping other people reach their fitness goals—then you may be a prime candidate for a career as a personal trainer.
You've already found your passion. The question now is how to become a personal trainer.
What Do Personal Trainers Do?
Personal trainers are in the business of fitness training work. Many fitness trainers and instructors are hired by gym managers to run large group exercise classes. Personal fitness trainers typically work with individual clients instead. A personal trainer may also train small groups of clients.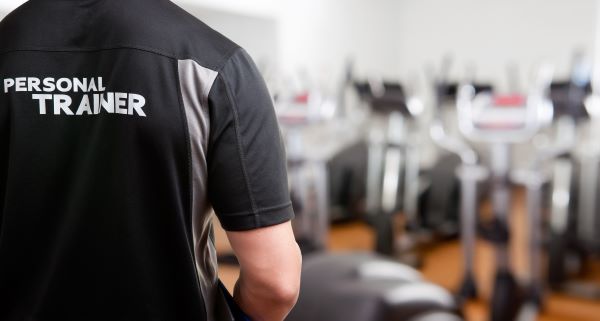 Careers With Personal Trainer Degrees
Personal trainers help their clients meet their unique fitness goals. Whether their client base envisions weight loss or building muscle as their desired result, the personal trainer puts together a game plan for achieving those goals.
Personal trainers work in settings such as:
Gyms
Country clubs
Schools
Resorts
Hospitals
Private studios
Some personal trainers travel to meet clients in their homes.
Gyms and other types of fitness and recreational sports centers are prime work environments for personal trainers. Fitness and recreational sports centers employ more than half of fitness trainers and instructors, according to the BLS.
Many personal trainers – nearly one in five – are self-employed. They run their own business, which means they get to set their own schedule. However, they're also the ones responsible for bringing in new clients to keep their business afloat.
Whatever their work environment, personal trainers should be prepared to develop fitness programs that get results for clients of all ages. However, some personal trainers specialize in areas like youth fitness, senior fitness and women's fitness.
By creating exercise plans and demonstrating the correct way to perform the exercises and movements that are most effective for a given outcome, experienced personal trainers help clients reach their fitness goals.
Personal Trainer Qualification
It takes more than being in good shape to have the skills for effective personal training. To be of service to their clients, professional personal trainers need plenty of knowledge of the science of exercise. A personal trainer also needs the skills to guide and instruct clients in small group settings or personal meetings. These skill sets include strong listening and communication skills, customer service skills, problem-solving skills and motivation skills. Effective personal trainers find a balance between pushing clients to make progress toward their goals and being approachable, understanding and realistic about the changes their clients can make.
Personal training may be a flexible career, but it's not an easy career. Given all the skills and knowledge you need to become a successful personal trainer, a college degree or another type of formal education can be valuable for aspiring personal trainers.
Which Level of Personal Training Degrees Should You Pursue?
First things first: do you need a degree to be a personal trainer? Are there other ways to prepare for a personal trainer career besides a formal college education?
Technically, you don't necessarily need a college degree to be a personal trainer. Unlike many other careers related to health and healthcare, personal trainer roles generally don't require a state-issued license. That means there is likely no state agency that sets a minimum level of college education to attain and ensures that personal trainers meet such requirements.
RELATED: Do I Need a College Degree to Become a Personal Trainer?
There are, however, certifying agencies in the field of personal training and the job requirements of specific employers. Through the combination of theoretical and practical knowledge you gain in a relevant degree program, you can build a foundation that helps prepare you for a personal trainer certification exam. Employers hiring for personal training roles may require or give preference to candidates who have a formal college degree or certificate. If you want to become a self-employed personal trainer, it might take formal educational credentials as well as work experience in the health and fitness industry to impress prospective clients.
You don't need a college education to become personal trainer, but you should consider whether advancing your education beyond a high school diploma could be valuable for your personal training career.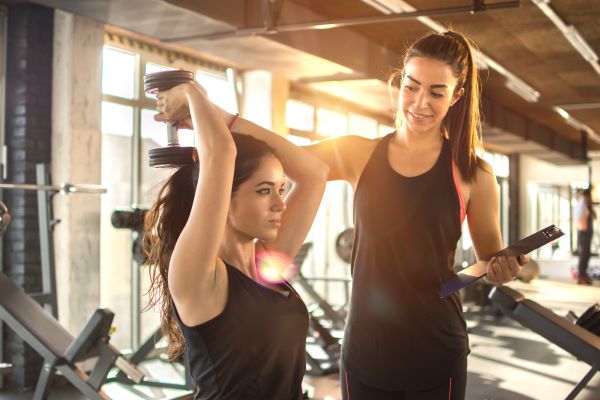 The Benefits of Having a Personal Trainer Degree
Why would you go through the time, hassle and cost of earning a college degree if you don't need one? Just because personal trainers can get started in this field without a degree doesn't mean that having a college education isn't beneficial. The Bureau of Labor Statistics (BLS) reported that some employers would rather hire personal trainers with associate's or bachelor's degrees in related areas of study instead of choosing fitness workers with only a high school diploma or a certificate.
Generally, the higher your level of education, the greater your income potential as a personal trainer, according to Salary.com. The difference between earning potential between different levels of education can amount to thousands of dollars per year.
The Bureau of Labor Statistics reported a significant difference in earning potential among the lowest- and highest-earning fitness trainers and instructors. The median salary for the fitness trainer occupation was $45,380 as of 2022. The best-paid fitness trainers made more than $80,330 per year. Fitness and personal trainers with the lowest earnings reported less than $21,640 annually. Having a degree or formal certificate can help move you into a higher income range. A degree can prove your worth to many employers and, if you run your own business, to potential clients.
There are some career paths that are only open to an experienced trainer with extensive knowledge of the field – and a degree that proves their expertise. For example, if you want to develop exercise programs for elite professional athletes, you're going to need to stand out from the competition and prove your value. You will need a degree, along with extensive experience, impressive results and personal trainer certification from a respected organization accredited by the National Commission for Certifying Agencies, to land one of these coveted personal trainer jobs.
The Level of Education Needed to Become Personal Trainer
The majority of industry experts surveyed – 57%, as of 2023 – reported a post-secondary certificate as the minimum level of education new hires need for the job, according to O*NET. Most personal trainers have some formal education after finishing high school, but this education does not have to take the form of a full degree program.
The next most commonly recommended level of education for exercise trainers is a high school diploma. Among industry experts surveyed, 14% said a high school diploma was the level of education required to become a personal trainer. One in 10 of the experts surveyed said an associate's degree is the required education for exercise trainers.
Although they don't make the top three most common levels of education reported for the field, bachelor's degrees and even master's degrees also exist in majors related to personal training.
Personal Training Certification
Aside from an education, what do you need to become a personal trainer? Namely, personal trainer education requirements at most gyms, fitness centers and health facilities include some form of personal trainer certification.
Although a college degree is optional, professional certification is generally considered an entry-level requirement for a personal trainer. Having some form of personal training certification is most often a non-negotiable qualification for acquiring a job in exercise training.
Numerous professional organizations in the fitness industry offer personal training certifications. Some of the most popular professional organizations that award certification to personal trainers include:
The National Academy of Sports Medicine (NASM)
The American Council on Exercise (ACE)
The National Council on Strength and Fitness (NCSF)
The National Federation of Professional Trainers (NFPT)
The American College of Sports Medicine (ACSM)
The National Strength and Conditioning Association (NSCA)
With so many different organizations offering personal training certification programs, it can be difficult for someone who wants to become a personal trainer to know if a program is legitimate. Ideally, an aspiring personal trainer should choose a program accredited by a respected organization such as the National Commission for Certifying Agencies (NCCA). The certified personal trainer certification programs listed above are NCCA-accredited programs.
The National Board of Fitness Examiners (NBFE) also approves personal trainer certification programs through its affiliation process. Programs that have attained full affiliate status from the NBFE include the Academy of Applied Personal Training Education (AAPTE), the International Personal Trainer Academy (IPTA) and the National Council for Certified Personal Trainers (NCCPT).
Becoming a personal trainer doesn't mean that you need certification from all of these organizations. A certified personal trainer is a fitness professional who has credentials from at least one of the health and fitness organizations in the field. Once you become a certified personal trainer, your professional goals as you advance in your new career might include acquiring additional fitness certifications. You can become a certified personal trainer in a variety of areas, including personal training, strength training, fitness training and group fitness instruction.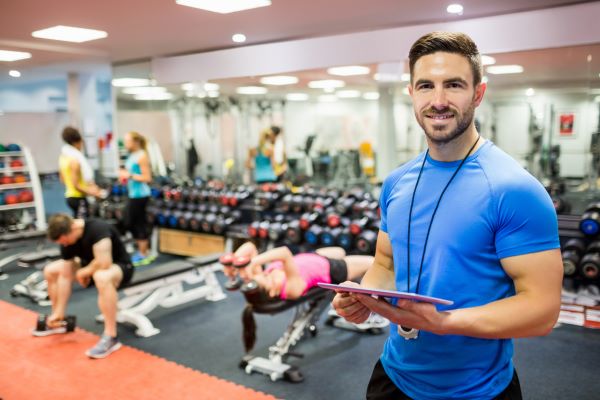 Many certification programs for personal trainers and fitness professionals follow similar certification procedures. To become an NCAA personal trainer (or a certified personal trainer more generally, you usually need a high school education and certification in first aid, cardiopulmonary resuscitation (CPR) and the use of an automated external defibrillator. Applicants for certification need to earn a passing score on a written certification exam. Some certification programs require a practical component, as well. When preparing for a certification exam, review study materials such as books, courses and practice tests. Many of the materials that can be used to prepare for the final exam can be accessed through the certifying organization, either for free or for a charge. Taking a practice exam can help you prepare for the certification exam.
How Long Does It Take to Become a Personal Trainer?
The flexibility in the requirements to become a personal trainer means that there are many different paths to this career. That also makes it difficult to definitely answer the question of how long to become a personal trainer.
There's no right or wrong answer as to which level of degree you should pursue. You could spend two, four, six or even more years in college preparing to be a personal trainer. Alternatively, you could skip college altogether and instead work on securing professional certifications from various national organizations. Certifications can be acquired in a matter of months or even weeks.
Generally, the greater your educational and professional credentials, the broader your career opportunities will be.
A Lifetime of Learning for a Certified Personal Trainer
In some sense, you're never done learning for a personal training career. Trends in the fitness industry keep evolving. So does our knowledge of the human body. Research in the health and wellness industry keeps expanding. Innovations in the equipment and routines people use to improve their fitness keep coming. An effective personal trainer must keep on top of these developments. Most professional trainers do this through continuing education courses. There are a few ways a personal trainer can keep up with changes in the fitness industry, including in-person and online courses and seminars. Both certifying organizations and employers are likely to require continuing education for personal trainers over the course of their careers. 
Choosing the Best Degree for Personal Trainers
Suppose you decide a formal college education is the right path for you. If you're wondering how to become a personal trainer, your next step is to figure out what to study. Most colleges don't offer a physical trainer degree specifically. What major should a personal trainer pursue in college? Many different programs of study may be relevant to this career path, including exercise science, kinesiology, physical education, recreation and fitness and healthcare-related fields of study.
Exercise Science
Exercise science is probably the most popular educational path for personal trainers. Exercise science is the scientific study of the physiology of movement and physical exercise. When you study exercise science, you can expect to take coursework in the following:
Human anatomy and physiology
Biomechanics and kinesiology
Exercise physiology
Fitness assessment
Nutrition for fitness
Health behavior theory and practice
Exercise prescription
Exercise for special populations
Safety, first aid and injury prevention
Exercise science programs require plenty of laboratory courses in scientific disciplines such as biology, chemistry and physics.
Kinesiology
Kinesiology is the study of movement. This field is integral to the personal fitness training. Understanding the principles of physical movement helps you to fully understand the exercises that are used in personal training.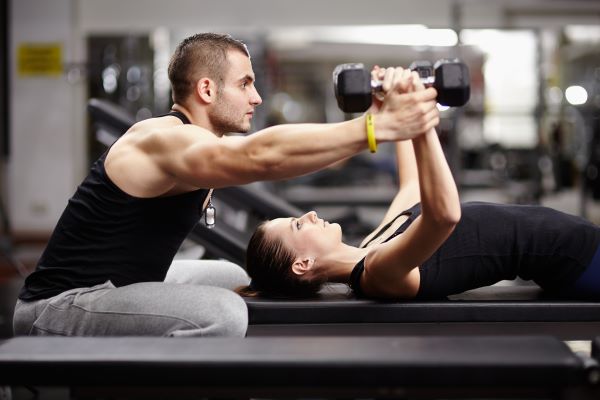 The curriculum of a bachelor's degree program in kinesiology typically includes the following:
Kinesiology in public health
Human movement and development
Motor behavior
Physiology of physical activity
Biomechanics of physical activity
Psychology of physical activity
Sociology of physical activity
Exercise, nutrition and behavior
Historical and philosophical dimensions of physical activity
Kinesiology research methods
Students also take classes in the science of health-related fitness. More specialized courses may include physical activity across the lifespan, physical activity for individuals with disabilities and the prevention and care of movement injuries.
Physical Education
People often associate degree programs in physical education with careers as gym teachers in K-12 schools. This major can also apply to physical training careers. After all, what is a physical trainer if not an educator? A certified personal trainer teaches and informs their clients about physical fitness. They need to help a client base that may have different learning styles learn how to do the exercises that will help them achieve their physical fitness goals.
Majoring in physical education may be ideal if you want to keep your options open. With this background, you can become a certified personal trainer but also prepare for a potential career as a gym teacher.
Degrees in physical education are typically offered through a Department of Education or School of Education. Physical education programs emphasize teaching strategy in physical education and exercise science. Students in this program gain experience in the teaching of team sports and individual activities. The instructional technology and physical education teacher education methods students learn in this program can apply to all grade levels, from elementary to high school. They can also apply to the work of creating exercise programs for clients as a certified personal trainer.
A curriculum in physical education includes coursework in the following:
Human anatomy and physiology
Physiology of exercise
Kinesiology
Recreation and Fitness
For most of your potential clients, fitness and exercise is a recreational activity rather than, say, a key part of the client's profession. Unlike the students in a K-12 school physical education program, personal training clients choose to be instructed in the ways of effective exercise. The exercise programs you develop may not be all fun and games, but they still are intended for recreation.
In a degree in sports and recreation, students may begin their studies with an introduction to sport and recreation management class. They will often study subjects such as:
Sports and recreation program development and planning
Sociology of sport
Facilities management
Ethics and legal issues in sport and recreation
Sport and recreation management programs tend to emphasize business topics more than a major in exercise science or physical education would. For example, students take classes in sports promotion and marketing, the economics of sport and recreation and sports business practices. Internships are common components of a sport and recreation degree program. Through internships, students build hands-on skills and begin cultivating a network of professional contacts in the field.
Healthcare and Related Majors
Some personal trainers come to the field from a background that is more closely related to healthcare. Fitness, wellness and the exercise and nutrition needed to achieve them certainly affect health. Understanding health issues can sometimes shed light on specific obstacles that may make it harder for certain clients to lose weight or build muscle.
The types of health-related majors you might pursue with the end goal of becoming a personal trainer tend to be programs that would prepare you for direct entry to a career in the healthcare industry. These majors include:
Nursing
Sports medicine
Athletic training
Health sciences
Some students choose one of these majors so that they aren't limited to a personal trainer career, especially if they plan to do personal training part-time or to start their own personal training business, in which case it may take years to build a client base large enough to support full-time work in this field.
What to Expect From a Personal Trainer Major
Whichever major you choose, you will likely take similar core classes in the fundamentals of anatomy and physiology, strength and conditioning training, physical education, exercise techniques, biology, nutrition and epidemiology. To ensure that you are prepared for the possibility of injuries and medical emergencies, you should also take first aid certification classes that include learning to use an automated external defibrillator.
Related Resources:
What Certifications Are Available For A Personal Trainer?
Are There Online Courses Available for Certification to Be a Personal Trainer?
Are There Career Opportunities Other than Working at a Gym for a Personal Trainer?
For Further Reading: