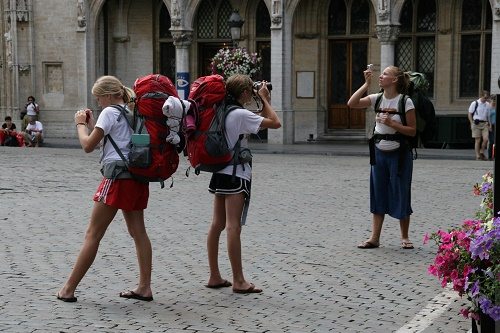 IMAGE SOURCE: Pixabay, public domain.
You don't have to wait until college to take your first academic trip abroad. Some students begin studying abroad while they're still in high school. In fact, there are some pretty powerful benefits to studying abroad at a young age, according to U.S. News & World Report.
An Edge in College Admissions
If you're applying to a highly selective college, flawless grades, glowing letters of recommendation and even impressive lists of extracurricular activities might not be enough to make you stand out from the crowd. However, an academic trip overseas might be.
Imagine the admissions officer's astonishment when you write a powerful and compelling narrative about your high school study abroad experience for your college admissions entry. Having this experience proves your eagerness to learn and your commitment to personal and educational growth. What college wouldn't want those qualities in a student?
Foreign Language Fluency
Perhaps you plan to major in a language at college, or you just want to prepare yourself for success in required or optional language courses. Often, the best way to develop fluency is to really immerse yourself in that language by traveling to a country that speaks it. You'll be exposed to written and spoken forms of the language and hear natural speech patterns as you interact with native speakers of the language. If you do some traveling within your destination country, you may even have the opportunity to become familiar with a few different dialects.
By spending time in a foreign country and learning about the culture and history, you'll come away with more than proficiency in a foreign language. You'll also have a deeper understanding of that culture as a whole than you would be able to get from a textbook or a foreign-language dictionary.
A Global Perspective
With industries across the world becoming increasingly global, every student could benefit from learning a little more about other cultures. However, some fields are particularly global, and the students who want to study those disciplines are likely to gain the greatest benefits by studying abroad early on in their academic careers. Students who plan to major in business, art and diplomacy and international relations are particularly well-suited to academic travels abroad during high school, according to U.S. News & World Report.
Familiarity with the Study Abroad Experience
If you know that you want to study abroad in college, an academic trip to a foreign country can help you learn what to expect. You'll have experience navigating the logistics of international travel. When you get to college, you'll already have a passport and will know what to expect when dealing with customs. If you're nervous about traveling abroad for an entire semester, you can start off taking a shorter trip overseas now, while you're still in high school. Because you'll have this opportunity to develop confidence early, you can help your fellow students when it comes time to take that college trip abroad – and cultivate your leadership skills in the process.
If you're already looking forward to a study abroad experience and you're still in high school, you should know that taking a trip abroad now isn't just possible, but beneficial. From making an impression during the college admissions process to learning a new language, from gaining a global outlook to becoming comfortable with the travel process, starting your educational travels early can only help you.