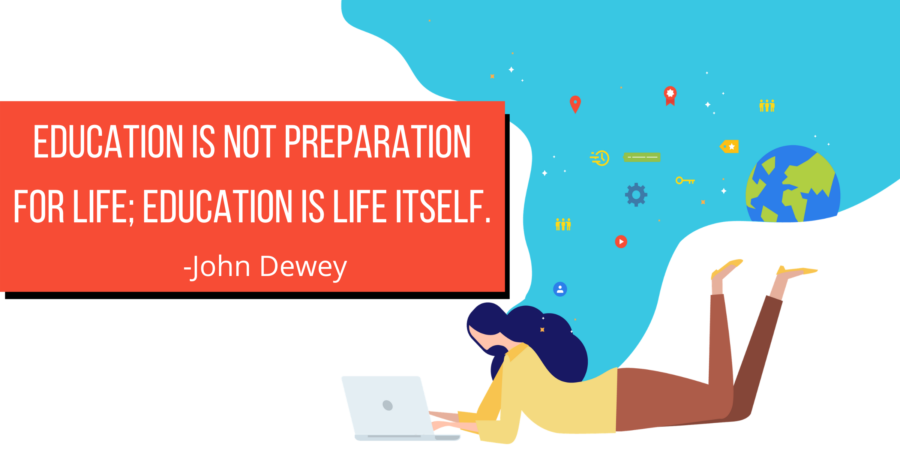 Learning is the most powerful tool we have for success and survival. Without our ability to learn we simply would not exist. A desire to teach often comes from a place of compassion and kindness. It's a worthy endeavor, and a passion worth pursuing. Today, there are multiple ways to learn to teach though, some of the pathways we explore lead to greater opportunity. Not all great teachers will want to follow those paths which is why we have included a section for self-taught teachers as well. Let's take a look at the road less traveled.
Learning to Teach through Self-Teaching
If you are passionate about teaching then it is very possible to go out and teach without certification and without a degree. There are a number of risks involved in going this route as with any road less traveled. Teaching is a very serious discipline and only the strongest survive in most school settings. For this reason, the majority of jobs won't even consider you without a certification. Essentially, by completing a formal certification you're demonstrating to these schools that you have a background in classroom management, curriculum design, and assessment. This is an important hurdle to jump through but unfortunately isn't always within the scope of what a teacher-to-be can achieve. In fact, some of the most creative individuals don't really even need a formal certification to become fantastic teachers. (As a formally educated and certified teacher, it took a lot to write that.) The fact is all teachers need passion, grit, creativity, and compassion. If you have those four things, you can become an effective and inspirational educator.
As we mentioned earlier if you are not a certified teacher than you will have far fewer job opportunities afforded to you. What happens with informally educated self-taught teachers is that they typically form their own "alternative" school or join in with a smaller private organization and work there. We mentioned "creativity" as a key ingredient for becoming a teacher. This is very important when you're searching for employment opportunities. You'll need to demonstrate that you have what it takes without your certification. Here's how:
Teach Classes In Your Community
Observe Other Private School's Curriculums
Volunteer With A Nonprofit With Education as Their Focus
Take a Job As an Assitant Teacher
Offer Tutoring Services
Offer Private Lessons in a Specialized Area
Start Your Own School
If you're teaching yourself, you'll want to look for books for inspiration on alternative paths in education, rogue teaching, unschooling and more. Here are a few inspirational titles:
Creative Schools, by Ken Robinson
Free to Learn, by Peter Gray
Dumbing Us Down, by John Taylor Gatto
The Teacher Liberation Handbook, by Joel Hammon
Pros and Cons
There are clearly pros and cons to being a rogue educator. Not quite sure if you're ready to take the leap? Here's a list of pros and cons to consider:
Pros
Follow Your Own Passions
No Lengthy Programming
Find a Niche With Alternative Students
Big Impact on Local Community
Avoids Annoying Bureaucracy
Very Creative
Cons
Difficult to Get Funding in Alternative Schools
All of the Work Falls on Fewer People
Not a Lot of Opportunities for Employment
No Formal Curriculum For Teachers
Online resources like blogs and tutorials are another fantastic resource. Most of these blogs and tutorials provide advice or offerings for free or at a low cost:
Learning to Teach through Alternative Certification
If you have come to the realization that you want to become a teacher in a traditional school after you have earned your bachelor's degree, then you are certainly not alone. This is when you would pursue alternative teacher certification.
Every state has its own alternative certification requirements. Some states offer multiple routes to becoming a teacher while other states require a master's degree. Be sure to check in with your department of education to determine which pathway. Take a look at some of the example pathways:
Certification-Only Program
Praxis Plus an Approved Teacher Preparation Program
Master's Degree in Education Plus Certification While Teaching
Master's Degree in Education Plus Certification Before Teaching
Technical Education Certification (CTTIE)
Certification-Only
This program is not accepted by every state, and leads only to teacher certification without an additional degree, but is likely the shortest route towards certification.
Teacher Preparation Programs
Teacher Preparation Programs Lead To Certification in Specific Fields While Teachers are on the job. Again, this route towards certification is not accepted in all state, but may lead to further opportunities and education.
Master's Degree During or Before Employment
Somes states will not allow teachers to become employed until they have completed a master's degree in teaching and obtained certification. Other states will allow individuals to obtain employment while pursuing their certification in education.
Career and Technical Trade and Industrial Education
This is a great path for individuals in technical fields with work experience who are looking to become certified teachers. This is a great option for Louisiana residents.
Most people will be safe with a master's degree in education. This route typically takes about 1-2 years to complete, does lead to teacher certification, a wide number of job opportunities, and is an opportunity for teachers to earn a higher rate of pay. Of course like with all things there are a few pros and cons to consider.
Pros
Leads to a Greater Number of Job Opportunities
Large Curriculum Equals Greater Mastery
Opportunities to Learn from Professionals in the Field
Higher Pay
May Apply To Head of Department Positions
Cons
The Longest Route to Certification
More Responsibility More Stress
Higher Student Loans to Pay Off
Resources For Discernment
Learning to Teach through The Traditional Route
If you are going to learn to teach through the traditional route you are choosing a very common route towards certification. There are just three steps to becoming certified to teach going the traditional route:
1. Complete a Bachelor's Degree in Education Including Teacher Training
2.Pass Your Exams (like the Praxis)
3.Become Certified Through the Department of Education
The bachelor's degree in education is a fantastic way to initiate your career as a teacher. Every student of education can expect to learn a bit about the following:
The Philosophy of Education
Classroom Management
School Policy
Instructional Technology
During your degree you'll also be expected to complete some hands-on teacher training. This is arguably the most important part of your teacher education. Here you'll have the opportunity to learn on-the-job and gain necessary insight into the demands of the job. Initially, during your teacher training, you will observe a skilled professional. From there you'll learn to plan and implement your own lessons and gradually increase your responsibilities. Most students will also be required to complete a written or practical culminating experience along with their teacher training.
Once you have completed the necessary exams and your bachelor's degree along with your teacher training you can apply to become a certified teacher. This process typically involves a security check and a formal application with your department of education.
Pros and Cons to Traditional Teacher Certification
Pros
Start Your Career Early
Requires Only a Bachelor's
Lots of Opportunities for Employment
Plenty of Chances to Advance Your Career
Cons
Making This Decision Without Other Experiences Doesn't Always Lead to a Long Career
You May Need to Go Back to School for a Master's Anyway
Not All Undergraduate Programs Provide Full Preparation for This Career
No matter what path you choose towards education, the four important component parts that make up a great teacher are still the same. So, go in there with grit, passion, creativity, and compassion and make a difference in the lives of your pupils!
Further Reading: