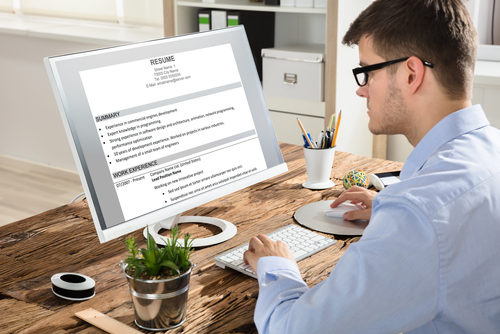 As a computer programmer fresh out of college or a professional with years of experience, you likely want to know the best format for your resume. Companies around the world hire computer programmers every year, but those employers look at the resumes that individuals submit before bringing them in for interviews. Not only do you want to highlight your experience, but you also want to make it clear that you have a good education and that you worked on projects in the past. A good programmer resume will follow use a clear format and put the most important information at the top of the page.
Contact Information
A common mistake that some job seekers make is that they forget to include contact information at the top of the page. This section should start with your name and then include your city and state with the correct zip code followed by your phone number. Though you can use a mobile phone or include both numbers, you need to use (H) or (M) to indicate the type of number. At the bottom of this section, include your email address. Make sure that you include a professional email address as that is how many employers will contact you.
Professional Summary First
The professional summary is essentially a summary of skills that appears at the top of a resume. Computer programmers can use this section to expand upon the information below. The first line in this section is the most important. It should grab the attention of the reader and make the hiring manager want to keep reading. The professional summary should start with a description of how much experience you have and use some adjectives that describe your skills such as strong communicator, innovative mind or talented developer.
Education Section
Computer programmers who have little experience will want to place the education section on the page next. This includes those who recently finished college or earned a college certificate. Creating the education section is easy because it's simply a summary of where you went to school. It should list the name or type of degree at the top such as Bachelor of Science in Computer Science with the date that you graduated beside it. You can then list the name of the school and the city and state where it's located. If you have less work experience, you can list your grade point average and any classes you took or special projects that you did.
Work and Professional Experiences
Next on a computer programmer resume is a list of the work and professional experiences that you have. It should contain a title that makes it clear this is about your work experience. You can use chronological order or reverse chronological order. This determines whether your most recent or oldest jobs will appear first. Each position should include the title of the job and the dates that you worked there along with the name of the employer. Below each position is where you'll write a list of duties that you did in that position.
Switching Things Around
Experienced computer programmers can switch their resumes around and put their work experience sections above their education sections. This allows employers to view the jobs they worked and experiences they have first instead of wading through an education section that isn't as important. According to the Bureau of Labor Statistics, the highest 10 percent of computer programmers make more than $134,000 a year. Employers who hire those workers care more about whether they can work independently or in small groups and the skills they have than where they went to school.
Skills
No matter what format you follow when building a computer programmer resume, it's important to include a skills section that is separate from the other sections. This is where you can add keywords from the job listing that grabs managers' attention. Some companies use computer software that searches through resumes for specific keywords and phrases. You can incorporate information about the computer programming languages that you used in the past, any tools that you used on past projects and the skills that you didn't note in other sections such as an ability to make informed decisions and capable of working independently.
Interests and Hobbies
If you just finished a college program and only have an internship on your resume, you can pad out the rest of the page with an interest and hobbies section. This is where you can add some fun facts that let employers know more about you. Some programmers find it helpful to include mobile apps and games that they created on their own to show that they're familiar with that type of software. Others like to add a line about the guilds they are part of in video games, which can show employers that they work well as part of a team.
Resume Tips for Computer Programmers
The resumes that computer programmers submit can get a manager interested in learning more or lead to their information landing at the bottom of the pile. Some tips that you can follow include keeping your information to a single page, using a professional font and printing the resume on white paper. Times New Roman is one of the best fonts for resumes. In an interview with Monster, Kim Isaacs recommended creating a comprehensive resume when searching for tech jobs that include as much relevant information as possible. You only get one chance to impress prospective employers through your resume, which is why it needs to stand out from the crowd.
Computer programming companies can get hundreds and even thousands of resumes for each position that they list. Managers are responsible for going through those resumes to pick out individuals they will bring in for interviews. Before you start preparing for that interview, you need to make sure that your resume grabs their attention. The best format for a resume as a programmer will include contact information at the top and a minimum of three sections dedicated to work history, education and skills.
Related Resources:
Do Many Companies Allow Their Programmers to Work Remotely?
Is it Better To Specialize in One Area or Being Competent in Multiple Areas? 
What is a Typical Starting Salary for a Programmer?
What is the Hardest Thing about Being a Computer Programmer?
What's the Difference Between Coding and Programming?