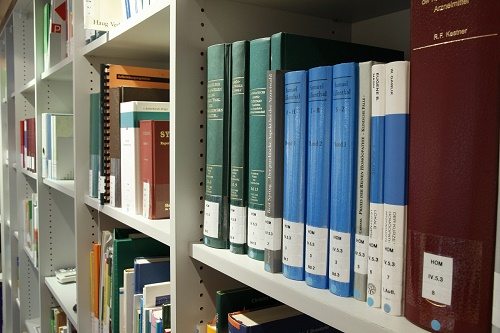 IMAGE SOURCE: Pixabay, public domain.
If you're exploring master's degree programs, you might have some questions about the graduate thesis. The thesis is a lengthy academic essay or paper containing a student's research into a topic that's related to their program of study. While some schools require undergraduates to complete a senior thesis, the term is more often used in graduate programs leading to a master's degree. The length of a graduate thesis is typically shorter than that of a doctoral dissertation, but often upwards of 100 pages. In some instances, a thesis can be a more creative work, such as a piece of creative writing or a rap album, according to U.S. News & World Report. However, the traditional master's thesis is research project presented in written form.
DegreeQuery.com is an advertising-supported site. Featured or trusted partner programs and all school search, finder, or match results are for schools that compensate us. This compensation does not influence our school rankings, resource guides, or other editorially-independent information published on this site.
The Point of the Master's Thesis
The reason for writing such a lengthy academic paper isn't simply to make the degree program more difficult for students or to encourage long, rambling prose. A graduate thesis is typically an essay that contains the student's in-depth research into a topic and the student's own analysis of the information. Some graduate thesis projects require students to conduct and write about the findings of their own independent and original research, as well.
When it comes to putting your advanced studies of a discipline to work, you realize that a five-page, ten-page or even 20-page paper just doesn't allow for the in-depth discussion and analysis of existing research that a makes up a solid thesis. Students in master's degree programs that require a thesis to graduate often spend a great deal of time over the course of one or two years of study working on their thesis. At some schools, students may have to present their research and defend the value of their thesis, though this practice is more common when it comes to doctoral dissertations than graduate thesis programs.
Non-Thesis Master's Degree Options
If you're dreading the prospect of writing a 100-page research paper, you can still advance your education by choosing a master's degree program that offers a non-thesis track. In a non-thesis master's degree program, you still complete the graduate-level coursework that provides you with advanced knowledge of your field of study, but without the intensive focus on research.
Non-thesis master's degree programs aren't that difficult to find. In fact, many of the easiest online master's degrees are non-thesis programs. You can find non-thesis graduate degrees in a variety of fields, including English, computer science, liberal studies, ecological science, business and even engineering.
If you opt to take a non-thesis track in your master's degree program, you may still have to complete other capstone experience requirements. You might end up working on an independent or group project or completing a practicum or fieldwork experience.
Choosing Between Thesis and Non-Thesis Master's Degree Programs
Whether you should choose a graduate degree program that requires a thesis or one that doesn't depends on your personal and professional goals and interests. If you're looking only to improve your job prospects in your career field, a professional degree may be of more value to you than a research degree. Many career paths outside of academia don't have much use for an academic research degree. On the other hand, if you want to work in academia, to do research professionally or to eventually earn a doctoral degree like a Ph.D., choosing not to complete a thesis at the master's degree level could come back to haunt you.