With the health care industry booming, you may wonder what career opportunities are available that don't require years of study and thousands upon thousands of dollars of college debt. Two health care career paths that you can pursue after only a short period of education include licensed practical nurse (LPN) and nursing assistant. While there is some overlap between the job duties and subjects of study for practical nurses and nursing assistants, there are also plenty of differences between these two roles.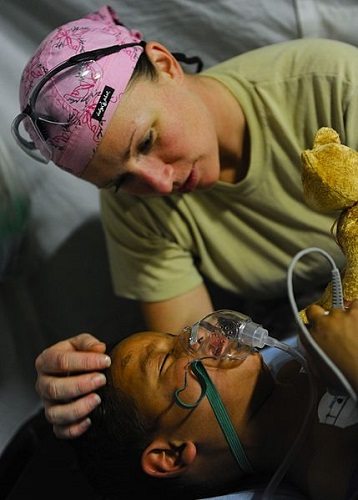 IMAGE SOURCE: Wikimedia Commons, public domain
The Education and Work of a Licensed Practical Nurse
Licensed practical nurses (LPNs) and licensed vocational nurses (LVNs) provide basic nursing care. They work under the supervision of registered nurses (RNs), performing tasks such as checking vital signs, putting in catheters, changing bandages and helping patients with activities like bathing and dressing, according to the United States Bureau of Labor Statistics (BLS).
To prepare for a career as a licensed practical nurse, you need to spend a minimum of one year completing a practical nursing program. These diploma and certificate programs are available in settings such as community colleges, technical schools, hospitals and even high schools. In one of these state-approved diploma or certificate programs, you will take classes in basic nursing, pharmacology and biology as well as completing clinical experience requirements. To practice as an LPN, you first need to attain your LPN license, which requires you to pass the National Council Licensure Examination (NCLEX-PN) test. To enhance your career prospects, you can also earn certifications in Gerontology and IV Therapy from the National Association of Licensed Practical Nurses.
LPNs earn a median salary of $45,030 per year, according to the BLS. Like many health care careers, LPNs have a positive job outlook, with the BLS expecting career opportunities to increase by 12 percent over just a decade.
LPNs who work for the government, nursing care facilities and home healthcare services have the highest earning potential, while LPNs in hospitals and doctors' offices earn less.
Training and Job Duties for a Nursing Assistant
Nursing assistants, or nursing aides, also provide direct patient care. However, nursing assistants generally help patients more with activities of daily living than with health care tasks. Often, nursing assistants perform tasks such as turning and repositioning patients, bathing patients, feeding patients and transferring patients from wheelchairs to beds and vice versa. More than one-third of nursing assistants work in nursing and residential care facilities, while others work in settings such as hospitals, doctors' offices and home healthcare services.
To prepare for a career as a nursing assistant, you will need formal training that consists of classroom learning, laboratory work and clinical experience. Nursing assistant programs offered at community colleges, technical schools and other settings often include coursework in some basic nursing skills as well as an emphasis on communication, safety procedures and preventing infections. A nursing assistant program can be completed in as little as six weeks, though you should expect to undergo some on-the-job training as well.
To use a title such as Certified Nursing Assistant (CNA), you must also pass a competency exam, the BLS reported. Different states offer different titles. Upon completing your education and passing your exam, you earn a spot on your state's registry.
Nursing assistants earn a median salary of $27,520, with the highest-paying roles being in government and hospital settings, the BLS reported.
Nursing assistants can look forward to faster than average job growth, with the BLS predicting an 11 percent increase in opportunities over 10 years.
Choosing Between LPN and CNA Career Paths
How do you decide whether to become an LPN or a CNA? There are many factors to consider. While the job outlook is similar for the two careers, the rate of pay and scope of job duties are not. LPNs perform a broader array of tasks than nursing assistants do, and as a result, they earn considerably higher salaries. However, it takes considerably longer to complete the certificate or diploma program needed to become an LPN than the relatively short education program needed to be a nursing assistant.
Both LPNs and CNAs perform tasks such as monitoring patients and recording vitals as well as helping patients as needed with hygiene and daily living activities. State laws and workplace policies may limit what tasks nursing assistants and licensed practical nurses can perform. In both roles, qualities such as compassion, communication and interpersonal skills, patience and physical stamina are important for success.
If you want to advance your career later on, you may be able to use your experience as a CNA or LPN to decrease the time it takes to earn an associate's or bachelor's degree in nursing.
Ultimately, the biggest questions you need to ask yourself are how much time, effort and money you are willing to invest in preparing for your career and what job duties you want to have.