The modern world runs on power – electrical, solar, wind, fossil fuels and many more energy sources. It's no surprise that engineers in many disciplines work to develop more effective or sustainable ways to derive and use energy. Petroleum engineers, whose focus is the extraction of gas and oil, and nuclear engineers, who work with nuclear energy, are two well paid engineering roles that revolve around engineering energy and power sources.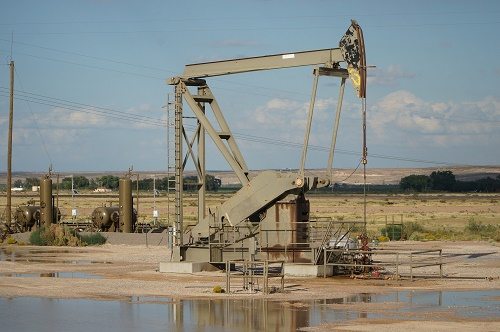 IMAGE SOURCE: Pixabay, public domain
Petroleum Engineering Degrees
An undergraduate program in petroleum engineering typically requires four years of full-time study in classroom, laboratory and work settings. Core coursework in a petroleum engineering program includes engineering principles, thermodynamics and geology, the United States Bureau of Labor Statistics (BLS).
To attain accreditation from ABET (the Accreditation Board for Engineering and Technology), a petroleum engineering curriculum must include coursework in mathematics concepts and applications, including probability and statistics, differential equations, strength of materials and fluid mechanics. Students need to learn to design and analyze geological formation, well systems, drilling procedures, reservoirs and systems used to produce and handle fluids. Aspiring petroleum engineers should understand how to make best develop and manage resources as well as the economics involved in retrieving and managing resources such as gas and oil.
Some petroleum engineers enter the field with a background in chemical, civil or mechanical engineering, according to the BLS.
Nuclear Engineering Degrees
Classroom lectures, laboratory work and hands-on field studies and cooperative work in subjects such as math and engineering principles are core requirements of nuclear engineering degree programs, the BLS reported. To earn ABET accreditation, any engineering program with the title "nuclear" or "radiological" engineering must include coursework in advanced science, math and engineering topics such as atomic and nuclear physics. Upon completion of one of these programs, students should know how to design nuclear equipment and radiological systems and processes, how to develop safe processes for transporting nuclear material and how to measure radiation.
Bachelor's degree programs consist of classroom, laboratory, and field studies in subjects such as mathematics and engineering principles. Most colleges and universities offer cooperative-education programs in which students gain work experience while completing their education.
Some universities offer 5-year programs leading to both a bachelor's and a master's degree. A graduate degree allows an engineer to work as an instructor at a university or engage in research and development. Some 5-year or even 6-year cooperative-education plans combine classroom study with work, permitting students to gain experience and to finance part of their education.
Master's and Ph.D. programs consist of classroom, laboratory, and research efforts in areas of advanced mathematics and engineering principles. These programs require the successful completion of a research study, usually conducted in conjunction with a professor, on a government or private research grant.
While entry-level jobs in most engineering disciplines require just a bachelor's degree, some entry-level nuclear engineering roles require a master's degree or Ph.D., the BLS reported.
Petroleum Engineering Careers
More than one third of the 33,700 petroleum engineers working in the United States work in the oil and gas extraction industry. An additional 14 percent of petroleum engineers work in support activities for mining, 13 percent work in management, 10 percent work in petroleum and coal products manufacturing and five percent work in engineering services, the BLS reported. While petroleum engineers may work in offices, they may also spend time at drilling sites and often travel for work, even internationally.
A petroleum engineer is responsible for improving the acquisition of oil and gas resources for the purposes of producing energy. Petroleum engineers apply science and mathematical principles to solve problems that arise in attaining these energy sources. They design equipment and methods used to extract these resources from wells and underground deposits. Petroleum engineers work with both new and existing extraction sites, developing the plans for drilling to obtain oil and gas as well as processes to increase the amount of oil and gas an extraction project can acquire. They also oversee the installation, use and maintenance of equipment in oilfields. Some of the different types of petroleum engineers include drilling engineers, production engineers, completions engineers and reservoir engineers.
Petroleum engineers top the list of the highest paid architecture and engineering careers, with a median salary of $132,280 per year. The highest paid petroleum engineers earn more than $208,000 annually. Petroleum engineers who work in management enjoy a median wage of $167,950.
In addition to great earning potential, petroleum engineers can look forward to a great job outlook, with the BLS expecting opportunities to grow by 15 percent (5,100 jobs) in a decade.
Careers in Nuclear Engineering
Nuclear engineering is the application of nuclear processes and radiation to solve real-world problems in fields such as energy, medicine, industry, maritime vessels and spacecraft. Nuclear engineers design and develop equipment, processes, systems and instruments used to work with nuclear energy for purposes such as creating safe power plants, developing medical technology for diagnosing and treating health conditions and safely getting rid of hazardous nuclear waste. Equipment such as radiation shielding and reactor cores and medical equipment like positron emission tomography (PET) scanners and cyclotrons used to treat cancer are all the result of nuclear engineers' innovations.
Graduates of bachelor's degree programs in nuclear engineering follow career paths into the energy industry, the health care industry and advanced research. Of the 17,700 nuclear engineers working in America, 40 percent work in electric power generation, 17 percent work for the federal government and 15 percent work in research and development. Nuclear engineers earn a median wage of $105,810 per year, according to the BLS.
Nuclear engineering is good for the economy. The revenue from nuclear engineering work, including radiological health engineering activities, adds $400 billion to the United States economy annually.
Related Resources: