Consulting might sound like a dream job. You can get paid just to tell business leaders how to run their companies better. Before you can become a management consultant, though, you will need a college education and impressive work experience. Without those credentials, no matter how good your ideas are, you will have a difficult time finding high-ranking business professionals who are willing to listen. A bachelor's degree in numerous business-related fields can qualify you to become a management consultant, but going on to earn a master's degree can add to your credibility and your likelihood of success.
Consulting as a Career
Management consultants are also known as management analysts, because their primary goal is to analyze an organization's operations and identify opportunities for improvement. The best management consultants have strong communication, interpersonal and analytical skills. They listen closely and observe with an open mind to understand how an organization operates and what its strengths and weaknesses are. After observing an organization's operations, management consultants should convey insightful, actionable recommendations for improvement in ways that elicit cooperation and compliance, rather than pushback, from employees. That means you must have a personality and communication style that builds rapport as well as the credentials that back up your wisdom.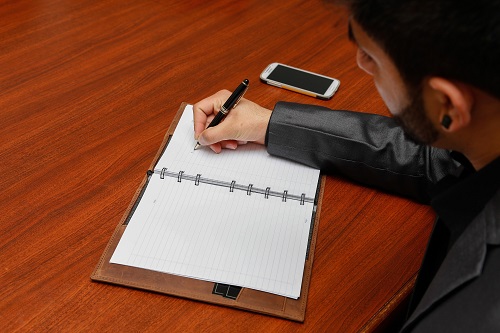 IMAGE SOURCE: Pixabay, public domain
Management consultant is a surprisingly large occupation, accounting for 806,400 American jobs, the United States Bureau of Labor Statistics (BLS) reported. Consultants work in a variety of different industries, including technology and healthcare, but consulting firms that operate in the industry of professional, scientific and technical services account for the largest share of employment, at 30 percent of the occupation. Self-employment and the government both account for another 17 percent of management analyst jobs. You can find 11 percent of management consultants working in the finance and insurance industry and another five percent employed in the management of companies and enterprises.
Management analyst can be a lucrative career, with the BLS reporting a median salary of $82,450. However, wages can vary a great deal within this occupation. The BLS lists it as among the career paths with the largest wage differences, because the gap between the lowest-paid 10 percent and the highest-paid 10 percent of management analysts is $102,750. Generally, your earning potential as a consultant rises along with the extent of your credentials, including your level of education, quantity and quality of work experience and any professional certifications you may have.
Being a consultant isn't easy, but the demand for effective consultants is high. The BLS is predicting a faster than average rate of job growth at 14 percent, which should result in 115,200 new jobs.
Business and Management
Degrees in business and management are the most natural choices if you know that you want to work in management consulting. Both programs are broad in nature, allowing students to cultivate a comprehensive understanding of how business should operate in theory and how they often operate in the real world. A business administration degree program, which often involves choosing a specialization within the field of business, may emphasize the development of technical and practical skills more than a business management degree, which focuses primarily on the concepts and practices of leadership.
When management consultants choose to earn a graduate degree, most go for a Master of Business Administration (MBA) degree. These programs often focus on developing management skills alongside gaining advanced knowledge in a chosen specialization.
Finance and Accounting
While there are many areas in which a management consultant can help businesses improve, companies often worry most about the bottom line. They expect management consultants to help them improve productivity and revenue and reduce waste and unnecessary operating costs. To do that, it helps to have a background in finance or accounting. By learning the principles and practices of financial reporting, budgeting and understanding financial markets, aspiring management consultants can equip themselves with the skills to identify redundancies and resources that could be better allocated elsewhere.
Generally, the work of management consultants has more in common with traditional finance roles, which involve making decisions based on financial data, than with accounting roles, which focus on the creation of financial statements and reports.
Computer and Information Science
If you want to help companies in the technology sector improve their operations, then a computer and information science background could be the perfect place to start. Your work may include analyzing and marking recommendations regarding programming, system installation and system implementation as well as training workers on how to get the most out of their computer systems and applications.
Many management consultants who specialize in computer and information technology have years of experience working as computer systems analysts first, according to the BLS.
Marketing and Psychology
Companies also bring in specialist consultants to help with marketing and advertising campaigns. A degree in marketing or psychology, along with relevant experience, demonstrates that you understand why people – especially consumers – think, feel and act the way they do. This insight can help you guide a company's promotional campaigns to make sure that they are sending the right messages to the ideal audience via the most effective channels of communication.
If you are interested in the psychology degree route for a future career in management consulting, you might want to consider specialized business psychology degree programs offered by some colleges, or focus on industrial or organizational psychology.
Additional Resources
What Degree Should I Get to Become a Consultant?    
What Is the Difference Between a Business Administration Degree and a Business Management Degree?
What Kind of Job Can You Get With a Degree in Business Administration?
What Kind of Job Can You Get With a Degree in Business Management?