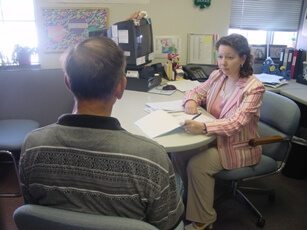 IMAGE SOURCE: Wikimedia Commons, public domain
Overview
Probation officers play an important role in the criminal justice system. They work to rehabilitate those convicted of crimes and supervise them to avoid recidivism. In particular, they often oversee the treatment and progress of convicts who are out in the community as well as those currently in prison. These may include criminals who were originally sentenced to probation rather than incarcerated and those who have been granted release from jail, the United States Bureau of Labor Statistics (BLS) reported. Because many probation officers work with offenders who are out in the community, some states refer to them specifically as community supervision officers, according to the BLS.
Throughout their work, probation officers interact directly with convicted criminals, assessing how to best rehabilitate them and providing help like substance abuse counseling and career training. They check in regularly with offenders who are on probation and may even talk with the convict's family and friends to gauge and report their progress. The goal is to prevent the offender from committing additional crimes in the future by providing him or her with tools and resources to fit back into a free society.
Education
If you have the desire to help rehabilitate convicted criminals and the emotional stability to withstand a sometimes stressful work environment, a college degree could put you on the path to a new career as a probation officer. A few excellent options of study include bachelor's degree programs in the behavioral sciences, criminal justice or social work. Ambitious students who want to work for the most selective employers may want to pursue a graduate degree in one of these fields, as well.
Your education is an essential part of your career preparation, but it's not the only qualification you must have to succeed. You will also need to undergo training through the state or federal government entity with which you're seeking employment. After your training ends, you will need to successfully complete a certification examination. Then you will likely work as a trainee, gaining on-the-job experience for as long as one year. Only once you have completed your education, formal training program and trainee experience can you become a full-fledged probation officer in a permanent position, according to the BLS. If you decide to specialize and work with a specific type of offenders, you will need additional training to develop your expertise handling that type of case.
In addition to your education and training, you must meet other requirements to work as a parole officer. You must have a clean criminal record, hold a driver's license and fall within a certain age range (typically, 21 years of age or older, but for certain positions, no older than 37 at the time you apply). You should be good at communicating, thinking critically and making sound decisions.
Employment
Probation officers earn a median salary of $48,190 per year, according to the BLS. Many work in a union. The job outlook for probation officers is less than positive, with the number of opportunities expected to decrease slightly over the next decade, due largely to a lack of funding. However, the BLS also anticipates a large number of professionals currently in the field to retire or otherwise leave the occupation, creating "plentiful" job opportunities for qualified candidates.
Conclusion
The role of a probation officer combines the fields of criminal justice and community and social service. These professionals seek to help both free criminal offenders and the communities they are released into by providing the supervision and tools necessary for rehabilitation.