If you're good with people and enjoy administrative work, human resources careers may offer you the earning potential you're seeking. HR professionals work in every industry, bridging the gap between companies and their workers and helping operations – especially those pertaining to staffing and recruiting – run smoothly.
Pay ranges depend on the level of human resources degree you earn and the HR role you fulfill, but it's possible to earn well above the median annual salary for all occupations. Many HR managers make upwards of $100,000.
What Is Human Resources Management?
Human resources refers to the workers who make up a company or organization. Smart administrators appreciate their workforces as among the most important resources or assets a company can have.
When companies form departments dedicated to the administrative functions of employing their personnel, these departments are often called human resources departments, or simply "HR."
As both a field of study in college and an area of practice in the world of business administration, HR management refers to the process of employing personnel and the best practices used in those processes.
Having a degree in HR management doesn't always translate to an actual manager role. A bachelor's degree in human resources management is the level of degree typically required for non-managerial roles in HR like human resources specialist or generalist. The term "human resources manager" generally refers to a manager who directs administrative operations and supervises their workers (HR specialists and generalists) in the field of human resources management.
Human resources is an important subject within the field of business administration. Degrees in HR may be standalone degree programs or concentrations within the broader curriculum of a Bachelor of Business Administration (BBA) or Master of Business Administration (MBA) program.
RELATED: How Advanced Does My Degree in Human Resources Need to Be to Get a Good Job?
What Do Human Resources Specialists and HR Managers Do?
Human resources personnel at all levels play an important role in the success of their organization by building, shaping, training, overseeing and administering benefits and payroll for the company's workforce.
HR specialists and HR managers both work in a human resources department, but they have different job duties. Both human resources specialists and human resources managers must be familiar with employment laws and company policies regarding workplace rules, disciplinary procedures and termination procedures. Hiring qualified employees to fill the most critical positions is one of the most important aspects of working in HR.
A human resources specialist performs work relating to the recruiting, training and compensation of an organization's employees. This work may include everything from conceptualizing and implementing a posting for new or newly vacant job openings to finalizing job offers and contracts and handling employment paperwork.
In some organizations, human resources specialists also handle duties like planning and conducting training programs for workers. HR specialists may also serve as payroll and benefits administrators, although some companies have separate positions for these tasks.
Depending on the size and structure of the organization, human resources specialists may perform job duties ranging from general to highly specialized. In a smaller organization, you might find a human resources generalist who handles all sorts of HR tasks. Larger companies may have a dedicated HR analyst whose job duties revolve around analyzing data related to employment and a separate corporate recruiter whose job is to hire new talent.
HR managers serve a more management-oriented role in human resources. They are primarily involved in the strategic planning of a company's workforce, including policies and procedures for hiring, training and retaining personnel and using their workers' talents and time effectively.
In a large organization with a full human resources department, HR managers typically won't personally interview and check the references of each candidate that comes through the door. Instead, they oversee the process as human resources specialists perform the work of preparing individual job search listings, screening candidates and interviewing potential new hires. Some companies employ separate HR managers for different roles, including recruiting managers, payroll managers and labor relations managers.
Managing human resources is a big job, especially in large companies that employ many workers. Some companies also employ human resources assistants, who are information clerks who work in the HR field specifically. These clerks perform lower-level tasks, like keeping personnel files up to date, filing and organizing employment paperwork, posting the job listings the HR specialist has written to job search websites and otherwise serving as administrative support for the human resources department.
Job Title Examples in Human Resources
What are some job titles for HR professionals?
The human resources specialist occupation includes job titles like the following, according to O*NET:
HR or human resources generalist
HR or human resources specialist
HR or human resources coordinator
HR or human resources representative
HR or human resources analyst
Employment representative
Personnel analyst
Personnel officer
Recruiter
Corporate recruiter
An HR manager mays hold titles like the following, according to O*NET:
HR or human resources manager
HR or human resources operations manager
HR or human resources director
HR or human resources administration director
Employee relations manager
For human resources assistants, O*NET reported titles like the following:
HR or human resources assistant
HR or human resources administrative assistant
HR or human resources associate
Personnel clerk
Additionally, some business professionals whose work revolves around an organization's human resources focus on more specialized areas like training and development, compensation and benefits or labor relations.
Where Do Human Resources Professionals Work?
Managing an organization's personnel is essential for any business with employees, regardless of its industry, whether it operates in the public or private sector, or its size. However, the larger the organization, the more likely it is to have dedicated human resources professionals or even an entire HR department. Small organizations may assign human resources tasks to workers in more general administrative positions.
For human resources specialists, the largest industry of employment as of 2021 was employment services, followed by the professional, scientific and technical services industry, according to the United States Bureau of Labor Statistics (BLS) Occupational Outlook Handbook. Government jobs, jobs in healthcare and social assistance, and jobs in the manufacturing industry rounded up the top five employment industries for the field. However, the industries in which HR professionals work are so varied that these top five industries combined still only account for 57% of the workforce.
The largest percentage of human resources managers worked in the professional, scientific and technical services industry, the BLS reported, with jobs in the management of companies and enterprises not far behind. Again, manufacturing, healthcare and social assistance and the government were among the top five industries of employment, according to the BLS. Just 55% of human resources managers worked in one of the top five industries for the occupation.
Human Resource Management Degree Salary Overview
As a field, human resources doesn't have a reputation for being lucrative like other areas of business – such as finance and management – do. However, HR professionals can make a good living, especially if they put in the work needed for career advancement.
Depending on factors like the level of seniority of your position, your level of education, any certifications you may have and the extent of your work experience, you could be looking at pay ranges in the $40,000, $60,000, or even six-figure range.
Human Resources Earning Potential by Seniority Level
The single largest factor that affects your earning potential in a human resource management career is the level of seniority of your position. Even the best-paid human resources assistants are likely to make less than the average human resources specialist, who in turn will make less than the average HR manager.
RELATED: What Are the Highest-Paying Jobs in Human Resources?
Still, compared to other jobs at the same level of seniority and education, human resources positions tend to have a favorable earning potential. For even the lowest level of HR professional, the Bureau of Labor Statistics reported a median salary in the same range as the median wage for all occupations.
Human Resources Assistant Salary
For entry-level positions of human resources assistants, the BLS reported a median salary of $45,630 and an average salary of $44,840 as of 2021.
Human resources assistants working in the top-paying industry, computer and peripheral equipment manufacturing, reported an average salary of $72,800. The natural gas distribution industry paid human resources assistants a median wage of $65,010 per year.
RELATED: What Are the Highest-Paying Business Entry-Level Jobs?
Human resources assistants working for the postal service reported an average salary of $63,760, closely followed by the $63,320 average salary paid by the electric power generation, transmission and distribution industry. The fifth-highest-paying industry for human resources assistants was the petroleum and coal products manufacturing industry, which paid an average salary of $58,400.
As location goes, Washington, D.C. paid human resources assistants the most by a considerable amount, with an average annual salary of $58,510. In Alaska, the average salary for this occupation was $51,600. HR assistants in Massachusetts, New York and California all earned average salaries of around $50,000.
For human resources assistants, the job outlook is somewhat bleak. The BLS predicted that job opportunities in this entry-level position will decline by 5% – about 4,800 jobs – between 2021 and 2031.
Human Resources Specialist or Generalist Salary
Human resources specialists earned a median annual salary of $62,290 and an average salary of $70,720 as of 2021, the BLS reported.
All of the top five highest-paying industries for HR specialists reported average salaries at or approaching the six-figure level. Human resources specialists working in the computer and peripheral equipment manufacturing industry earned an average salary of $113,190, closely followed by the $111,010 mean wage reported for jobs in the industry of "other" information services.
For human resources specialists working in securities, commodity contracts and financial investment activities, the average salary was $104,500. The sound recording industries paid human resources specialists an average of $102,600 per year, and the water transportation support activities industry paid an average salary of $99,510.
The best geographic location for HR specialists was Washington, D.C., where the average salary for the occupation was $99,620, according to the BLS. The states that made up the remaining highest-paying locations – New York, Washington, New Jersey and California – all paid average salaries in the low- to mid-$80,000 range.
The projected job growth for human resources specialist roles is 8% between 2021 and 2031, adding up to an estimated 58,800 new jobs.
Human Resources Manager Salaries
The median annual salary for human resources managers was $126,230 in 2021, the BLS reported, and the average salary amounted to $136,590.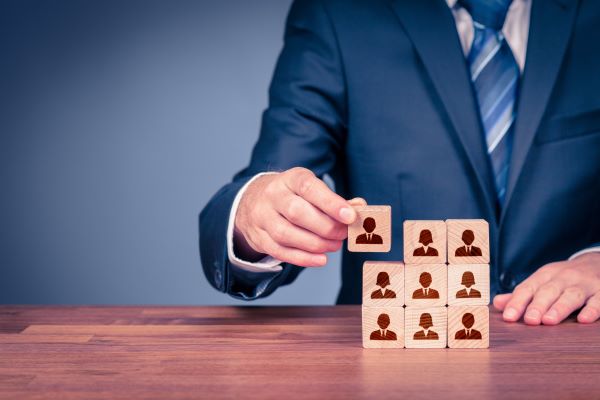 According to the BLS, the "other information services" industry is the best-paying industry for HR managers, with an average earning potential of $192,930 each year. The scientific research and development services industry reported an average salary of $185,990, followed by $184,950 for the computer and peripheral equipment manufacturing industry and $184,610 for the radio and television broadcasting industry. HR managers working for the securities, commodities contracts and financial investment activities industry reported an average salary of $182,380.
New York reported the highest average salary for human resources managers, at $180,380. HR managers in New Jersey earned an average salary of $170,850. In Washington, D.C., human resources manager salaries averaged $162,810 per year, while average salaries in Massachusetts and Rhode Island amounted to $160,460 and $156,710, respectively.
The 7% projected job growth for HR manager and HR director roles between 2021 and 2031 is expected to add 12,600 new job openings over a decade, according to the BLS.
Salaries for Specialized HR Career Paths
Compensation and Benefits
Compensation and benefits specialists are business professionals who oversee employee compensation and benefits programs such as retirement plans. In addition to compensation specialists and benefits specialists, the compensation and benefits manager occupation includes job analysis specialists whose job duty is to assess job openings and create salary scales for these positions.
Compensation and benefits managers perform higher-level tasks related to the HR field. Compensation managers handle an organization's pay structure as a whole, while a benefits manager selects the benefits programs and vendors offered to employees.
Median salaries for compensation and benefits managers in 2021 amounted to $127,530, according to the BLS, while the median salary for compensation and benefits specialists was $64,120.
Training and Development
Even when HR managers hire candidates with excellent qualifications, some amount of training is likely to be needed for most positions eventually. Training and development specialists and training and development managers focus on equipping workers with the skills they need to succeed at their jobs and bring maximum value to the organization. A training and development specialist will generally coordinate or administer training sessions, while a training and development manager is typically responsible for higher-level tasks like selecting the content of training programs and overseeing budgets for employee training.
The median salary for training and development specialists was $61,570 in 2021, while the median salary for training and development managers was $120,130, according to the BLS.
Labor Relations
Labor relations specialists are experts in labor laws and employee relations. In companies where workers are unionized, labor relations specialists act as an intermediary between union representatives and the organization's management to draft the contract language used in collective bargaining agreements that cover wages and benefits.
The median annual salary for labor relations specialists in 2021 was $77,010, according to the BLS.
Human Resources Job Opportunities by Degree Level
Associate's Degree
Your level of education can have a big impact on the human resources careers available to you. At the associate degree level, the only human resources job prospects you are likely to have are HR assistant roles. Usually, these entry-level positions require an associate's degree, even though most other information clerk positions require only a high school diploma.
Bachelor's Degree
For most entry-level jobs in HR, you will need at least a bachelor's degree. This bachelor's degree is likely to be sufficient for your early-career work experience, and some HR professionals enjoy a long and fulfilling career in the field without ever pursuing a graduate degree.
Can you become an HR manager with a bachelor's degree? According to the BLS, most positions require only a bachelor's degree, although some employers will only consider candidates with a master's degree. How much work experience you have and how high a level of HR management you're seeking will affect whether you need a graduate degree or whether you can make this career advancement while remaining at the bachelor's degree level.
RELATED: What Degree Do People With a Job in Human Resources Have?
Master's Degree
A master's degree is the highest level of education you're likely to encounter in this field. The only HR degree higher than a graduate degree is a doctoral degree, which usually emphasizes research or academic instruction rather than professional practice.
Why should human resources professionals consider a master's degree? Perhaps you want to move into senior roles like HR director, pursue a specialization in an area of interest, or qualify for management-level employment at a large organization where your colleagues (and the competition) are likely to have master's degrees. A human resources manager doesn't have to go to graduate school, but there are many reasons they might choose to pursue further education at the master's degree level.
What the Best-Paid Human Resources Managers Have in Common
As organizations expand, companies are seeking more human resources managers with advanced qualifications. To get the best base pay and the most lucrative opportunities for bonuses, you will need at least a bachelor's degree and perhaps a graduate degree.
Not all employers put priority on a graduate degree. Some employers are more impressed with candidates who pursue professional certification from organizations like the Society for Human Resource Management (SHRM) and the HR Certification Institute (HRCI). Having these professional credentials from the Society for Human Resource Management or the HR Certification Institute can increase the level of demand for you in the job market.
Career advancement to a managerial role is key to earning the highest salary with a human resources degree. You can accomplish this advancement through professional certifications, a graduate degree or some combination of practical experience, education and credentials.
Developing strong communication skills, interpersonal skills, organizational skills, decision-making skills and leadership skills can also improve your job outlook in the human resources field.
Related Resources:
What Are the Highest-Paying Jobs in Business Administration?
What Are the Highest-Paying Jobs in Business Management?
What Is the Difference Between a Certification in Human Resources and a Master's Degree in HR?