Do you imagine working in a research laboratory, conducting experiments that can help solve real-world problems? A career as a microbiologist may be right for you. Microbiologists work on solutions to many real-world problems relating to human health and medicine, the environment, industrial production and agriculture, among other areas. Many scientific research projects involve microbiology, the study of small organisms. To become a microbiologist, you need at least a bachelor's degree and potentially a graduate, doctoral or professional degree.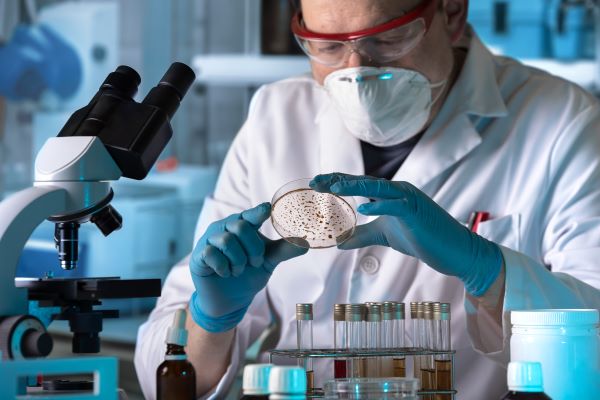 What Do Microbiologists Do?
A microbiologist is a type of scientist. Microbiology is a subfield of biology, the scientific study of life and living organisms. While wildlife biologists study animals, microbiologists work specifically with microscopic organisms, or living things that are too small for humans to see with just their eyes.
The microorganisms that microbiologist study are only visible with equipment and instruments such as a microscope. Some of the types of microorganisms that a microbiologist may study include fungi, algae, bacteria, viruses, protozoa and parasites. Microbiologists are interested in all aspects of these microscopic organisms, including their physical and chemical properties, life cycle, growth and development, positive and negative environmental and health effects and potential for aiding in problem-solving efforts.
Conducting research is an essential part of most microbiologists' work. Research in microbiology includes both basic research and applied research. Basic research means that the research is undertaken to advance fundamental knowledge of the field, while applied research is conducted for the direct purpose of solving problems. Whether microbiologists typically focus on basic or applied research, they meticulously follow research processes to conduct complex research projects. To share the findings of their scientific experiments with the scientific community, microbiologists publish research papers and technical reports and present research findings at scientific conferences.
Microbiologists gain new insights through designing laboratory experiments that can be used to test theories and hypotheses. Microbiologists analyze the data produced through the clinical laboratory tests they conduct. To share their conclusions, they publish research findings in scholarly journals and present synopses of their research papers to other members of the scientific community at conferences.
Types of Microbiologists
There are numerous types of microbiologists, differentiated by the types of microorganisms they study or a specific area of research focus.
Bacteriologists focus on the study of bacteria, and virologists study viruses. Mycologist is the term for microbiologists who study fungi, while scientists who specialize in the study of parasites are called parasitologists.
Health and Medical Microbiologists
Among microbiologists who specialize in an area of research, health is one of the biggest fields of concentration. Clinical and medical microbiologists perform work to better understand diseases caused by microorganisms like viruses and bacteria and how microorganisms can be used in diagnosing and treating medical disorders. The research and laboratory tests clinical microbiologists perform can help pharmaceutical and biotechnology companies develop drugs for treating diseases in humans and animals.
Clinical microbiologists whose research efforts are concentrated in the study of human health directly are sometimes referred to as medical scientists. Some biological and medical scientists work in medical diagnostic laboratories alongside healthcare professionals like doctors and nurses, while other clinical and medical microbiologists work in research laboratories more generally but pursue innovations with clinical healthcare applications.
Also in the field of health are public health microbiologists, who conduct research pertaining to public health matters such as communicable diseases. While public health microbiologists are laboratory scientists like other types of microbiologists, they are commonly employed by health departments and other government agencies, where they typically provide laboratory services for community health programs and public health research efforts.
Environmental Microbiologists
Microorganisms don't exist in a vacuum. They are part of an environment in which they interact with their surroundings and other organisms. Environmental microbiologists are scientists who specialize in the study of how microorganisms affect and are affected by the world around them.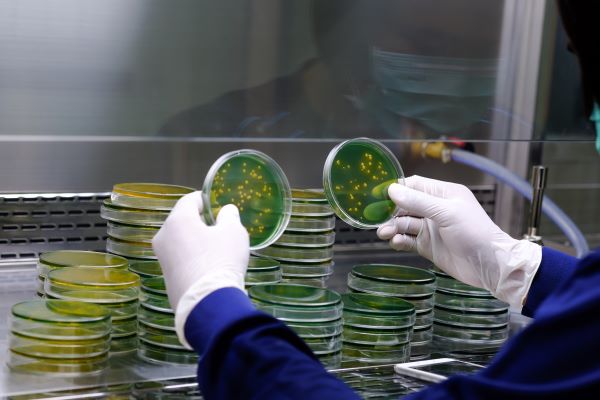 Key areas of research focus in environmental microbiology include how microorganisms can be used strategically to address environmental issues, such as environmental contamination and poor crop growth in agriculture. Microbiologists who specialize in food microbiology, also referred to as food scientists, research ways microbes such as the bacillus and pseudomonas bacteria can help crops grow more efficiently.
Industrial Microbiologists
The natural world isn't the only environment where microorganisms are found. They also have both positive and negative effects on industrial production processes, which constitute the focus of industrial microbiologists. Examples of work in industrial microbiology include the use of microbes like fungi, bacteria and yeast for making cheese and the application of microbes to industrial production processes to achieve mass production of antibiotic medications, vitamins, fuel and alcohol.
An industrial microbiologist may be brought into a production facility to examine microbial growth found in the pipes and equipment of chemical plants and determine how the growth can be remediated or prevented and what effects it may pose. Some industrial microbiologists bridge the gap between environmental microbiology and industrial microbiology, assessing how industrial waste affects the environment and devising ways microbiology could be used to manage waste, such as developing strains of microbes that can clean up waste or contamination.
Despite its focus on organisms too tiny to see with the naked human eye, microbiology is a fairly broad field. Prospective microbiology students don't have to know going into their college education exactly what area of microbiology appeals to them. As they complete courses that allow them to gain a broad understanding of the field, they can focus more narrowly on the areas of study and research that most interest them.
Where Do Microbiologists Work?
In general, most microbiologists spend their workdays in clinical and research laboratories, where they conduct scientific experiments of some kind. A microbiologist may also work in industrial settings and offices, as well as visit worksites to collect specimens and samples from specific environments.
RELATED: Highest Paying Degrees in Biology – Majors & Careers
The single largest industry of employment for microbiologists in 2021 was research and development in the physical, engineering and life sciences. This field accounted for 29% of job opportunities in the microbiology field, according to the United States Bureau of Labor Statistics (BLS). Nearly all kinds of microbiologists find employment opportunities in this industry. Clinical microbiologists and medical scientists, in particular, are among the 14% of microbiologists who work for the pharmaceutical and medicine manufacturing industry.
Public health microbiologists are among the 11% of microbiologists who worked for the federal government or the 6% of microbiologists who work for state governments, as reported by the BLS. Some of the federal government agencies that employ microbiologists and scientists with a microbiology background include the Centers for Disease Control and Prevention (CDC), the Environmental Protection Agency (EPA), the Food and Drug Administration (FDA), the Agricultural Research Service and even the Central Intelligence Agency (CIA).
All areas of microbiology are advanced through education and research. Around 7% of microbiologists worked for colleges and universities in 2021, the BLS reported. In academia, microbiologists conduct basic or applied research while also performing their teaching job duties.
Levels of Study in Microbiology
If you want to become a microbiologist, you need at least some amount of formal college education culminating in a degree. Microbiology degree programs are offered at undergraduate, graduate and doctoral levels of study.
RELATED: Highest Paying Jobs With a Biology Degree – Degrees in Biology – Majors & Careers
Bachelor's Degree
The lowest level of formal college education with which you can typically hope to become a microbiologist is a bachelor's degree. A bachelor's degree is an undergraduate degree program that typically consists of at least 120 credits of college study, or four years of full-time study. Many four-year colleges and universities offer degree programs in microbiology.
Scientists are often expected to complete an advanced level of formal education, but microbiology is one branch of science in which there are considerable career opportunities with only a baccalaureate degree. The American Society for Microbiology (ASM) lists jobs like research associate, laboratory scientist and biosafety specialist as among the careers you could pursue with a bachelor's degree in microbiology. A bachelor's degree in microbiology is also sufficient for becoming a laboratory technician. For the role of biological technicians in research laboratories, according to the ASM, only an associate's degree is required.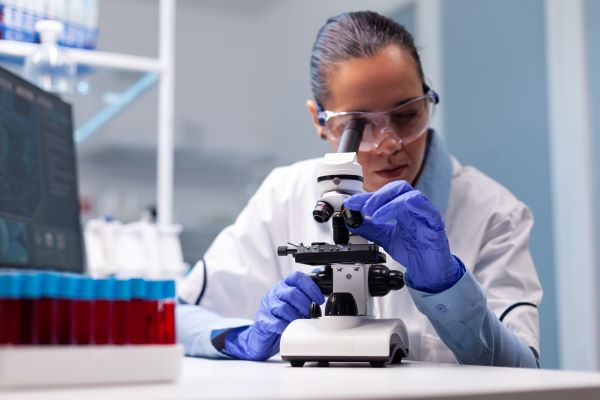 Master's Degree
The higher your level of microbiology education, the more career options you will have. You can work as a researcher with only an undergraduate degree, but you may not be qualified to lead research teams or work as an educator. Graduate students in microbiology are able to pursue more advanced career paths once they finish their master's degrees. Laboratory manager, laboratory instructor, lecturer and biosafety officer are among the career paths open to microbiologists with a master's-level education, according to the American Society for Microbiology.
Graduate students pursuing a master's should expect to spend two to three years in school if they are studying full-time, although some programs can be completed in as little as one year. Most master's in microbiology degree programs require at least 30 credits of graduate-level coursework, including laboratory research and internship experience. Some master's in microbiology programs also require graduate students to gain some experience teaching undergraduate courses as graduate assistants.
RELATED: I Feel More Comfortable in a Lab. Will I Have to Teach As I Get My Master's in Biology? 
Most master's in microbiology degree programs require a written thesis. Even in non-thesis programs, students should be prepared to conduct scientific experiments and otherwise participate in research or in an experience-based project.
RELATED: Are There Programs Where I Take My Master's and Ph.D. in Biology Simultaneously? 
Doctoral Degree
If you aspire to work in research and development conducting basic research or applied research, a doctorate will offer you the best career prospects. While most undergraduate microbiology programs serve to equip students with a broad understanding of the field of microbiology, a graduate or doctoral degree program allows students to gain a deeper level of knowledge of the field and develop expertise in an area of specialization. The highest-level positions in the field of microbiology – such as research scientist, university professor or principal investigator – usually require the completion of a doctoral degree program, according to the American Society for Microbiology.
Doctorate degree options for microbiologists include both the traditional research-focused Doctor of Philosophy (PhD) degree and a medical doctorate, such as the allopathic Doctor of Medicine (MD) or the osteopathic Doctor of Osteopathic Medicine (DO) degree. While notoriously difficult to get into, medical school may actually take less time to complete than a PhD program, although years of clinical residency training follow the completion of either an MD or a DO degree.
Postdoctoral Fellowship
A doctorate may be a terminal degree, but just because your formal coursework and research dissertation are complete doesn't mean that your career training is finished. Many microbiologists go on to gain experience working in temporary postdoctoral research positions after they graduate with their doctorates.
Postdoctoral positions typically offer new PhD holders more opportunities to learn to use cutting-edge equipment and technologies, publish research findings and benefit from mentorship under experienced scientists. Additionally, completing a postdoctoral fellowship gives you an opportunity to drill down from your broader understanding of the field of microbiology into an area of more specialized focus in which you plan to concentrate your career.
Postdoctoral fellowships for microbiologists typically last between two and four years, according to the American Society for Microbiology. Completing a postdoctoral fellowship can help put you on the path to careers such as university professor, laboratory director and research scientist, the most senior member of a laboratory.
What Level of Education Do You Need to Conduct Independent Research in Microbiology?
Given that research is such a crucial part of a microbiologist's work, it's no surprise that many prospective microbiologists want to know what level of education they need to conduct independent research rather than working as a laboratory technician or assistant or associate.
While you can be a research associate with only a baccalaureate degree, conducting research independently typically requires at least a master's degree, if not a doctorate.
If you want to work at colleges and universities as a full-time, tenured professor, you will generally need a PhD. Postdoctoral positions typically offer the best preparation for a career conducting independent research, equipping scientists with the advanced skills and credentials needed to work as a laboratory director, the senior scientist of a laboratory or a principal investigator at a government agency or private or nonprofit research laboratory.
How Long Do Microbiologists Who Pursue Management Careers Spend in School?
Management careers in microbiology encompass more than just the duty to lead research teams. There is a difference between the principal investigators of a research project or laboratory and natural sciences managers.
Natural sciences managers are less involved in the hands-on process of undertaking scientific research and more involved in administration. Putting together budgets and schedules, and making sure research teams stick to them, is an important part of management job duties in the field of microbiology. As a natural sciences manager, you are well-positioned to lend your expertise as a clinical researcher to support the efforts of all of the scientists – from principal investigators to research assistants – under your guidance. Although you might no longer spend your days in the laboratory, your skills and insights will continue to aid in the advancement of the field.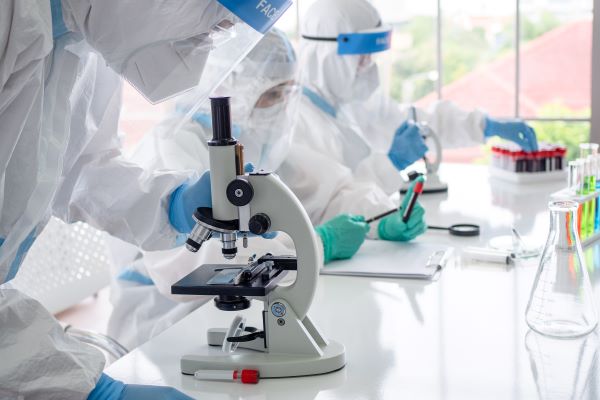 How much time do microbiologists who pursue management careers spend in school? Different sources give somewhat different answers, and the level of management role you're pursuing is an important factor, as well. According to the United States Bureau of Labor Statistics (BLS), experienced scientists can move up into the role of natural sciences manager even if they possess only a bachelor's degree. However, the American Society for Microbiology lists laboratory director as one of the careers available specifically to microbiologists who complete postdoctoral training.
You might be able to move into a management career with just four years of undergraduate study after earning a high school diploma. Alternatively, you might spend as long as 15 years preparing for your career, earning first your bachelor's and then your doctoral degree and completing a four-year postdoctoral appointment. Before you can become a manager, you need to gain considerable work experience, regardless of the level of degree you hold. To qualify for a management role, you will be expected to have a volume of published research findings.
Coursework in a Bachelor's Degree in Microbiology
During your undergraduate study, you have the opportunity to gain valuable laboratory experience and write technical reports – and not only during your required lab coursework. Microbiology students should look for opportunities to get involved in laboratory research, such as working in faculty research labs or applying for internships with research laboratories and government agencies. Undergraduate students who are able to start gaining published research credits early on in their careers and present research findings at conferences and events are well-prepared for the demands of graduate school and a career in microbiology research.
At the bachelor's level, most undergraduate microbiology programs will include coursework in subjects like microbial genetics, microbial physiology, environmental microbiology, virology and biochemistry, as well as general science courses in biology, chemistry, physics and computer science.
\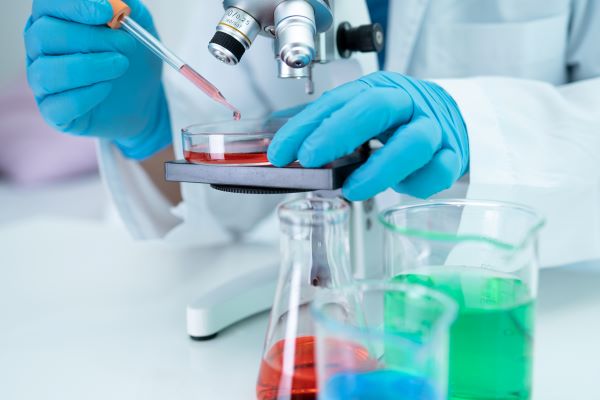 Microbial Genetics
Like larger organisms, microorganisms are made up of genes. Microbial genetics is the study of the mechanisms of genes and the heritable information that the genes of microorganisms contain.
RELATED: Will There Be Job Opportunities With Only a Bachelor's Degree in Genetics, Or Do I Need a Master's?
Microbial Physiology
Microbial physiology is the scientific study of the normal functions of microorganisms and their parts, including organs, systems and cells.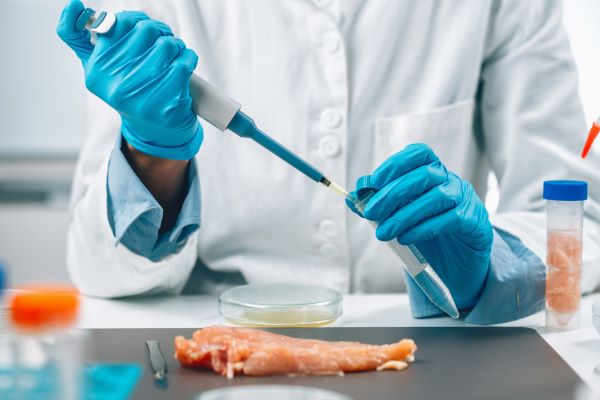 Environmental Microbiology
An undergraduate course in environmental microbiology will typically cover the principles of this specialization of microbiology as well as examples of practical applications of those principles to environmental issues that range from contamination to climate change.
Virology
In an undergraduate virology course, students will learn about the principles of cellular and molecular events that occur in viruses, including virus replication and pathogenesis, or how a disease develops. Often, virology courses focus on viruses that affect humans and animals, as well as methods of controlling outbreaks of viruses.
Basic Science Coursework
You can't build a thorough foundation in microbiology without having a broader understanding of biological sciences and the chemical and physical principles that pertain to organic (living) matter. The curriculum of a microbiology program will typically begin with coursework, including laboratory courses, in biology, chemistry and physics. A basic course in computer science can also be important since microbiologists today use computer technology such as medical software, database management software and analytical software programs like BD Biosciences CellQuest and Protein Explorer.
Other Majors to Consider to Become a Microbiologist
Not all colleges and universities offer degree programs in microbiology specifically, especially at the undergraduate level. Students interested in pursuing a microbiologist career may begin their education by majoring in broader areas of science like biology, biological sciences or natural resources, the United States Bureau of Labor Statistics (BLS) reported.
RELATED: Will I Be Accepted Into a Master's Biology Program If My Undergrad Degree Isn't in Biology? 
For the 2018 through 2019 school year – the most recent year for which full data is available – only 2,137 students graduated with a bachelor's degree in general microbiology compared to the 75,016 students who graduated with a bachelor's degree in biological sciences more generally, according to the National Center for Education Statistics (NCES). There are pros and cons of majoring in the more specialized field of microbiology over general biology, but either option can put students on the path to becoming a microbiologist.