Are you good at smoothing over issues and persuading others to compromise? When a conflict arises, do others look to you to act as a peacekeeper and decide things fairly? You could turn these strengths into a career in the legal field if you decide to work as a mediator. A mediator needs a minimum of a bachelor's degree and, often, a separate mediation training program. Depending on your field of interest, you may also need a law degree, a Master of Business Administration or another advanced degree.
What Is a Mediator?
In a legal matter in which the two sides can't seem to reach a resolution, having a neutral party hear each side's argument and suggest a way to settle the dispute can often help. A mediator is a person who does just that. While mediators are part of the legal occupational group, their role is in conflict resolution.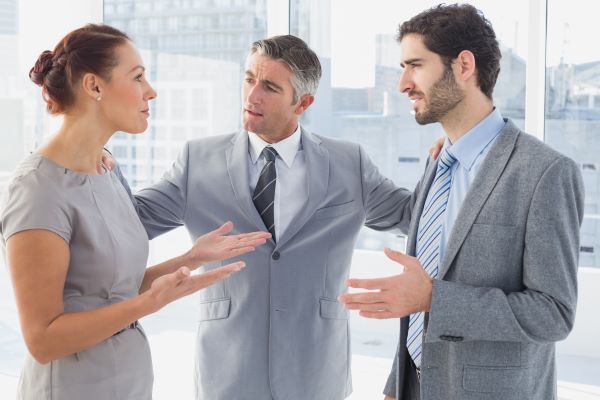 For mediators, arbitrators and conciliators, the United States Bureau of Labor Statistics (BLS) reported a median yearly wage of $49,410 in 2021. Mediators working for local government courts earned the most, with a median salary of $73,610, followed by mediator jobs with the state government, which paid a median wage of $65,310. Mediators working in the healthcare and social assistance industry reported a median salary of $46,640. In the legal services industry, the median salary for mediators and arbitrators was only $29,990.
What Is Mediation?
Mediation is a stage in the legal system that comes after the two parties involved in the dispute have tried and failed to come up with a settlement out of court but before the case goes all the way to trial. The goal of mediation is to resolve the case without a trial. Taking a case to court takes considerably more time, expense and resources – including the need for a judge to preside over the proceedings and a jury to hear the arguments, deliberate and reach a verdict.
What Types of Issues Can Be Solved Through Mediation?
Mediation can be used to resolve a variety of civil disputes, including:
Divorce disputes
Child custody disputes
Family disputes
Landlord-tenant disputes
Conflicts between neighbors
Legal disputes between business partners
Conflicts between labor unions and management
Disputes involving social assistance
In some cases, disputes involving nonviolent criminal activities may also be solved through mediation.
Mediation often involves an actual legal issue, but that isn't always the case. Some mediators provide conflict resolution services for all kinds of disputes, not only the ones that would otherwise be on the path to the courtroom. Sometimes these mediators work in private consulting firms or in their own private mediation practice. Corporate legal departments and human resources departments have a need for skilled mediators, just as the court systems in state and local governments do.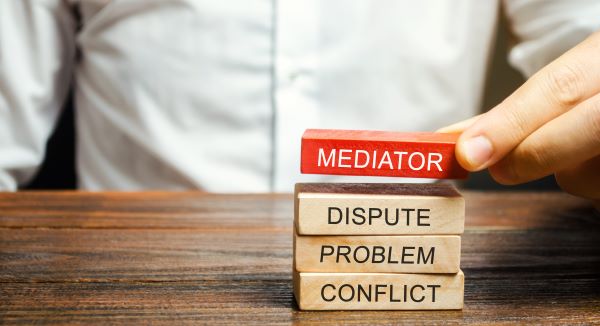 Mediators, Arbitrators and Conciliators
A mediator is just one of three types of professionals who work toward this goal of resolving legal conflicts outside of the court system.
The difference between a mediator and an arbitrator is that an arbitrator's decisions are usually binding, although they can be appealed, according to the Bureau of Labor Statistics. A mediator's job isn't to issue binding decisions but instead to facilitate a mutually agreed upon compromise or settlement between the two sides. Arbitrators are usually attorneys or former judges, according to the BLS, while mediators may come from different educational or professional backgrounds.
Two factors distinguish mediators from conciliators. In a way, conciliators are similar to arbitrators in that their decisions may be binding. Both interested parties in a dispute must decide before they hear the conciliator's solution whether they agree to be bound by their recommendations, the BLS reported. The other difference is that conciliators meet with the two sides separately, while mediators work with both sides together to facilitate an agreement.
How to Become a Mediator
People take different paths to launch a mediator career. Some mediators go to law school, others to business school and still others earn an undergraduate degree in an area of professional practice, like construction.
RELATED: Top 25 Law Schools
The three things you will definitely need if you want to be a mediator are a degree – at minimum, at the bachelor's level – along with professional work experience and formal mediation training.
An example of a step-by-step plan you could follow to prepare to become a mediator is below.
Earn a bachelor's degree in a field relevant to your area of expertise.
Gain work experience in your field.
Consider going to graduate school – such as law school or business school – to advance your knowledge of your field.
Complete a formal mediation training program.
Gain experience mediating disputes under the guidance of an established mediator.
Get certified in your area of expertise, if required.
Is There Such a Thing as a Mediation Degree?
You need a degree to become a mediator, but can you actually major in mediation? At most colleges and universities, mediation isn't a major you can pursue.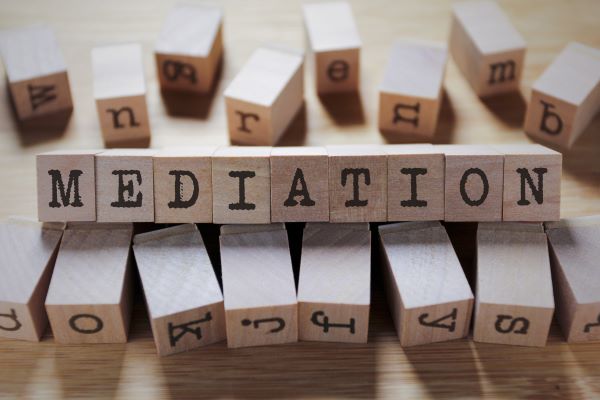 The good news is that you don't need to major in mediation to become a mediator. According to the Bureau of Labor Statistics, "few" mediators or arbitrators actually earn a degree in this area.
Instead, mediators are more likely to have an educational background in an area of expertise – be that area law, business administration, finance or another field.
Degrees in Conflict Resolution and Dispute Resolution
Among the schools that do offer degree programs pertaining to mediation, these programs are more commonly called conflict resolution or dispute resolution degree programs. Students in an undergraduate degree program in conflict resolution will learn the techniques of consensus building, storytelling in conflict resolution, environmental and intercultural conflict resolution, reconciliation processes, peer resolution and family resolution.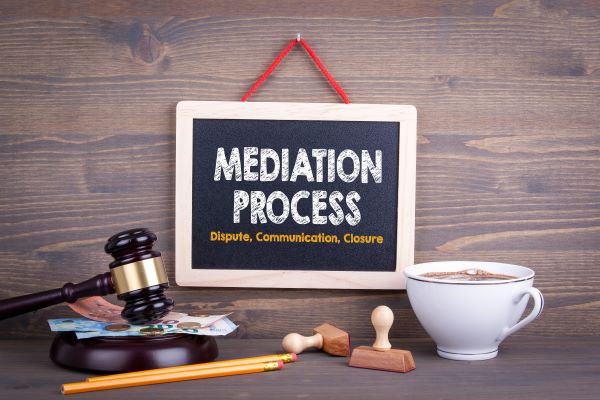 Through studying nonviolent interaction, war and peace studies, restorative justice, social movement messaging, democracy and forgiveness and atonement, students can build practical conflict management skills as well as theoretical knowledge of the psychology, values and ethics of conflict resolution.
Undergraduate and Postgraduate Certificate Program Options in Mediation
The curriculum of an undergraduate certificate in mediation and conflict resolution is shorter and more professionally focused than a full major dedicated to the subject. Some of the courses you might take as you pursue a certificate include mediation theory and practice, negotiations and bargaining, organizational conflict, cross-cultural conflict, argumentation and ethics in communication and mediation.
Master's Degree Programs in Mediation
At the graduate degree level, degree programs in conflict mediation often include studies in traditional and alternative dispute resolution processes, the facilitation of conflict resolution, theories and psychology of conflict, mediation theory, ethics in negotiation, media coverage of conflicts, restorative justice, collaborative law and research methods for studying negotiation and peacebuilding.
Graduate students may have the opportunity to learn methods of mediation for familial and interpersonal conflicts, organizational and labor conflicts, public and community conflicts, intercultural conflicts, sports conflicts, religious conflicts and conflicts involving school violence. Through their graduate coursework, students develop their skills in interpersonal communication, negotiation tactics, collective bargaining and critical thinking.
RELATED: Top 10 Careers for Extroverts
Master's degree programs in conflict mediation often offer students an opportunity to gain real-world experience through a practicum or internship. Students may also have to complete a thesis or some other sort of capstone course or project to graduate with their master's degree.
What Bachelor's Degree Should I Get to Become a Mediator?
Preparing to become a mediator begins with earning an undergraduate degree. While some students begin by pursuing their associate degrees, you will need a minimum of a bachelor's degree before you can start gaining professional mediation experience and preparing to work in this field.
Which bachelor's degree you should pursue depends on your intended area of mediation practice. In which type of matters would you like to render aid: family disputes, business issues, matters of civil or criminal law?
RELATED: What Degree Do People With a Job in Labor Relations Have?
Depending on your interests, one of the majors listed below may put you on the path to a career as a mediator.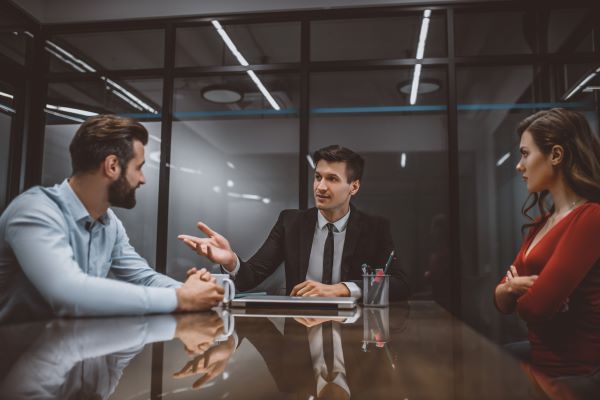 Business Majors
Disputes are common in the business world, so having an undergraduate background in some area of business is a good start for anyone interested in mediating cases of this nature. Some of the business majors you might consider include general business administration, accounting, finance and human resources.
Business Administration
Business administration is a general area of business study that covers core coursework in a variety of business fields. Students can often choose one area of concentration in which they will take more extensive courses to build an area of expertise.
Accounting
If you want to handle disputes that involve business accounting or auditing concerns, consider majoring in accounting, the area of business concerned with financial reporting. Students of accounting learn the principles and techniques of producing and making meaning out of financial reports and take courses in several areas of accounting, including financial accounting, management accounting, auditing and taxation.
RELATED: How Long Does It Take to Become an Accountant?
Finance
Finance is the business field that emphasizes the management of money. Finance majors are well-suited to address financial conflicts. They study subjects like corporate finance, investment banking, financial statement analysis and a variety of types of financial investments.
Human Resources
A business administration curriculum will cover the foundations of human resources, but students can also seek a degree in the broader human resources field to gain additional expertise in this area. A degree in human resources will typically include studies in recruitment, training and development, employee compensation, organizational development and employment law.
Criminal Justice
If your interest is in mediating cases with a criminal law element – or just getting to know the court system in general – consider majoring in criminal justice, in which you would study courts and court procedures, criminal investigations and procedure and criminal and constitutional law.
RELATED: What Salary Can You Expect With a Master's Degree in Criminal Justice?
Psychology
Reaching an agreement between disputing parties requires understanding how each side thinks and how to reframe their thinking for productive negotiations. Students of psychology take an array of courses that pertain to the scientific study of thinking and behavior.
Sociology
The kinds of conflicts a mediator might help resolve involve two or more people or parties. Understanding social phenomena and relationships can help you understand the dynamics between the disputing parties so that you can better bring about a resolution.
Communications
Good mediators are excellent communicators. Communications majors develop these skills through courses in issues in communication, public speaking, writing, media, strategic storytelling and intercultural communication.
Pre-Law or Legal Studies
If you're interested in going to law school, you could major in any subject – but some sort of undergraduate legal education is likely to appeal to you. Students majoring in pre-law or legal studies take courses in legal research and writing, computer technology in the legal industry, litigation support management, criminal law and procedures and civil litigation of all kinds.
RELATED: What is a Bachelor's Degree in Legal Studies?
Should a Mediator Go to Graduate School?
Although it's possible to be a mediator of some kind – and in some jurisdictions – without a law degree, many mediators possess an advanced education. As such, an aspiring mediator should consider whether going to graduate school is the right path for them.
If you decide to pursue a graduate education, you have options. You could study law, business, finance, accounting or a field that pertains to another area of expertise. You could focus on your studies full-time or work toward a degree on a part-time basis. In addition to the option to earn a degree in person, you could look for a school that offers an online master degree in an area like business administration or finance.
Law School for Mediators
One of the most common paths for mediators with an advanced education is going to law school to earn a Juris Doctor degree, the same degree used to become a licensed attorney.
RELATED: 20 Non-Law Firm Jobs With a Law Degree
Can you become a mediator without a law degree? It depends on what sort of cases you would like to mediate. If you want to work in business dispute resolution, a law degree may be unnecessary. Instead, you would draw upon your expertise in the business world, gained through earning a bachelor's degree in business, working in the field of business administration for years and potentially earning a master's degree.
Suppose, however, that you want to mediate family disputes and other conflicts pertaining to family law or to other areas of civil or (less commonly) criminal law. You will have a difficult time mediating these types of cases without a law degree because you will need extensive knowledge of the relevant laws and the legal system.
RELATED: What Degree Do You Need to Be a Lawyer?
Business School for Mediators
If you're approaching a mediator career from a background in business, you might prefer to pursue a graduate degree in business. The Master of Business Administration (MBA) degree, which brings together core coursework in the broad field of business and more specialized coursework in an area of concentration, is a popular option. Students interested in specializing their graduate education more might seek a master's in a field like finance, accounting or human resources.
What to Expect From an Approved Mediation Training Program
The mediation career path often appeals to people who are naturally good at listening, interpersonal communication and thinking about compromises. Still, for the sake of your professional development and the opportunity to improve your communication and negotiation skills, you should look for a comprehensive mediator training course.
You might complete mediation training programs offered by programs or institutions like the following:
Educational institutions, including mediation certificate programs at colleges and universities
Local and regional organizations
National mediation associations
Independent mediation training programs
Commercial mediation centers
Community mediation or dispute resolution centers
No matter where you go for your mediation training, you should expect to undergo basic training in the role and responsibilities of a professional mediator, the facilitative mediation process and methods for facilitating productive conversation between the parties involved in the dispute.
A mediation training course will also help you develop the communication skills most necessary for success in the cooperative process of mediation. These skills include identifying parties' interests and positions on the dispute, using neutralizing language to facilitate conflict resolution, summarizing and reframing disputes and active listening.
The skills you learn in a training program for aspiring mediators can prepare you for the challenges of conducting meetings, negotiating compromises between the parties in a dispute and issuing a written opinion that is fair to all parties. Many mediator positions – whether in the federal government, state and local government agencies, a community dispute resolution center or an alternative dispute resolution firm – will require or at least give preference to mediators who have completed some kind of formal training.
After your training in conflict management and dispute resolution, you should focus the next stage of your mediator career preparation on accumulating mediation experience under the supervision of an experienced mediator.
Attaining Mediator Certification
Mediator requirements vary not only by state but also by the type of cases the mediator handles. In some states, only a court-certified mediator is authorized to handle certain types of disputes, particularly those involving more extensive legal matters.
Mediator Certification Requirements
The requirements for qualifying for professional or state certification depend on the state in which you plan to work. Generally, court-certified mediators are required to undergo specific training courses. According to the Bureau of Labor Statistics, most states with court mediator certification requirements in place expect a mediator to undergo between 20 and 40 hours of training. To achieve court certification as a mediator in certain specialty areas, you may also need to complete additional specialty training. Continuing education is another common requirement for court-certified mediators.
Most states have some formal requirements for court recognition of mediators, whether these requirements are comprehensive statewide standards or standards that apply only to issues involving child custody and family law.
Although most standards are set at the state level, local jurisdictions may have their own requirements. Check with your local court to find out the jurisdiction-specific requirements for a mediator career.
Licensing and Credentials for Mediators
Depending on your area of expertise, you may be required to maintain licensure and other credentials specific to your field – such as a license to practice law if handling cases with extensive legal aspects or a certified public accountant (CPA) credential if the parties involved in disputes are turning to you for your expertise in accounting and auditing. Even if maintaining these licenses and credentials in active standing isn't a state requirement where you work, having them can be valuable – especially if you're one of the 14% of the arbitrator, mediator and conciliator occupation that is self-employed.