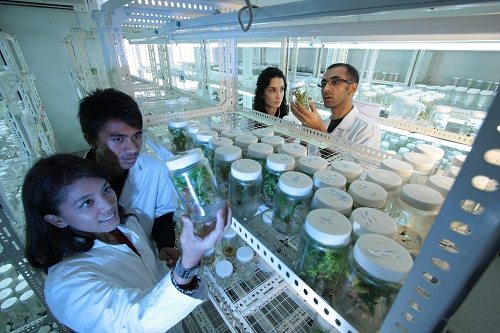 IMAGE SOURCE: Pixabay, public domain.
Overview
Conservation is the protection and management of the environment and natural resources. A conservation scientist uses an educational background in science and computer technology to make strides toward environmental protection and preservation. Conservation scientists may choose to specialize in preserving certain types of environments and ecosystems, attaining roles with job titles like conservation land manager, range manager and soil and water conservationist.
Conservation scientists must balance efforts to protect the ecosystem with the necessity of using land and natural resources. For example, when government entities and commercial businesses are contemplating harvesting forest land for lumber or buying or selling it for use as building property, conservation scientists create the terms of the contracts. They develop plans for the sustainable use of land and other natural resources. Conservation scientists work both indoors and outdoors, supervising the progress and compliance of environmental preservation efforts as well as developing ideas for preserving land and resources.
Most conservation scientists work for government agencies. About one-third of all conservation scientists are employed by the federal government, while 24 percent work for state governments and another 17 percent work in local governments, the United States Bureau of Labor Statistics (BLS) reported. The remaining conservation scientists find employment with social advocacy organizations or privately-owned forests.
Education
An aspiring conservation scientist needs a college degree, but finding the right degree program might be more of a challenge than expected. Forestry, urban forestry, environmental science, rangeland management, agricultural science and natural resources and ecosystem management are all acceptable degree paths for conservation science careers. However, to have the best employment prospects, it's important to choose a degree program that is accredited by the Society of American Foresters. Only around 50 programs in the nation have earned this accreditation, the BLS reported.
Students in an accredited forestry degree program will complete coursework in science subjects like biology, ecology and forest resource measurement. They also learn the necessary computer skills, including how to use computer modeling software programs, remote sensing tools and geographic information systems technology. Through classroom lectures and hands-on lab work, aspiring conservation scientists learn both theories of conservation science and the practical skills to put this knowledge to work preserving the environment.
While a bachelor's degree from an accredited program is sufficient for entry-level conservation scientist roles, some professionals choose to earn their master's degree or Ph.D. so they can advance to management or high-level research roles.
Employment
The BLS expects job opportunities for conservation scientists to increase by seven percent over a decade, with a growth rate on par with the average across all occupations. However, aspiring conservation scientists with experience using software tools such as geographic information systems and remote sensing should have strong job prospects, especially in privately-owned forests that are being used to produce lumber. Conservation scientists earn a median salary of $61,110 per year, the BLS reported.
Conclusion
A career as a conservation scientist incorporates scientific knowledge and principles with a knack for computer-based tools and a passion for protecting the environment. Though it can be physically strenuous, conservation scientist is an excellent "green" career, especially for candidates who don't mind working outdoors in all sorts of weather.