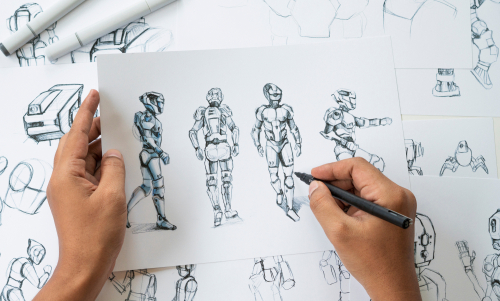 Students and others who aspire to work as professional animators may wonder what are the biggest companies in the animation industry. Different companies specialize in various types of animation, of course, so it's important to have a complete picture of the industry's options. The following is a comprehensive list of the biggest animation companies across all mediums.
Walt Disney Animation Studios/Walt Disney Television Animation
The pioneer of animation as it is known today, the Walt Disney Company continues to lead the pack when it comes to both prestige and size of modern animation companies. Walt Disney Animation Studios produces its top-of-the-line feature animation productions while Walt Disney Television Animation division focuses on animating their television properties. When you think of what are the biggest companies for animation, Disney is usually the first that will come to mind.
Warner Bros. Animation/Warner Animation Group
Warner Bros. Animation mostly creates animated television productions based on their various properties such as Scooby-Doo, the Loony Tunes and characters from DC Comics. Warner Animation Group has produced feature-length theatrical films such as Smallfoot and The Lego Movie. Both divisions have been through several renames and mergers throughout the years, although they both continue to operate and bring characters loved the world over to the big and small screen.
Industrial Light & Magic
When it comes to the special effects used in feature films, no studio holds higher prestige than Industrial Light & Magic (also known as ILM), the company that essentially pioneered film special effects. Per USA Today, ILM was formed in 1975 by George Lucas, primarily to create the special effects for his upcoming feature Star Wars. They are now one of the largest producers of special effects in the film industry.
DreamWorks Animation
DreamWorks Animation was founded in 1994. Starting with traditionally animated projects such as The Prince of Egypt and Spirit: Stallion of the Cimarron, they then moved on to computer-generated features including hits Shrek, Kung Fu Panda and How To Train Your Dragon. With a cumulative feature film gross of over $15 billion, according to Box Office Mojo, DreamWorks continues to be one of the biggest brands in animation.
Pixar Animation Studios
Known as one of the most prestigious computer animation studios in the world, Pixar is noteworthy for having produced the first computer-animated film ever, Toy Story, in 1995. Some of their most noteworthy films include the Toy Story franchise, Finding Nemo, Up, The Incredibles and Coco. Pixar also does significant work on short films, a medium where the company began their journey and continues to pay homage to even today. Pixar has won numerous awards over the years, including many Oscars.
Illumination
Illumination is an animation production studio owned by Universal Pictures. Although relatively new (founded in 2007), the studio has produced big hits Despicable Me, spin-off Minions and The Secret Life of Pets. With several future projects in the works, they look to remain a major player in the years to come.
Sony Pictures Animation
Like the examples listed above, Sony Pictures Animation is the animation division of major film studio Sony. They have enjoyed significant financial and critical success as of late with hits such as Hotel Transylvania and Spider-Man: Into the Spider-Verse, catapulting them into place as a major player in the animation business. Spider-Man: Into the Spider-Verse, in particular, was viewed as a game-changer – it required more animators than any Sony Pictures Animation project before it and won major awards such as the 2018 Academy Award for Best Animated Feature.
Cartoon Network Studios
Cartoon Network Studios is the animation studio that produces the original animated series that air on Cartoon Network. Noteworthy series of theirs include Samurai Jack, The Powerpuff Girls, Ben 10 and Steven Universe. Cartoon Network has been around for quite some time as a major television network devoted to animation and it shows no sign of slowing down anytime soon.
Nickelodeon Animation Studio
Nickelodeon Animation Studio is responsible for many of Nick's hit shows such as SpongeBob SquarePants, The Fairly OddParents, Rugrats, Invader Zim and Avatar: The Last Airbender, to name a few. They have also worked on Nick Jr. properties such as Dora the Explorer and Blue's Clues as well as theatrical productions involving their animated properties.
Laika
Laika is a relatively recent player to enter the animation scene, but the studio has made a name for itself by having most of their films receive strong critical praise and Academy Award nominations. Laika is unique in that the studio specializes in stop-motion animation, which is an animation technique where physical objects are photographed and manipulated incrementally to create movement. Laika is one of the only significant animation studios specializing in stop-motion animation. Examples of their work include Coraline, Kubo and the Two Strings and Corpse Bride.
Electronic Arts
Video game companies also produce significant quantities of animation and hire considerable numbers of animators. Electronic Arts, also known as EA, is one of the biggest video game publishers in the world. They operate many branches of their own studios including EA Montreal, EA Vancouver and EA Tiburon. EA owns many smaller studios, such as BioWare, where those interested in pursuing a career in video game digital animation may desire to work. When it comes to what are the biggest companies for animation in video games, EA is one that will frequently come up.
Rockstar Games
Rockstar Games is yet another sizable video game studio that is well-known in the industry for creating great games with jaw-dropping animation. Notable projects include Red Dead Redemption, the Grand Theft Auto franchise, L.A. Noire and others. They have several subsidies around the world that work on different projects in the various franchises they own, such as Rockstar North and Rockstar San Diego.
Activision Blizzard
Video game giants Activision and Blizzard Entertainment merged in 2008 to become the singular company Activision Blizzard. Blizzard Entertainment has long enjoyed an excellent reputation in the industry for creating quality games and astounding animated cinematics. They are most well-known for the Warcraft, Starcraft, Diablo and Overwatch franchises. The company has been named a Fortune 100 Best Companies to Work For from 2015 to 2018 per Great Place To Work.
There are countless animation studios in operation all around the world. Many are based in the United States but yet others are based in Australia, Canada, France, Japan and elsewhere. Consider these examples when wondering what are the biggest companies for animation.
Related Resources:
Which Schools Have the Best Animation Programs?
How Much Math Should I Study if I Want to Become an Animator?
What High School Classes Can I Take That Will Help Prepare Me for a Degree in Animation?
Are There Online Programs That I Can Get a Degree in Animation?
Are There Degrees in Criminal Justice Programs That Use Animation?