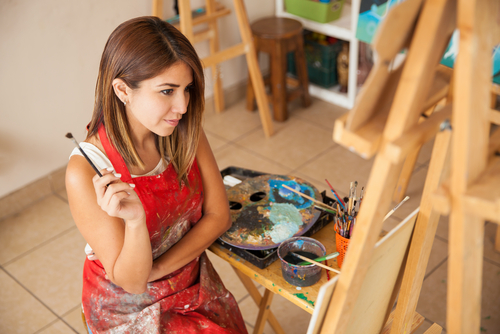 The right high school classes will help a student prepare for a degree in animation. Depending on the courses a particular high school offers, a student may either have several choices or very few. Aspiring animators should consider taking any or all of these courses that are sometimes offered in high schools.
Animation
Some high schools offer art courses specifically in animation. It should go without saying that students who want to go into animation should be sure they take this elective course. A high school animation course will teach students the basics of animating figures in motion. Most will teach both hand-drawn animation techniques as well as how to create animated figures on computers. Unfortunately, such classes are not especially common, so students who are lucky enough to have access should take them.
Art
Students who go to high schools where electives in animation are not specifically offered should be sure they are enrolled in art classes. Most high schools offer general art classes as electives and according to the Bureau of Labor Statistics, many animators go on to get art degrees in college. High school courses may be offered in beginner, intermediate, and advanced versions and/or as a multi-year program. Aside from teaching students basic art principles, these classes offer a creative outlet for teenagers that often improve their self-esteem, social connections and mental functions. Students will also have ample opportunity to begin developing their art portfolios, which will help get them into art schools and find jobs after graduation.
Computer Science
As computers become more and more widely used in everyday life and demand for computer science college degrees rises, more high schools are beginning to offer courses on the subject as well. This is advantageous to animators because most animation today is done on computers. PayScale points out that animators heavily use computer-based technology, such as 3D animation software and motion capture, to depict their subjects. Animators entering the industry today will need to have strong computer skills and taking a computer science class in high school can give them much of that basic understanding.
Film Production
More high schools are offering courses in film production, which are excellent classes to take for animation students. Having a strong understanding of film terminology, concepts and the process through which a film is made is necessary for any animator who wants to work on film or television productions. Many of these courses will cover animation as well, whether fully-animated films or the increasing number of films that use computer-generated animations and characters to some degree.
Video Game Development
While not especially common, some high schools offer courses in video game development. If available, this is a course anyone who wants to create the animations used in video games should take. Aspiring video game animators should learn about every aspect of development so they become intimately familiar with the process, an overview of which these courses teach. After all, animators are just one part of an entire team that is responsible for creating a video game, which includes programmers, musicians, writers, creative directors and other professionals.
English
Almost every high school student is required to take multiple years of English courses and students who want to be animators should pay special attention. English courses read and analyze some of the most important literary works in human history. This teaches future creative professionals the basic elements of telling a story and telling it well. Some animators are not especially involved in creating the story of whatever they are animating, but others are, which is why a basic understanding of literary analysis is useful.
Creative Writing
Creative writing covers the more creative side of storytelling, as opposed to the angle of literary analysis that solid English courses will provide to aspiring animators. Creative writing courses teach students the process of creating a fictional work, developing unforgettable characters, how to respond to criticism and more. Many elements taught in a creative writing course help students prepare for a degree in animation, especially if the student aspires to produce his or her own animated series or video game in the future. Learning how to give and respond to criticism effectively, as outlined by The Balance, is a practice all animators will partake in throughout their careers.
Biology
Like English, biology classes are required for graduation in almost all high school curriculums. Biology is useful for animators because they need to be acutely aware of how living creatures look, move and behave. This includes humans, other animals and even plants, all subjects animators may need to bring to life through their drawings. Students may opt to take more specific science courses such as zoology if such classes are offered at their high school. These otherwise required courses can be turned into a great way to prepare for a degree in animation.
History
History is another class in which aspiring animators should pay attention. Aside from the obvious connection, the history of animation, which is not often taught in high schools specifically but is still important knowledge for animation professionals, historical people and events offer a unique window into the human condition. This is useful for creative professionals who have some measure of influence over the plot points of an animated story, what time period it is set in, the world that has been created for it and so forth. If a high school has a course specifically in art history, that might be worth taking as well.
Self-Study
Finally, one of the most important things an aspiring animator can do in high school is to accomplish a lot of self-study and self-learning on their own. Practice is critical for students hoping to enter creative fields to improve existing skills and develop new ones. High school computer science classes, while useful for a general overview, are not likely to offer students information and training in specific animation software preferred by the animation industry, for example. By putting in this extra effort, aspiring animators will likely have a stronger portfolio and skillset than their peers when applying to animation and art programs in college.
There are a number of high school courses that, directly or indirectly, are beneficial to aspiring animators. Aside from the core courses that are required, it is recommended that future animators strongly consider taking useful electives. Students who do have taken solid steps to prepare for a degree in animation.
Related Resources: