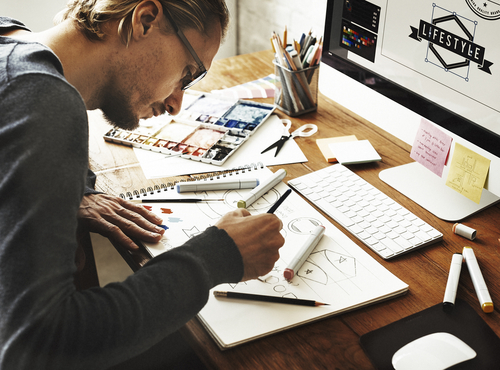 Given the recent success of many animated movies, the interest in becoming an animator has not subsided. In fact, according to the Bureau of Labor Statistics, there are currently over 73,700 active professionals working in the field. More importantly, the job outlook is growing at an average rate of eight percent annually which matches the rest of the market. And while people continue to pursue their dream jobs within this sphere, those who have not quite made the leap towards animation should understand some basics. Namely, they should fully comprehend all of the necessary steps that have to be taken to become a professional animator.
DegreeQuery.com is an advertising-supported site. Featured or trusted partner programs and all school search, finder, or match results are for schools that compensate us. This compensation does not influence our school rankings, resource guides, or other editorially-independent information published on this site.
Necessary Education
According to the Bureau of Labor Statistics, most positions in the animator sector require a bachelor's degree. Thus, candidates are seldom going to be qualified for their dream employment without four years of formal training in an institution of higher education. Luckily, this is an exciting time to get a firm grasp of the necessary technical knowledge and pin-point the area of animation that one deems interesting. Some very common alternatives here include a combination of 2-D, 3-D, motion graphics, and traditional styles.
Those who are not sure about the specific direction in which they want their career to move will overcome this uncertainty by earning a degree often in computer animator, fine art or graphic arts. The vast majority, if not all, university programs for animators are going to require students to go through a predetermined course curriculum. That curriculum will include all of the previously mentioned subjects and many more that the student should get familiar with. While going through their academic ventures, prospective animators will have a chance to determine what style of animating compliments their interests and skills the most.
In case one prefers to avoid four-year programs, they can still get qualified for a variety of jobs by getting certified or acquiring an associate's degree. This route will usually cut the studying time in half, however, it will also cut the number of jobs and one's salary range significantly.
Building a Portfolio
While education is the first step towards becoming an animator, it is not more important than having an outstanding portfolio. Professionals who lack formal education and have extremely impressive portfolios will still manage to get employed. The same cannot be said for their counterparts who carry a lot of education without a portfolio to match, however.
Luckily, there is probably a no better time to work on developing an animating portfolio than during one's college career. The student will have to spend most of their free time practicing and perfecting their craft. After all, professors and classes will only work to demonstrate the basic concepts that apply throughout the industry. Actual animating skills that are unique enough to impress recruiters have to be developed on an extra-curricular basis. Dedicating a few hours on the weekends and free days to creating a stellar demo reel and a diverse portfolio is the key to landing a great entry-level position.
Seek Work Before Graduating
One of the great things about spending two or more years in college is the fact that there are a lot of lengthy breaks. Just consider, for instance, the fact that students have about three months without classes during the spring-to-summer season. That time can be spent towards gaining professional experience as an animator by working for an employer from the industry. According to Game Designing, the first benefit of this approach is the fact that the student will be exposed to actual working conditions that they will face after graduation. That way, they will get a much better frame of reference for how their career will go in the long-run.
Another benefit, which is probably much more important, is the fact that internships help build a large network of contacts. Finding a full-time job after getting a degree is not going to be easy. It is a procedure based on countless job applications and interviews. If the student already knows some of the local recruiters or hiring companies, however, they will be able to take advantage of previously established relationships.
Even though doing so will not let them completely side-step the complex hiring process, it will certainly make it much more bearable. Not to forget that a lot of candidates will receive a full-time offer after their internship and not even have to worry about finding a job upon graduation.
Consider Continuing Education and Post-Graduate Opportunities
If someone graduates and possesses the requirements to become an animator, they should still glance at some of the continuing education or post-graduate opportunities. These include things like specialized courses that could help them gain the necessary exposure to specific areas of animation that interest them. For instance, if they are truly passionate about 3-D projects, some certifications will allow their portfolio to stand out to recruiters hiring for such roles. Taking advantage of these advanced learning opportunities will expand the knowledge base and allow candidates to negotiate better starting salaries. It could let them move up through the ranks much faster as they become skilled enough to train other animators.
While it is not a mandatory step in the process of becoming an animator, it is crucial that all people interested in the job remain curious. The reason why is that doing so will help them keep up the level of passion and innovation necessary to be successful. After all, animating is a demanding job that requires one to constantly balance an appropriate amount of imagination with knowledge of information software. Accordingly, breaking away from the daily tasks with quick research about something fun and animation-related could be the easiest way to become an animator who is not easily burned out.
Related Resources:
What Degree Do I Need To Be An Animator?
What Can I Do With An Art Degree?
What is the Median Salary for an Animator?
What is a Typical Day in the Life of an Animator?
Is it Easy to Work for Myself as an Animator?
Are Their Certain Parts of the Country Where It's Easier to Find a Job as an Animator?