Prospective and current college students have many considerations. The school is essential, as well as your choice of degree, the curriculum, extra-curricular activities, friends, near or far from home, and more. Upon graduation, you will likely be in debt to your alma mater. The average student loan debt for the Class of 2017 graduates was $39,400, up six percent from the previous year (federalreserve.gov). The most recent reports indicate there is:
$1.48 trillion in total U.S. student loan debt
44.2 million Americans with student loan debt
Makes one wonder if a degree is worth the time and expense. According to the U.S. Bureau of Labor Statistics, the median weekly pay for high school graduates (no college) was $718 and $1,189 for those with a bachelor's degree. Full-time workers with advanced degrees (professional or master's degree and above) had median weekly earnings of $1,451 (July 2017 data). You are the judge of where to spend your money.
However, assuming the college degree is a definite, and then you may wonder where your future or current salary will go further. It does not matter if your degree is in medicine or law enforcement. Your pay will differ, in most occupations, according to the geographical location; where you live influences the cost of living. Prices are higher in major metropolitan areas, notably, Los Angeles, New York City, Seattle, and San Francisco, as examples.
There are situations where you cannot choose where to live. You go where the jobs exist. However, with unemployment at less than 4%, this can provide more opportunities to be selective. You may still want to be prudent where you work unless the employment offer is in the realm of too good to refuse.
Hypothetically, a major tech company offers you a job in Silicon Valley, which serves as the global center for high technology, innovation, and social media. Your employment would place you in the neighborhood of Google, Apple, Intel, Cisco Systems, Netflix, and Facebook, to name a few. Your entry-level job starts at $120,000. You check real estate in the San Francisco area, which is within commuting distance from Silicon Valley. You discover that the Federal Department of Housing and Urban Development classifies four-person households earning $117,400 per year in San Fran as low-income. Suddenly, an impressive salary figure seems less enticing.
The example above illustrates that your degree may go further financially in less expensive locales/cities. Unfortunately, your salary will not be equivalent to a location with a lower cost of living. The most crucial determination is if your salary will make up for the higher prices.
The following occupational group is one example that shows the difference in salary and housing costs, by comparing two locations — salary data provided by the U.S. Bureau of Labor Statistics.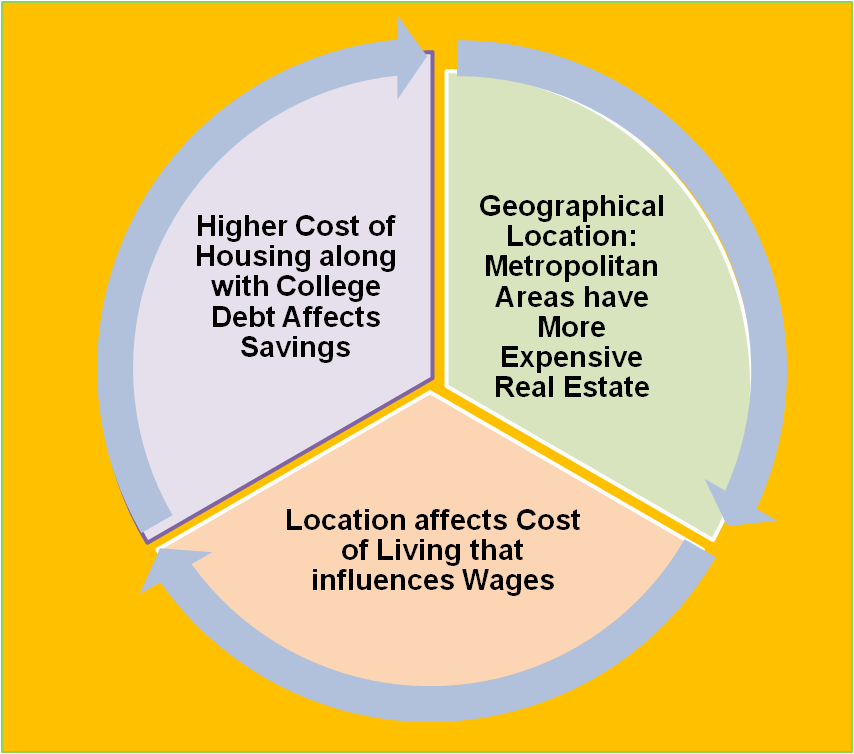 Accountants and Auditors:
New York-Jersey City-White Plains: Hourly Wage-$48.81; Annual Wage-$101,520
Minneapolis-St. Paul-Bloomington, MN-WI: Hourly Wage-$35.44; Annual Wage-$73,710
New York's annual median wage is $27,810 more than Minneapolis/St. Paul for this occupation. According to the Money/CNN data, housing in Brooklyn, New York is 209% higher than Minneapolis. Utilities and groceries are 29% and 17% greater in NYC respectively. A salary of $65k in Minneapolis is comparable to $112,865 in Brooklyn, according to Money/CNN. The increase from the lower pay to the higher wage ($113K) is 74%. Whereas, according to the BLS, you will earn only 38% more in NYC area versus Minneapolis.
If you choose to live in Manhattan, the cost of housing is 368% higher than St. Paul. Your $65k salary would need to be $148,509 to maintain the same lifestyle in Manhattan.
This city demonstrates how quickly a more expensive geographical area swallows a higher income. Particularly, considering housing costs, which are the most significant expense people have. Rents increased by 46% from the 1960s to 2000 when adjusted for inflation. In 1960, the median gross rent was $71, or $588 in today's dollars. By the year 2000, that number rose to $602, or $866 in today's dollars.
Furthermore, the price to buy a home has jumped 73% since the 1960s. In that decade, the average cost of housing in the U.S. was only $11,900. Adjusted for inflation, the price today is close to $100,000. The more accurate figure might be closer to $210,000 for the median price of a home, as of April 2018. This figure presented by the online real estate company Zillow.
Persons born from 1981 to 1996, known as millennials, who are entering the workforce, or are currently employed have the highest rents. The 2017 national average for rent was $1,358. By comparison, the prior generation, known as Gen-Xers (born 1965 to 1979) paid $850 (in today's dollars) in monthly rent at the same life stage (Student Loan Hero). Tuition at public 4-year colleges, for the birth dates of millennials, was just $3,190 per year (adjusted for inflation). When this group reached the age to enroll in college, tuition had increased 213% to today's average cost of $9,970 per year.
These statistics may cause you to contemplate-How and where can I stretch my degree further financially? The variance in living costs can make or break a job offer depending on its location.
Additional Resources
Top 50 Degrees For Changing The World
50 Best Online Degrees for 2019
50 Highest Paying Bachelor's Degrees
15 Top Degrees for the Highest-Paying Business Careers
Top 20 Highest Paying Online Degrees