You may already know that you want a career that is meaningful, one that allows you to improve the lives of others and give back to your community. What you may not know is which career is the best fit for you. Two of the most popular degree paths for aspiring community and social service workers are social work and counseling. These disciplines differ not only by what courses you take in college but also by the types of job duties, top employing industries and career outlook you will face after you graduate.
Curriculum
At the undergraduate level, a Bachelor of Social Work (BSW) is the degree program that prepares aspiring social workers for their future career. A BSW curriculum typically includes studies in helping processes, human behavior in social environments, social welfare history, institutional racism, the role of a social worker in a group environment, social research and evaluating social work programs and practices. Gaining real-world experience in social work, in both on-campus and off-campus settings, is valuable, so you will likely see some type of fieldwork or practicum experience included in your college curriculum.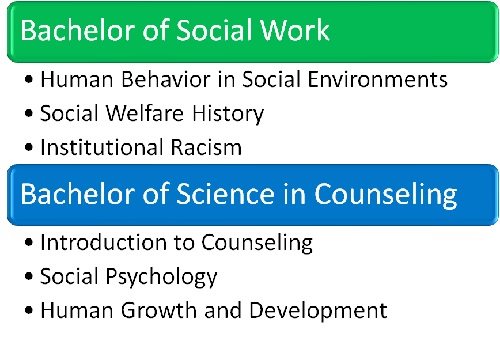 Undergraduate students interested in counseling may choose from a broader range of majors. Some colleges offer Bachelor of Science in Counseling degrees, which cover broad counseling topics such as Introduction to Counseling, Social Psychology, Marriage and Family Dynamics,
Human Growth and Development, Adolescent and Adult Psychology, Personality Theory and Clinical Tests and Measurements. Other students may choose more specialized programs, such as a Bachelor of Science in Addiction Counseling degree or a Bachelor of Science in Behavioral Health Counseling degree. Psychology programs, including pre-counseling programs in psychology, can also provide the foundations needed for a counseling degree.
When it comes to the level of education needed for these career paths, social work and counseling have a lot in common. In both fields, having a bachelor's degree can prepare you for some job roles, but you need a master's degree to offer a greater range of services, according to the United States Bureau of Labor Statistics (BLS). Having a Master of Social Work (MSW) degree allows you to become a licensed clinical social worker (LCSW) and to work with clients in a clinical capacity, diagnosing and providing treatment for their mental, emotional and behavioral disorders, according to the BLS. Similarly, to work as a licensed counselor, you will need a master's degree.
Graduate degree options in counseling include the Master of Science in Clinical Mental Health Counseling, Master of Arts in Addiction Counseling, Master of Science in Marriage and Family Therapy and Master of Science in Clinical and Counseling Psychology degrees.
Range of Job Duties
There is plenty of overlap between the services provided by social workers – especially clinical social workers – and those provided by counselors. Generally, social workers provide a broader range of services to their clients. Counselors act as objective listeners, whose role isn't to judge a client's thoughts, feeling or actions but rather to help the client identify healthy and productive strategies for coping with mental health issues or difficult life situations. While clinical social workers can also provide counseling, they also shoulder other responsibilities. Social workers help clients find access to social service programs and resources.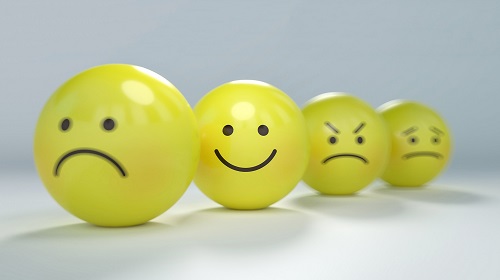 IMAGE SOURCE: Pixabay, public domain
Work environment plays an important role in a social worker's job duties. In some positions, clinical social workers provide counseling as well as assistance getting social services in place. In other roles, social workers may work with at-risk children and families, coordinate adoptions or set up children in foster families – roles that don't include counseling in any formal capacity. The industries which employ the most social workers in the United States are individual and family services, state government entities, ambulatory healthcare service, local government entities and hospitals, according to the BLS.
For counselors, job responsibilities are similar across industries. Outpatient mental health and substance abuse centers employ nearly one in five counselors. Other top employers include individual and family services, residential facilities, hospitals and the government.
Job Outlook
Both mental health counselor and social worker are rapidly growing occupations. While counseling careers are seeing a faster rate of job growth, it is the larger occupation of social work that is expected to add more jobs over a decade.
The BLS predicts an overall rate of job growth for all occupations of just seven percent. However, it expects jobs for social workers to increase by a much faster than average rate of 16 percent. This large occupation already employs 682,100 Americans and is likely to add another 109,700. The growth rate expected for roles in mental health counseling and substance abuse counseling is even higher, at 23 percent. However, because this occupation is smaller to begin with – accounting for just 260,200 current jobs – only 60,300 new jobs are anticipated.
A positive factor leading to the rise of jobs in addiction counseling specifically is the movement in many states to address drug crimes with mandatory counseling and treatment as opposed to the old way of punishing offenders with jail time, the BLS reported.
Related Resources
What Can I Do With a Social Work Degree?
What Can I Do With a Degree in Counseling?
What is the Benefit of a Degree in Social Work vs. Psychology?