Many engineers choose to advance their education to improve their career prospects. How do you decide whether a master's degree or a doctoral degree like a Ph.D. in engineering is the right choice for you? Before enrolling in graduate school, engineers should consider what their goal for furthering their education is and understand what to expect from each of the educational options they are considering.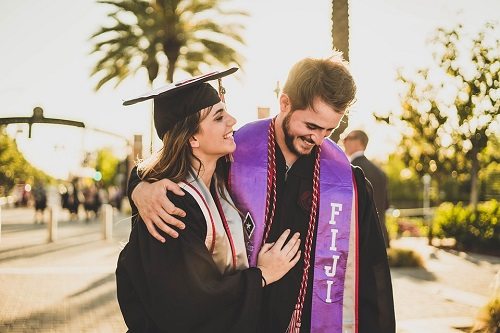 IMAGE SOURCE: Pixabay, public domain
Master's and Doctoral Degrees in Engineering
Both graduate and doctoral degrees in engineering are more specialized than undergraduate degree programs, with Ph.D. degrees having the narrowest focus. Naturally, the coursework covered in either a graduate or doctoral degree program in engineering builds upon the principles and practices students learn from an ABET (Accreditation Board for Engineering and Technology)-accredited bachelor's degree program.
Master's degrees in engineering can be either research-focused or professional degrees, according to U.S. News & World Report. A research-focused master's degree often requires a student to complete a thesis presenting original research, while a professional master's degree in engineering often has no such requirement. Ph.D. degree programs, on the other hand, are research-focused and usually require students to complete a dissertation in order to earn the advanced degree.
Some schools also offer Doctor of Engineering degree options as well as, or in place of, traditional Ph.D. programs in engineering. A Doctor of Engineering degree requires research but emphasizes practical application rather than theory. Instead of writing a dissertation, a student enrolled in a Doctor of Engineering degree program might compile a portfolio of their best work, including plans, design prototypes, models and simulations and patent applications that can be shown to prospective employers. Doctor of Engineering programs may take less time than Ph.D. programs and may be a better choice for engineers who want to advance their education beyond the master's level but still want to work in industry or to apply engineering concepts rather than conducting theoretical research.
Some master's in engineering degree programs can be completed in as little as a year, while Ph.D. programs typically take at least four years and an average of more than eight years, according to CBS News.
Jobs With Master's and Doctorates in Engineering
Typically, becoming an engineer in any discipline requires only a bachelor's degree, according to the United States Bureau of Labor Statistics (BLS). You may even be able to become an engineering manager with a bachelor's degree, once you have the right experience, the BLS reported. Any degree beyond the bachelor's degree is an advanced education for an engineer, offering not only the possibility of increased earning potential but also the opportunity to take on roles that would be unattainable with only an undergraduate degree.
Generally, master's degrees are excellent choices for experienced engineers who need a graduate degree to earn a promotion to a senior role in the engineering industry. They can also prove valuable for ambitious engineering students and recent graduates who know they want to shoot for leadership positions eventually. Often, a master's degree in engineering that follows the professional track rather than a research track fulfills this need. Engineers eyeing engineering manager roles might also choose a specialized engineering management master's degree or a Master of Business Administration (MBA) degree to develop their business and leadership skills.
On the other hand, you might envision yourself working in academia or in research positions. A master's degree may be sufficient for some of these positions, the BLS reported. However, at the highest levels – such as tenure-track university professor and researcher, whether in academia, industry or government research lab – these positions often require a Ph.D., according to U.S. News & World Report.
While engineers with a master's degree earn nine to 13 percent more money annually than those with a bachelor's degree in some disciplines, in other branches of engineering they earn the same or less than their less educated peers, the BLS reported.
There are many reasons why advancing your career by furthering your education can be a smart move for engineers. Whether you're looking to boost your salary or open the doors to new opportunities, a post-baccalaureate degree can certainly be the key to achieving your goals. However, before you invest the time, money and hard work needed to earn a graduate or doctoral degree in engineering, you need to develop a clear understanding of what you want from your advanced education and which educational path will help you make those plans a reality.
Related Resources: