You may know that you have a calling to be a social worker, but you still have to make some choices about your education. Will you end your college studies after earning your Bachelor of Social Work (BSW) degree or go on to graduate school to attain your Master of Social Work (MSW) degree? While both degree programs focus on the social service of helping others, they differ in the scope of practice graduates are prepared for, the time it takes to earn the degree, the curricula students must complete and the income potential you can expect with your degree.
Scope of Practice
Perhaps the most significant difference between the BSW and MSW degrees is the scope of services a social worker is qualified to provide. With a BSW, you can attain your first entry-level direct-service social worker job and perform non-clinical functions. You may be able to work in fields like child and family assistance, holding job titles such as caseworker and mental health assistant, according to the United States Bureau of Labor Statistics (BLS).
When you earn your MSW, you can pursue a license to work as a clinical social worker. Clinical social workers are qualified to diagnose mental and emotional disorders and to treat them with psychotherapy. A clinical social worker may provide counseling services to individuals, couples and families a well as help their clients access social service programs and resources, according to the BLS. The MSW degree is mandatory to become a licensed clinical social worker (LCSW).
The MSW degree is also crucial for many indirect-service roles that involve influencing social welfare policies and programs, although the BLS reports that some opportunities in this field are available to candidates with only a BSW.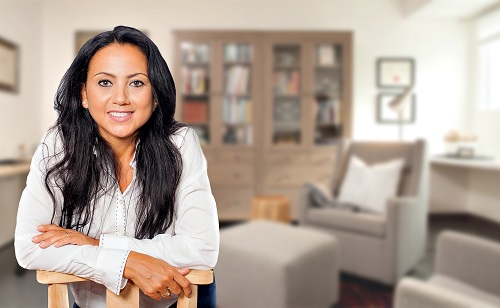 IMAGE SOURCE: Pixabay, public domain
Time to Completion
Like most other bachelor's degrees, the BSW is structured so that students who study full-time can complete the degree in four years. Although many undergraduate college students now take longer than four years to earn their bachelor's degrees – especially if they change their majors during their college career – students can expect to invest four years, give or take, into earning the BSW degree.
Students who choose to earn a master's degree in social work will be in school longer. To gain acceptance into a graduate program, students generally need a bachelor's degree. The time it takes to complete their master's degree curriculum – typically, two years – is on top of the four or more years spent on undergraduate studies. Because they include a considerable amount of fieldwork, it's not unusual for MSW programs to consist of 60 credits of graduate-level coursework.
Some colleges offer a 5-year dual degree program that culminates in both a BSW and MSW degree. Students in this accelerated educational path complete an intense curriculum that includes taking graduate-level coursework during their undergraduate years.
Curriculum Differences
A BSW degree is the minimum education you need to get a job in the field of social work. This undergraduate program provides students with a broad foundation of social work knowledge. Classes in social welfare institutions and policies, social work with individuals and families, social work with groups, social work with communities and organizations, human behavior in social environments and social work research are common in BSW programs. The MSW builds on the undergraduate-level foundation courses in social work, although you don't necessarily need a BSW to be accepted into an MSW program. The MSW consists of graduate-level coursework in subjects like community intervention policies and strategies, social welfare and social work, promoting social justice and empowerment, methods of social work research, advanced social work practice, social work and law, crisis interventions, clinical social work and psychotherapy.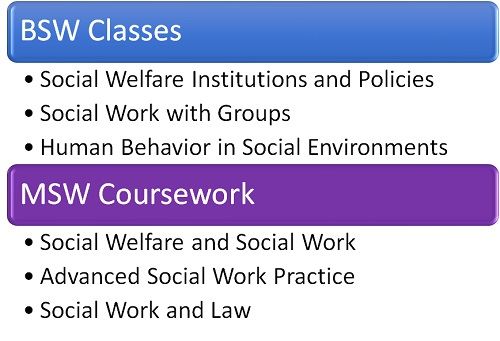 One aspect of the curriculum that separates MSW programs from most BSW programs is specialization. When you pursue a master's degree in social work, you typically need to choose a specialization, such as macro social work – at the social policy level – or micro social work, which involves providing direct service to individuals and families. Macro specializations might focus on management and policy or on community, organization and social action. Micro MSW specializations include direct practice with individuals and families as well as the more specific area of clinical social work.
Both programs include supervised field experience requirements, but MSW internships are much more demanding. BSW programs usually require 400 hours of experience, while MSW programs require 900 hours, the Council on Social Work Education reported.
Salary Potential
You don't choose to earn a social work degree because of the money, but even the most altruistic of workers still needs to be able to earn a living. While social work isn't known as a lucrative career field, it is one occupation in which having an advanced degree can improve your salary significantly. The median annual wage for the social worker occupation as a whole is $49,470, according to the BLS, but this figure includes both BSW and MSW salaries.
The National Association of Social Workers (NASW) reported that social workers who hold their MSW degree earn upwards of $13,000 more than those whose highest level of education is a BSW. According to the BLS, the wage premium for earning a master's degree in the social work occupation is a salary bump of 25 percent.
Social workers with a doctoral degree (the DSW or Ph.D.) have the best salary potential, earning $20,000 to $25,000 more than MSW holders, NASW reported. Doctoral degrees qualify social workers for advanced clinical roles, but most roles don't require them.
Related Resources
What Can I Do With a Social Work Degree?
What Salary Can You Earn With a Master's in Social Work Degree?
What Jobs Can You Get With a Master's in Social Work Degree?