If you're wondering what is the difference between architecture and engineering, you're in the right place. Below, we'll go over the differences in the education and career of an architect vs engineer. We will also highlight the benefits of choosing a engineering career path.
An Overview of Engineering vs. Architecture
Both engineering and architecture have to do with design. Yet the difference between architecture and engineering – in terms of area of focus, education requirements and employment opportunities – distinguish these related roles as two distinct professions.
What Engineering and Architecture Have in Common
Before we get into the engineer vs architect distinction, we should discuss the ways in which these job roles are similar. Architecture and engineering are two different occupations with a good deal of overlap.
Both architects and engineers may complete some of the same work duties, most notably the design of buildings and structures. Throughout the pre-construction phases of the project and even after construction begins, the work of the engineers or architects involved in the project is critical to getting buildings completed.
Some of the job duties you might perform – regardless of whether you choose to become an engineer or an architect – include the following:
Develop designs in accordance with building codes, functionality, safety procedures and aesthetic expectations
Use computer-aided design software to produce drawings and model building infrastructure projects
Create cost estimates based on real-world knowledge of the construction process, building standards and available materials
Monitor project progress by visiting construction sites
This overlap doesn't strictly apply to job duties. There is also an overlap in the skill sets architects and engineers involved in the building construction process need.
For example, both architects and engineers need computer skills – particularly, computer design skills. Besides computer skills, engineers and architects also need skills in construction project management. Strong critical thinking skills are also essential.
Engineers and architects also need knowledge of the following subjects:
Building codes

Construction plans

Construction contracts

Safety regulations
Both engineers and architects must develop the hands-on skills for professional practice. Doing so requires practical experience researching building codes, using computer-aided design software and spending time on construction sites.
Engineering students accomplish this skill-building through the following learning experiences:
Hands-on projects in the design studio

Internships

Co-ops

Clinics

Competitions

Capstone projects
Architecture students learn practical skills through studio coursework and project-based classes and instruction. It's also through these learning experiences that students build a portfolio of their designs. An internship is part of preparing to attain an architect license. These internships commonly occur after graduation.
What Kind of Engineers Share Job Duties With Architects?
Despite these common areas, there are many distinctions between these two degree programs and occupations. One of the key differences is that the field of architecture is more narrowly focused on building design than the field of engineering.
Architecture pertains specifically to the design of buildings and structures.
Engineering applies to the design of solutions to all kinds of real-world problems and situations. This distinction means that all architects design buildings, but not all engineers do.
Engineering encompasses a variety of disciplines and applications. Many of these applications have nothing to do with the design of building structures. For example, some kinds of engineers may develop devices, processes and systems like the following:
Computer hardware or software
Mechanical devices
Chemical compounds
Biomedical interventions
An engineer may pivot their professional focus and even the discipline in which they work over the course of their career. However, designing buildings isn't part of the job description for most engineers. Mechanical engineers don't design buildings, and neither do electrical or chemical engineers. The discipline of engineering in which you're most likely to develop designs and construction plans for buildings is civil engineering.
Engineers design and develop buildings and other infrastructure projects often go by job titles such as:
Civil engineer

Structural engineer

Construction engineer
Even the field of civil engineering isn't as narrowly focused on the design of buildings as architecture is.
Civil engineering encompasses all kinds of infrastructure projects, including:
The design of industrial buildings
Residential building degsins
Bridge designs
Road and highway design
Airport designs
Water resource projects, including wastewater treatment facilities and water systems
Environmental solutions
It's because the field of civil engineering is so broad that many civil engineers prefer to go by more specialized titles. Structural engineers and construction engineers are types of civil engineers. They focus on the design, development and construction of building structures. This makes them the types of engineers most closely related to architects.
Architect vs. Engineer Differences
What is architecture? Architecture is the artistic design of building structures.
While mastering technique is a critical part of success in architecture, this is an art-focused discipline. Aesthetic design principles guide the work of an architect.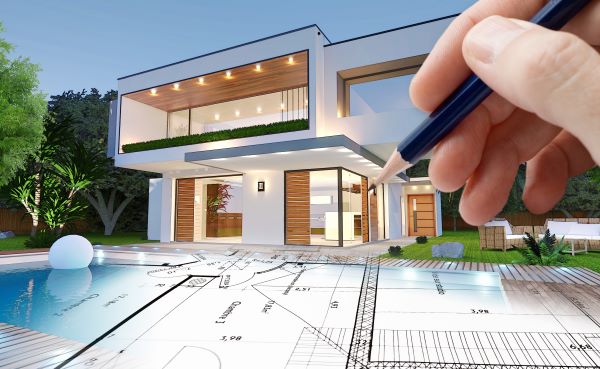 Engineering design, on the other hand, is based primarily on the principles of science and advanced mathematics.
The goal of designing all buildings and structures is to balance function and aesthetics. That's true for both engineers and architects. However, engineering more strongly emphasizes function. Engineers base designs on the concepts, practices and calculations of math and science to solve problems. Architecture is building design that is more closely related to artistic design principles.
Both the day-to-day and big-picture work involved in these two professions reflect the differences between engineering and architecture. You also notice the difference between engineer and architect roles when you look at the curricula of the two disciplines of civil engineering and architecture.
Engineers' Focus on Math and Science Over Artistic Design
Both engineers and architects are designers. Howveer, civil engineers and architects approach the field from different perspectives.
Architects come from an artistic design background. That's why architects focus more on the appearance of a building design than civil engineers do. Architects complete courses such as mathematics, construction, structures and physics. However, much of architecture students' curriculum is artistic in nature.
Examples of artistically-focused courses for architects include the following:
Introduction to Design and Digital Media
Modes of Design Communication
Introduction to Design
Architecture Design Studio
Civil engineers also need creativity, but not necessarily in an artistic or aesthetic sense. Rather, engineers use their creative minds – along with their knowledge of science and mathematics – to develop solutions to real-life challenges. Civil engineers concerned with the building and construction process, such as structural engineers and construction engineers, solve problems pertaining to the development of building plans.
Because they draw upon science and math principles to guide their plans, aspiring civil engineers need to take plenty of courses in these subjects. At least one-quarter of a civil engineer's undergraduate college curriculum is science and math coursework.
Engineering majors take courses in general engineering principles that apply across numerous engineering disciplines, such as mechanical, civil, chemical and electrical engineering. They also take a lot of specialized courses in their chosen engineering discipline. For civil engineers, of course, this means coursework specific to the discipline of civil engineering.
Since the branch of engineering most closely related to architecture is civil engineering, we'll delve deeper into a civil engineering curriculum. Through this broad curriculum, aspiring civil engineers learn the principles and skills for applications like highway design, transportation engineering and the construction process.
RELATED: What Civil Engineering Courses Will I Have to Take for a Degree in Civil Engineering?
For civil engineering majors, common coursework includes the following:
Civil engineering systems
Transportation systems
Structural analysis
Environmental engineering
Geotechnical engineering
Hydraulic engineering
The properties and behavior of engineering materials
Elementary mechanics of fluids is an example of the more general coursework that is critical for civil engineers. Probability and statistics for civil engineers is another example.
By studying computer methods used in civil engineering, aspiring civil engineers develop their computer skills in building design. This includes the use of computer-aided design (CAD) software.
Many civil engineering programs also cover areas like engineering communication. Courses on professional practice in engineering may also be part of the curriculum.
The Amount of Education Needed to Become an Architect vs Engineer
For both civil engineers and architects, the minimum level of education required is a bachelor's degree. Degrees in both civil engineering and architecture also exist at the master's level and beyond. A graduate degree in either architecture or civil engineering can help established professionals develop advanced knowledge and skill sets or position career changers to start a new occupation.
RELATED: What Degree Do You Need to Be a Civil Engineer?
Even though a bachelor's degree is required for both architects and civil engineers, it takes longer for an architect to earn this degree. A bachelor's degree is typically called a four-year degree, so the notion that one bachelor's degree takes longer than the other might sound strange.
Like most bachelor's degree programs, a bachelor's degree in engineering typically requires around 120 credit hours of college study. That translates to four years of part-time study. Some programs may take longer, especially if they incorporate a co-op experience through which they gain firsthand work experience.
However, a Bachelor of Architecture (BArch) is a special program that is designed to take five years of full-time study to complete. Instead of an academic degree, the BArch is a professional degree.
RELATED: Why Does It Take So Long to Earn an Undergraduate Degree in Architecture?
Many architects prefer to choose a degree program that is accredited by the National Architecture Accrediting Board. The reason accreditation matters so much in the field of architecture is because, according to the United States Bureau of Labor Statistics, the majority of states in the U.S. require the completion of an accredited program to qualify for a license.
Accredited BArch degree programs must include at least 150 college credits. That's considerably more than the 120 credits engineers typically have to complete. At some schools, Bachelor of Architecture programs include 160 or even 170 credits.
Naturally, this means that architecture students should expect to take longer to complete their studies. Architecture majors often take introductory architecture or pre-architecture courses as early as their freshman year of college. Students in Bachelor of Architecture programs may complete their professional core classes during their second through fourth years. They will then spend their fifth year of study primarily working on a capstone design project.
RELATED: What Should Students Look for in an Undergraduate Architecture Degree Program?
Licensure Requirements for Jobs in Engineering vs Architecture
One of the biggest differences between architects and engineers is whether or not a license is needed, especially for entry-level work.
Generally speaking, engineers may pursue a license. They don't, however, need one to attain an entry-level job in civil engineering.
Architects are required to be licensed. Without a license, graduates of Bachelor of Architecture programs only qualify for intern roles in architectural firms.
Licensing Requirements for Civil Engineers
Civil engineers are among the types of engineers that are more likely to pursue a license. However, engineers typically pursue their Professional Engineer (PE) license later in their careers.
You don't need to be a licensed engineer just to begin performing work on building designs and other infrastructure projects. Generally, the BLS reported, engineers need to be licensed when they are going to be the one to approve plans and sign off on projects, or if they want to work in engineering management overseeing the work of other engineers. You might also need a PE license if you plan to provide your engineering services directly to the public, the BLS reported.
In most states, civil engineers seeking licensure must have a degree from an accredited program, work experience and passing scores on two licensing exams. Applicants take the Fundamentals of Engineering (FE) exam first – sometimes shortly after graduating from college. Only after they have acquired the work experience needed for licensure do they take the second exam, which is known as the Principles and Practice of Engineering exam.
Architect License Requirements
Aside from a Bachelor of Architecture degree – preferably from an accredited program – architects must complete a three-year paid internship before they are qualified to become licensed. Most commonly, new architects find their internship opportunities with established architectural firms through the National Council of Architectural Registration Boards (NCARB)'s Architectural Experience Program (AXP). In some cases, the BLS reported, time devoted to an internship during college may also count toward this training requirement. Architectural interns don't just fetch coffee or handle administrative tasks. During their training, they assist with substantive architectural work, such as preparing architectural drawings and documents and researching building codes. They perform this work under the guidance of a licensed architect.
After completing their internship, new architects must pass the Architect Registration Examination to qualify for licensure. State licensing requirements vary. Some states may impose additional requirements. For licensed architects, maintaining a professional license in good standing usually requires continuing education courses or workshops.
Should I Be an Architect or an Engineer?
These key differences between architects and engineers mean that one major is likely to appeal more to individual students than the other.
If the math- and science-heavy curriculum of engineering is a better fit for your strengths and interests, it can help to consider the benefits of choosing engineering over architecture. These benefits include better pay rates, quicker career preparation, an emphasis on science and math as opposed to aesthetic design and more diverse career opportunities upon graduation.
Are you having a hard time choosing architecture or engineering? It may help you to know that both architect and engineer are, objectively, good jobs. Should you study or work in architecture vs engineering? There's no right or wrong answer. It's merely a matter of your personal preferences, strengths and priorities.
For both careers, the United States Bureau of Labor Statistics (BLS) reported median salaries that doubled the median wage for all occupations in 2020. U.S. News & World Report has ranked both architect and civil engineer among the best engineering jobs, although civil engineer ranked higher among engineer jobs and was listed as one of the best jobs overall.
Additionally, while both jobs do have some stress, the most significant pressure – making sure that buildings and structures are safe – is consistent across these occupations.
Still, there are important distinctions between these job roles and the training and education required to attain them. The distinguishing factors you need to consider when choosing between architect and engineer career paths include:
The emphasis on science and math vs. art
The time it takes to earn a degree
The range of potential career opportunities available to you
That's not to say that civil engineering is necessarily a better career than architect. For people who embrace the artistic side of building design, a more focused education and career path and an emphasis on art and aesthetics are advantages, not disadvantages. Having to spend an extra year in school and pursue a license at the outset of your career are minor drawbacks. However, many architects find the obstacle of meeting these requirements to be worthwhile.
Engineers' Shorter Time to Earn an Undergraduate Degree
If you're in a hurry to finish your education and get started in your career, a shorter time to degree completion is a point in favor of engineering. Both architects and engineers must generally have a bachelor's degree to start working in the field. However, the additional year of study required for the Bachelor of Architecture degree may push indecisive students toward the civil engineering occupation.
Graduating from a civil engineering program within four years is not a given. It's not unusual for students pursue a bachelor's degree in any field to take longer than four years.
The average undergraduate civil engineering degree program can be completed in four years of full-time study. Some civil engineering degree programs may require more than the 120 credit hours that make up the minimum number of credits for a bachelor's degree, however.
It might also take you longer to complete this degree if you struggle with some of the challenging coursework or change majors during the course of your studies. Of course, students who pursue their degree part-time will be in school longer. Civil engineering students who take advantage of co-op experience opportunities may take longer to graduate, as well.
Because engineering students complete their bachelor's degree requirements in less time than architecture students, they enjoy certain benefits. They can save on tuition costs and get out into the workforce sooner.
Remember, too, that engineers can get into their careers faster than architects can. While a post-baccalaureate internship is required among engineers who are pursuing licensure, not all civil engineers have to be licensed. New graduates often go straight into entry-level engineer roles. Meanwhile, new architects will still be working on completing their three-year internships. Although these internship roles with architecture firms arranged through the Architectural Experience Program are paid, it isn't the same as diving headfirst into your career. At the end of these internships, aspiring architects still have to take the Architect Registration Examination for licensure.
If you decide to go to graduate school for either engineering or architecture, you're going to spend even more time in school. O*NET reported that the requirement for a master's degrees is somewhat more common among architects. Among industry experts surveyed, 24 percent of respondents felt that a master's degree was required for architects. Among civil engineers, only 10 percent respondents reported that new hires should have a master's degree.
Engineers' Broader Range of Career Opportunities
Generally, architects design building structures for residential or commercial use. Engineers may design building structures, but they design many other things, too.
The work of engineers includes:
Machines

Automobiles

Chemical compounds

Manufacturing materials

Electrical and electronic devices

Medical breakthroughs
Different engineering degrees lead to these different career paths. Still, the breadth of options means that a career in engineering will appeal even to students who don't dream of designing buildings. No matter which specific discipline of engineering you choose to major in, having a background in engineering provides a versatile foundation for those who want to solve problems for a living. Even if you decide to pursue a different discipline, you can draw upon this foundation in civil engineering to pursue further education and work in any area of engineering.
Suppose you end up deciding that building design just isn't for you. If you went to school for architecture, you may be out of luck. Your Bachelor of Architecture degree may not seem relevant in many other areas. On the other hand, there's a lot more you can do with a degree in civil engineering.
You could use your civil engineering coursework to develop the asphalt used to make roads. Civil engineers also design transportation systems like railways. Or you may develop systems and facilities for environmental solutions like water treatment and waste management.
Students in engineering bachelor's degree programs take coursework in the foundations of general engineering. They also complete courses specific to civil engineering. This background allows them to easily pivot their engineering career toward other disciplines. All it takes is the right combination of education and experience.
The work that engineers do can also be fulfilling in many other ways. Engineers solve important problems such as treating serious diseases, developing methods to purify unsafe drinking water in remote locations and otherwise improving quality of life for individuals and societies.
Architect vs. Engineer Employment
The architect occupation is much smaller than the engineer occupation as a whole – or even the civil engineer occupation more specifically.
The BLS reported that there were 125,500 architects working in the United States as of 2021. In comparison, the BLS reported a civil engineer workforce of 125,500, and the total number of engineers reported by the BLS was more than 1.67 million.
The architectural, engineering and related services industry is the top employer of architects, employing 70% of the workforce as of 2021. The BLS reported that self-employment is the next most common employment situation for architects, making up 17% of careers in the field. Government entities and the construction industry each employed 3% of architects in 2020.
Among civil engineers, nearly half of the profession worked for the engineering services industry. State governments employed 11% of civil engineers as of 2021. Local governments employed 10% of this occupation. Another 6% of the profession worked in the nonresidential building construction industry. The federal government employed 3% of civil engineers.
The job outlook was somewhat better for civil engineers than for architects as of 2021. The BLS predicted jobs for civil engineers to increase by 7% between 2021 and 2031. This projection exceeds the growth job growth rate expected across all occupations and would result in 22,100 new job opportunities. For architects, the BLS projected a slower than average growth rate of 3 percent. That growth rate would translate to an expected 3,300 new jobs over the decade.
Architect vs. Engineer Salary
Another factor to consider is the difference in earning potential between architects and engineers. In terms of architect vs. engineer salary, engineers tend to earn more money.
Both architects and engineers command considerable earning potential. Generally, though, engineering degrees correspond to higher wages than architecture degrees.
The median salary for engineers in all disciplines in 2021 was $99,040, the BLS reported. The highest-paid engineers, petroleum engineers, earned a median wage of $130,850 in 2021. The lowest-paid, agricultural engineers, earned a median salary of $82,640.
Civil engineers earned a median annual salary of $88,050. This salary is somewhat below the average salary for engineers. However, it is still thousands of dollars above the salary for architects.
For architects, the median salary was $80,180 in 2021. Salaries are considerably higher for architects working for the government. In 2021, the median salary for government architects was $99,330.
Architects who serve as principals of their own firm or partner in an established architectural firm can earn far more money. These high-level architects sometimes up to $100,000 or even $200,000 per year.
However, self-employment comes with risks. A firm must be successful in order to achieve these kinds of lucrative earnings. To advance to a partner role in a firm, you need a great deal of experience.
Can You Become an Architect With an Engineering Degree?
Imagine that you start out majoring in engineering but decide that architecture is a better fit for you. It's possible to make the transition to an architect career. You're going to need to undergo more schooling.
Your background in engineering, especially civil engineering, is valuable. It helps you understand the science and math side of building design. Still, these programs of study don't cover the design principles or technical skills that pertain specifically to architecture.
As an engineer, you will already have a bachelor's degree. Your best bet as an engineer-turned-architect is to pursue a professional degree called a Master of Architecture (MArch).
Some MArch degrees are for established architects who want to advance their careers. Others are for college graduates in other fields who are looking to change careers. As such, it's important for prospective MArch students to look closely at programs' requirements and outcomes.
MArch programs can take one to five years, the BLS reported. Students without an undergraduate background in architecture should expect their master's degree program to be on the longer side. Often, Master of Architecture degrees for career changers take around three to four years to complete.
Architectural Engineering vs Architecture
What about the field of architectural engineering? The main difference between architecture vs architectural engineering is that architectural engineering falls within the field of engineering. In fact, architectural engineering is among the newer subfields of civil engineering. Despite the similarities in the names, what separates architect vs architectural engineer roles is that architectural engineers are trained in the principles and methods of engineering. They focus primarily on the engineering systems – like the building structure – that are a critical part of architecture projects.
Related Resources:
Top 10 Highest Paying Engineering Careers
What Is the Difference Between a Degree in Civil Engineering and a Degree in Architecture?
For Further Reading: