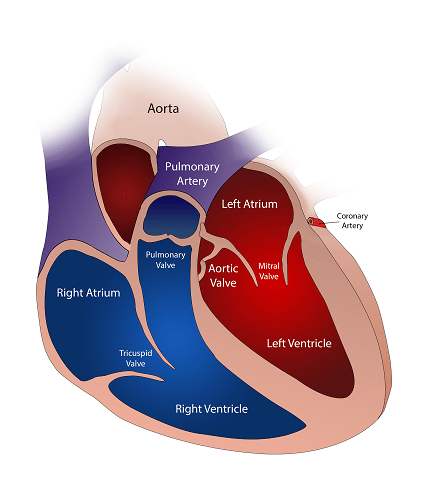 IMAGE SOURCE: Pixabay, public domain
A cardiac care nurse or cardiovascular nurse is a nurse who treats patients that either have heart conditions or have had heart surgery. In fact, the United Network for Organ Sharing (UNOS) reports that in 2017, there were 3,244 heart transplants and 29 heart and lung transplants. The Healthcare Cost and Utilization Project (H CUP) states that in 2011, there were 214,000 coronary artery bypass grafts, 136,000 procedures related to pacemakers or cardioverter/defibrillators and 120,000 heart valve procedures performed in the United States. Including hospital stays, these procedures cost around $16.517 billion. Therefore, lots of patients need nurses that can help them after heart surgery. If you want to be a part of the growing health care industry that the United States Bureau of Labor Statistics (BLS) expects to grow by 15 percent over the next 8 years, you need to start off as a registered nurse (RN).
Education for Cardiac Care Nurses
To become an RN, you will need either an associate's degree in nursing (ADN) or a Bachelor of Science in Nursing (BSN) and to pass the NCLEX-RN. While an ADN is the minimum education requirement, many hospitals want candidates to have at least a BSN to work as a RN. Students with a BSN have better pass rates than those with an ADN by almost 6 percent.
RNs that want to advance their career in cardiac care will need a Master's of Science in Nursing (MSN) degree. This will allow them to become certified, which is important for being a long-term cardiac care nurse. However, some students may want to consider earning a Doctorate of Nursing Practice (DNP) where they can move on to becoming a cardiovascular nurse practitioner. Another reason is to pursue a DNP program is that the American Association of Colleges of Nursing (AACN) is proposing that APRNs be required to attain a doctorate degree rather than a master's degree. As a result of this movement, some schools have begun to transition their MSN programs into DNP programs.
An MSN degree can lead to becoming a cardiovascular advanced nurse practitioner, with a median salary of $94,677 and the potential to earn $120,549, according to Payscale.
Cardiac Care Nurse Certifications
There are a few certificates that can help you appeal to future employers. One is the Cardiac Medicine Certification (CMC), which is granted by the American Association of Critical-Care Nurses. You have two different options to meet the requirements for this certification. The two-year option is to practice as an RN or advanced practice registered nurse (APRN) caring for cardiac patients for a minimum of 1,750 hours within that two-year period. With this option, 875 of those hours must be within the most recent year, and at least 875 of those hours within the past two years must have been spent caring for cardiac patients. The other option is a five-year option that requires 2,000 hours, with 1,000 of those hours caring for cardiac patients. Also, 144 of those hours must be within the most recent year.
Another certification for cardiac care nurses is the Cardiac-Vascular Nursing certificate, which is granted by the American Nurses Credentialing Center. This certification requires 2,000 hours of caring for cardiac patients within the past three years, as well as 30 hours of continuing education in the cardiac-vascular nursing field. You will also need to have practiced as an RN for two full years.
Hospitals also look for cardiac care nurses to have certification in Basic Life Support and Advanced Cardiovascular Life Support.
The Role of a Cardiac Care Nurse
When working with patients who are recovering from heart surgery, cardiac care nurses perform a number of roles. They must complete stress test evaluations to help check how the patient is doing. They also monitor their patient's heart activity and pain level.
Cardiac care nurses might also conduct research so they can help educate patients about preventive methods. They may also try to motivate patients to make lifestyle changes to improve their health.
Cardiac care nurses primarily work in hospitals in a number of areas. Besides cardiac medical wards, they find employment in coronary care units (CCU), intensive care units (ICU) and cardiovascular intensive care units (CVICU). Cardiac care nurses can also find employment outside of hospitals in places such as nursing homes and correctional facilities. Some cardiac care nurses actually work in cardiovascular centers. Schools and the military also employ cardiac care nurses.
Cardiac care nurses not only help patients with one of the most vital parts of the body, they can also earn up to $103,642 according to Payscale.