In management occupations, many roles are responsible for a single job function or department. Financial managers oversee the company's financial wellbeing, advertising managers oversee its promotions and sales managers are responsible for sales goals and performance. Above departmental management positions are the roles known as top executives. Top executives work in small businesses and massive corporations, and they go by different job titles. While not an absolute requirement, a college degree is the typical education needed to become a top executive.
Types of Top Executives
The United States Bureau of Labor Statistics (BLS) recognizes two main types of top executives. General managers and operations managers oversee various tasks in the field of business administration. There are 2,263,100 general and operations managers across the United States, according to the BLS. The median salary for general managers and operations managers in the U.S. is $100,930. However, there's a large gap of more than $65,000 per year between the median wage paid by the lowest-paying industry, retail trade, and the highest-paying industry, the professional, scientific and technical services.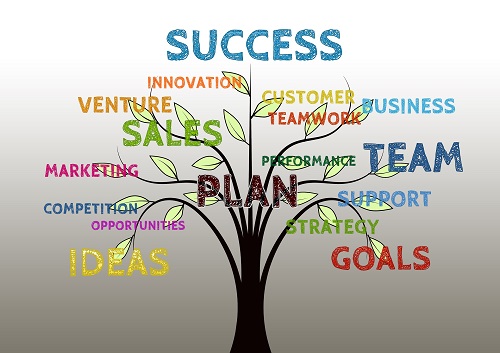 IMAGE SOURCE: Pixabay, public domain
The other major kind of top executive is chief executive. Also known as C-suite management, chief executives are higher-ranking management personnel whose job duties may be specialized or general. A chief executive officer (CEO) serves as the top-ranking manager who determines the company's overall direction, according to the BLS. Chief executive also encompasses roles like chief financial officer (CFO), chief operating officer (COO) and chief human resources officer (CHRO). Chief executives enjoy a much higher median wage of $189,600, the BLS reported. Chief executives working in the manufacturing and the professional, scientific and technical services industries earn median salaries of $208,000 or more. Attaining a chief executive role is far from easy. Not only are these positions far less common than general and operations manager roles – accounting for just 308,900 jobs in America – but they are also expected to decline by four percent over a decade. Nearly one-quarter of all chief executives are self-employed, managing their own company, according to the BLS.
Non-business roles that can also fit into the top executive category include governors, mayors, school superintendents and college and university presidents, the BLS reported.
Responsibilities of Top Executives
Top executives don't just supervise workers. Instead, they are responsible for the overall operations of their company. The duties of a general or operations manager are more general in nature and may include generating work schedules, assigning work to employees and creating and carrying out company policies. Chief executives are less concerned with daily operations and more focused on the big-picture direction of the company and its efforts.
The top industries employing chief executives are self-employment, the professional, scientific and technical services, government, manufacturing and healthcare and social assistance. For general and operations managers, they are retail trade, the professional, scientific and technical services, manufacturing, wholesale trade and construction.
Business Administration Degrees
While work experience is a huge factor in employment as a top executive, a college education remains important. Among general and operations managers, nearly twice as many workers reported having a bachelor's degree compared to those that reported only a high school education, and one and a half times as many had a bachelor's degree compared to those with some college but no degree. Chief executives generally had higher levels of education, with more chief executives reporting a master's degree than a master's degree as their highest level of education.
What should you study if you want to become a top executive? While some top executives have a degree in a specific field relevant to their company's work – like science, healthcare or legal – most pursue an education in business administration. A Bachelor of Business Administration (BBA) is a good place to start. This versatile degree incorporates studies in a breadth of business topics ranging from accounting and finance to management. At the graduate level is the Master of Business Administration (MBA) degree, which features more advanced coursework, again in a variety of business subjects. Both BBA and MBA programs often allow students to narrow down the focus of their degree somewhat by choosing a concentration or specialization.
Degrees in law, public administration and liberal arts subjects may also be acceptable for top executives, particularly in public-sector roles, as opposed to positions in private-sector businesses, the BLS reported.
Additional Resources
What Degree Do People in Chief Executive Roles Have?
What Kind of Job Can You Get With a Degree in Business Administration?