If you're interested in going to school to become an interior designer, you should first look at the pros and cons of this path.
The Advantages and Disadvantages of Majoring in Interior Design
Let's start with the education needed to become an interior designer. What are the pros and cons of earning an interior design degree?
RELATED: What Is an Interior Designing Degree?
Pro: A Bachelor's in Interior Design Puts You Directly on the Path to Licensure.
To enjoy the best employment prospects for a career in interior design, you're going to want to meet the requirements for licensure. In some states, only licensed designers can work in an interior designer role, and even in states that allow unlicensed interior designers to work with clients, they may be restricted from actually calling themselves "interior designers," the United States Bureau of Labor Statistics (BLS) reported.
A bachelor's in interior design degree program meets the education-related licensure requirements in most states, so qualifying for licensure is an easy task for graduates of these programs. Ideally, students will look for an undergraduate degree program that is accredited by an organization like the Council for Interior Design Accreditation or the National Association of Schools of Art and Design or one that is affiliated with the National Kitchen & Bath Association.
RELATED: Do I Need a Degree to Be an Interior Decorator?
Pro: An Interior Design Degree Program Allows You to Gain Hands-On Experience in the Industry.
A big part of earning a degree in interior design is learning to apply the design principles and technical skills you learn to real-world projects and compiling a portfolio of your best interior designs. That said, an advantage of a degree program in interior design is that students have opportunities to gain hands-on experience through studio design courses, internships with companies in the interior design industry and a senior or capstone design project.
Because these degree programs allow you to gain experience during your studies, you won't graduate with nothing but academic knowledge to rely on. Knowing that you have the skills to bring your design ideas to life and the portfolio to prove it can fuel the self-belief you need to become a successful interior design professional.
Con: Only a Bachelor's Degree Will Qualify You for Licensure.
Although interior design educational programs are offered at the certificate and associate's degree level, only a bachelor's-level education will typically qualify you for licensure.
That doesn't mean interior designer programs at these other levels of education are useless. They can be valuable for career changers who already have a baccalaureate degree in another subject or as your first foray into a college education, upon which you can build by transferring to a four-year college later.
However, if you think a short certificate or associate's degree program is sufficient preparation for becoming a licensed interior designer, you're likely to be disappointed.
RELATED: What Is the Difference Between a Degree in Interior Design and Interior Architecture?
Con: The Curriculum of an Interior Designer Program Is Less Versatile Than Other Majors.
Some majors, like business, communications or psychology, are versatile. You can leverage these majors to attain a wide variety of possible careers. With a background in interior design specifically, you might not have that same versatility if you decide you want to change careers later.
The curriculum of an interior design degree program is narrow enough that much of your coursework may not be readily transferred to other occupations, and the technical skills that are important in the field of interior design aren't always as applicable elsewhere.
RELATED: Top 10 Interior Design Schools in the U.S.
You can minimize this drawback by researching the interior designer career extensively before committing to the major and by exploring minors, concentration areas or second majors that offer more versatility.
The Pros and Cons of Being an Interior Designer
What about the good and bad attributes of a career in interior design?
Pro: An Interior Design Career Feeds on (and Fuels) Creativity.
If you're longing for a career that involves personal imagination, interior design fits the bill. A successful interior designer will feel passionate about the creative process that goes into developing new ideas for designing spaces. Each of the spaces you're hired to design is, in some ways, a blank canvas that can benefit from your style and creative vision.
Your desire and ability to create things may not be limited to interiors. Feeling fulfilled in your occupation may also help fuel your creativity off the clock, whether the artistic expressions you enjoy involve painting, making music, writing or some other form of expression.
Pro: Every Project You Work on Will Be a Little Bit Different.
Do you get bored easily? One of the benefits of working as an interior designer is that no two projects are going to be exactly the same.
Each new project will ask you to design a different space, working around existing architecture and in the confines of unique specifications and requirements. Every individual client has different needs and preferences that you must balance. You will never design the same interiors the same way twice, which keeps your design work interesting.
RELATED: What is the Benefit of a Bachelor's Degree in Architecture vs. Architectural Studies?
The field of interior design offers even more career flexibility. Many design professionals specialize in designing either residential or commercial interiors, but it's possible to do both or to switch between these two areas of focus during your career. You might also choose to specialize your design work further in areas like kitchen and bathroom design, sustainable design, healthcare design or universal (accessible) design.
RELATED: What Are Some Areas of Concentration in Interior Design?
Pro: Your Work Hard Work Has Meaning to the People Using the Spaces You Design.
All design professionals put their skills and creative vision into their design ideas, but when you work in the interior design industry, your hard work amounts to more than a portrait hanging on a wall or a company logo in wide circulation. Every day, clients will be living, working in or otherwise using the spaces you create for them.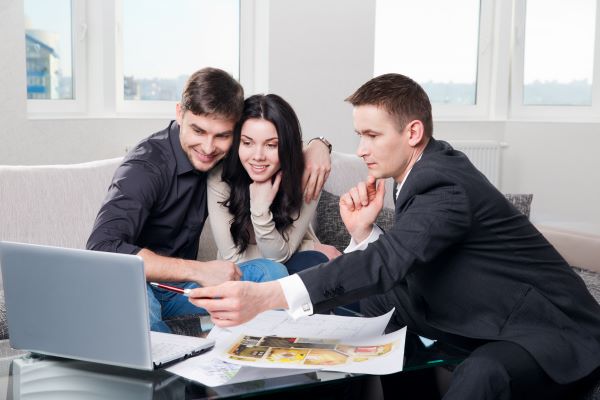 The work of an interior designer is meaningful. Research shows that effective, functional design improves not only the appearance of spaces but also the productivity and quality of life of those using these spaces. An article published by the American Society of Interior Designers (ASID) reported that the benefits of professional design in offices and other workspaces include improved employee health and wellness, better indoor environmental quality, enhanced employee performance, upgraded resource efficiency and even cost savings.
Pro: The Interior Designer Occupation Is More Challenging Than You Might Expect (in a Good Way!).
In many ways, being an interior designer means being a problem-solver. You're not just a glorified decorator, although the aesthetic aspects of design might be what first drew you to this occupation. In your daily work process, you have to develop designs and plans to solve real-world problems.
Almost anyone could take a space and make it aesthetically pleasing (subjectively, at least) with unlimited money and time and no technical requirements to which they must conform. Transforming spaces with budget restrictions, tight timelines, building code requirements and other specifications in mind is much more challenging. Despite the stress these challenges can add, a good interior designer thrives on developing solutions to all kinds of problems.
As an interior design professional, you will also have to keep learning throughout your career to stay on top of new trends, develop new skills and get familiar with the latest design software programs and technologies for measuring spaces and managing projects.
Con: Interior Design Projects May Have You Working Long Hours.
People may think of interior design as an "easy" job, but it's not. Not only does this role require a good deal of technical knowledge and skills, but it may also require you to work overtime. Working overtime, including long hours that extend into evenings and weekends, is especially common during critical periods of a project.
Con: You May Have to Deal With Difficult Clients.
Working overtime and managing budget restrictions and logistical holdups aren't the only sources of stress for an interior designer. Difficult clients can also pose a problem.
Problematic clients may arise in any industry, but given the fact that your work will have such a major effect on your clients' lives – being the space where they live or work – it's particularly common for an interior design business to face unrealistic demands from many clients who simply don't understand what can and can't be done with the space, budget and time they have.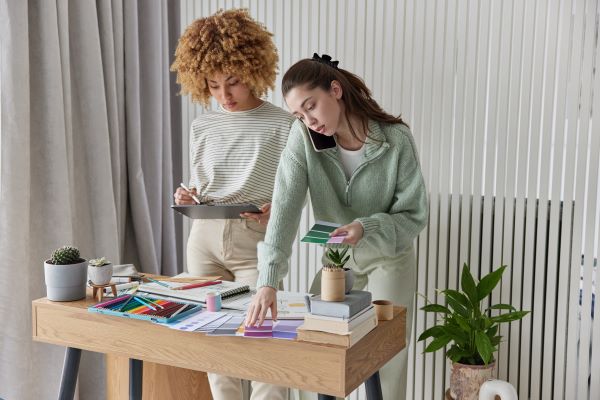 How do you deal with these difficult clients that may give you a hard time, intentionally or otherwise? Clear and tactful communication goes a long way. Listening to their needs, explaining what is and isn't realistic and using methods of subtle persuasion can help you turn a problem client into a happy client and, with any luck, a referral source from which your design firm can generate future clients.
Con: Little Job Growth Is Expected Over the Next Decade.
One thing that would make a career in interior design even better is growing demand to ensure job security in this competitive industry. Unfortunately, at least in the near future, the outlook for the interior designer profession is somewhat bleak.
The United States Bureau of Labor Statistics (BLS) has projected "little or no change" in job opportunities for interior designers between 2021 and 2031. While the BLS has predicted a 5% career growth rate for all occupations during this timeframe and even a 2% increase in job opportunities for art and design workers as a whole, for the interior designer occupation, the federal agency anticipates only a 1% increase in employment.
All told, the BLS expected the total number of jobs for interior designers to climb by only 800 over a decade.
Although this poor job outlook is certainly a con of this career path, things could certainly be worse. There may not be a growing demand for interior design professionals, but job opportunities aren't declining for interior designer as they are for other occupations, like floral designer – for which the BLS anticipated a double-digit decline of 21% as of 2021.
Further, although the total number of jobs isn't likely to grow much, the BLS still expects to see around 8,200 job openings for interior design professionals each year during this decade as established interior designers retire, advance to management roles, change careers or otherwise leave the profession.
Con: Being Constantly Creative at Work Can Leave You Feeling Burnt Out.
What if the pressure to constantly come up with creative ideas is too much? If you spend every workday concerned with design concepts and implementation, it's possible that you may, at times, feel burnt out – in terms of creativity or otherwise – in your professional or personal life. It's important to focus on self-care when you can.
Both: The Median Salary for Interior Designers Is Around $60,000.
The median annual salary the BLS reported for the interior designer occupation in 2021 was $60,340. Depending on your point of view, this wage may be a modest salary or a lucrative one.
RELATED: Where Are the Best Paying Jobs With a Degree in Interior Design?
It's well above the $45,760 median wage for all occupations and even the $48,220 median salary for art and design workers as a whole. However, it's also around 13% below the $69,368 the BLS reported in 2022 for all workers with a bachelor's level education (based on a weekly wage of $1,334).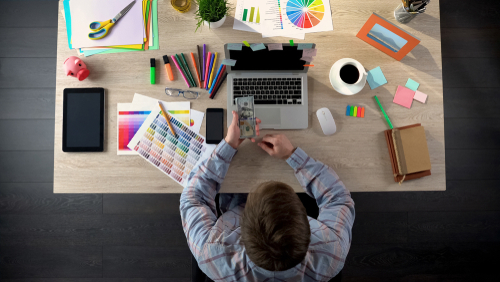 The Benefits and Drawbacks of Being a Self-Employed Interior Designer
Nearly a third of the interior designer occupation – 32% as of 2021, according to the United States Bureau of Labor Statistics (BLS) – is self-employed. What are the pros and cons of running your own interior design business?
Pro: There's Freedom in Being Your Own Boss.
When you run your own business as a self-employed designer, you get to decide how things get done. If you're a person who is self-motivated and thrives on freedom and autonomy, this circumstance is excellent. You can choose what projects to take on, what vendors to work with, what tools and programs to use, how to handle client interactions, what space you will use for your office and more.
Because you can set your own prices and your own volume of work, as well as decide what and how to pay yourself, your earning potential is in your hands. You don't have to convince a boss that you deserve a raise – you just need to bring in more money through your work.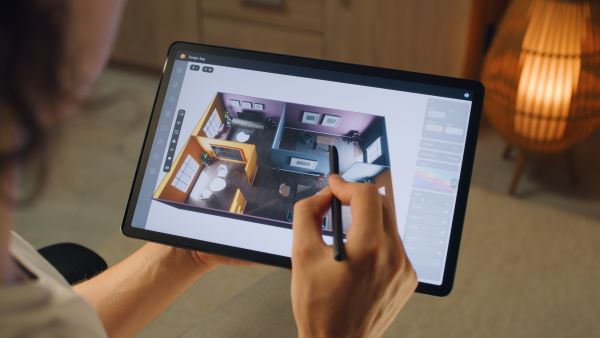 Con: Having to Oversee Everything Means Dealing With a Lot of Pressure.
Despite the benefits, entrepreneurship isn't for everyone. There's a lot of stress when you're responsible for finding new work, closing deals, managing vendor relationships and contracts, ensuring bills and invoices get paid and much more. A self-employed interior designer can hire help, but then they also have to manage their workers as well as oversee payroll, recruitment, training and other administrative tasks. If the business hits a rough patch, a self-employed designer may experience more variability in earnings compared to if they worked for someone else for a set salary. Because of these risks, designers may start small in their approach to self-employment, taking on occasional work independently while also holding down traditional employment before they jump into running their own interior design business as a full-time career.
Is Being an Interior Designer Worth It?
Ultimately, the pros outweigh the cons for most interior designers. Job satisfaction and general happiness rates tend to be higher for interior designer than for almost any other profession.
Even despite some declines in recent years, Architectural Digest reported that a "comfortable majority" of 65% of designers as a whole – a broad category that encompasses far more than just interior designers to include user interface designers, branding designers and more – "extremely satisfied" or "happy" (but with "room for improvement"). Interior designers, in particular, tend to report even higher rates of job satisfaction.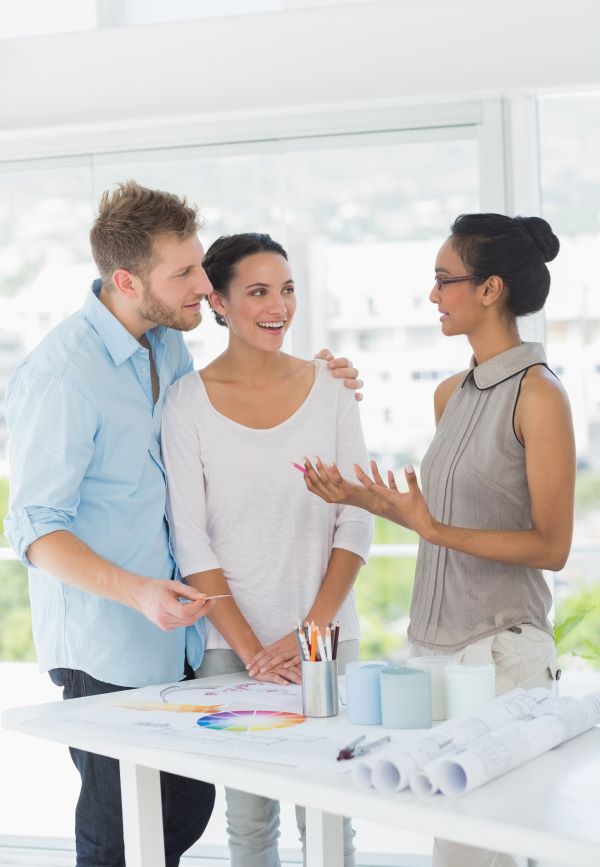 Website Career Explorer reported that interior designer is in the top 30% of occupations based on career happiness. According to a 2019 report from the International Interior Design Association (IIDA), 78% of design professionals have said that they are satisfied with their careers. PayScale.com reported a job satisfaction rating of 3.73 out of 5 for interior designers, rating workers in this occupation as being, on average, "highly satisfied" with their careers.
Residential interior designers report even higher career satisfaction than their peers working in commercial design, Medium reported – even though commercial interior design work offers higher salaries.
Knowing the pros and cons of being an interior designer can help you determine whether this career path is the right choice for you.
Related Resources:
If I Want to be a Landscape Architect, Am I Likely to be Self-Employed or Are There Companies That Hire People for This Job?