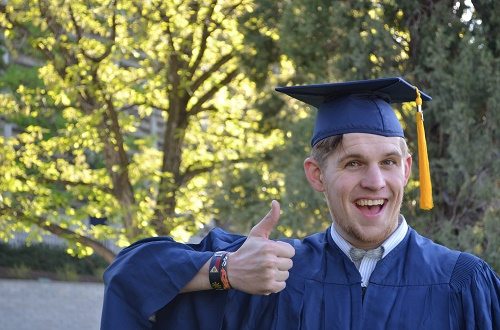 IMAGE SOURCE: Pixabay, public domain.
When you have already started your college education, you don't want to waste the work you've put into your studies or the time and money it has cost you to earn those credits. You might wonder whether the credits you completed online or on campus can be transferred to an online program that offers you more convenience and flexibility. In many cases, you can transfer your existing college credits to an online school. In fact, many of the fastest online bachelor's degree programs make it quicker to earn a degree by allowing students to transfer years' worth of college credits earned at other schools. Transfer policies and processes differ from one institution to another, so you need to understand these procedures before you choose an online college.
Transferring Schools
Both online and traditional colleges commonly accept transfer students and award them credit toward their degrees for the coursework they have completed elsewhere. However, transferring from one school to another isn't always simple. There may be restrictions on the number of credits you can transfer as well as obstacles that arise during the credit transfer process.
Often, a school will only allow you to transfer credits you have earned at another institution if that institution was accredited by one of the six regional accrediting agencies recognized by the Council for Higher Education Accreditation. If your school was nationally rather than regionally accredited or had no institutional accreditation at all, you might have a hard time finding a new school that is willing to accept these credits. This situation can pose a particular problem for students who began their studies at trade schools, since these institutions often aren't regionally accredited, according to U.S. News & World Report.
Some schools employ transfer coordinators or transfer advisors in their admissions or advising departments. These professionals work with transfer students to help simplify the process of transferring credits. A school may accept transfer students even if it doesn't employ staff members dedicated to the transfer process, but choosing a school that offers this kind of support can often make the process easier for students.
Degree Completion Programs
Many transfer students find that they lose at least some – and in too many cases, almost all – of their credits when they switch schools. Around 42 percent of community college students lost at least 11 percent of their college credits when they transferred to a new institution, USA TODAY reported. Some of these students lost up to 90 percent of their credits, nearly having to start their education over from scratch. That's a big concern when as many as 80 percent of graduates of online bachelor's degree programs completed at least some of their credits at another college, according to U.S. News & World Report.
To make sure you're able to transfer as many credits as possible, it may be a good idea to look into degree completion programs. These programs are designed for students who already have at least some college experience studying at another school. They may require applicants to have a minimum number of credits already completed. Because these programs frequently accept as many as 90 transfer credits toward an undergraduate degree, they are often some of the fastest bachelor's degree programs students can choose.
As a transfer student, you're actually in good company. The average college student completes credits at three different institutions before earning a degree, according to U.S. News & World Report. By choosing an online school that offers extra support for transfer students, you're giving yourself the best chance of transferring all, not just some, of your hard-earned college credits.