Aerospace engineers design aircraft, ranging from commercial jets to spaceships. If you want to be an aerospace engineer, you need a college education. Depending on what you want to do in the field of aerospace engineering, that education could be as basic as an associate's degree or as advanced as a doctorate.
Associate's Degrees in Aerospace Engineering
An associate's degree doesn't qualify you to become an aerospace engineer, but it does prepare you for a career as an aerospace engineering and operations technician, the United States Bureau of Labor Statistics (BLS) reported. In this position, you would work alongside engineers to test designs for aircraft and spacecraft. Work as an aerospace engineering technician might include building test facilities for aircraft systems, calibrating computer systems and testing equipment, making and installing parts for test equipment, installing the instruments used in aircraft and spacecraft and recording the data attained through testing.
Nearly a third of the 12,100 aerospace engineering technicians working in the U.S. are employed by the aerospace product and parts manufacturing industry, the BLS reported. Others find work in engineering services, testing laboratories, computer and electronic manufacturing and scientific research and development services.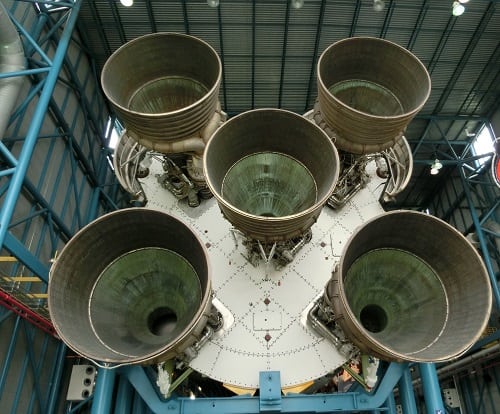 IMAGE SOURCE: Pixabay, public domain
Aerospace engineering technicians earn a median wage of $67,240, but income potential can be considerably higher if you work in a field like research and development. The top 10 percent of aerospace engineering technicians earn six-figure salaries. In an associate's degree program in aerospace engineering technology, you will study algebra, trigonometry, applied physics and engineering technology courses such as applied aerodynamics, applied mechanics, applied propulsion and engineering materials. Associate's degrees in aerospace engineering technology can be completed in two years at community colleges and vocational-technical schools.
Aerospace engineering technicians are the highest paid engineering technicians, according to the BLS.
Bachelor's Degrees in Aerospace Engineering
With a bachelor's degree, you can officially call yourself an engineer. In fact, you can attain your Professional Engineering (PE) license if you want, though licensure is not as common in this discipline of engineering as it is in others, the BLS reported.
A bachelor's degree program in aerospace engineering typically takes four years of full-time study to complete, though some students choose to graduate later and gain additional work experience or a graduate degree. Your coursework would include aerodynamics, propulsion, structures, mechanics and stability and control as well as general engineering principles. Many students complete an internship or cooperative engineering program, either of which would allow you to gain hands-on training and work experience.
Earning your bachelor's degree qualifies you for an entry-level engineering job and prepares you to work up the ranks to more challenging roles as you choose. Your job responsibilities might include coordinating and evaluating the designs of aircraft or spacecraft. Aerospace engineers earn a median wage of $113,030 per year, with the highest paying opportunities in scientific research and development and federal government entities.
Aerospace engineers typically specialize in either aeronautical engineering, relating to aircraft, or astronautical engineering, relating to spacecraft, rather than working in both fields.
Master's and Doctoral Degrees in Aerospace Engineering
You could get a good job as an aerospace engineer with just a bachelor's degree and enjoy a long, successful career in the field without ever having to go back to school. However, if you want to move up from simply being an engineer to becoming an engineering manager, a highly specialized engineer, a researcher, an educator or an astronaut, you will need a more advanced degree.
Exactly how advanced that degree must be depends on your goals. For example, an aerospace engineer can get a job with NASA in a position such as mission control with a master's degree but may need a Ph.D. in engineering to be chosen as an astronaut, according to the BLS. If your goal is instead to move into a senior-level leadership role, then you could achieve it by earning a master's degree in aerospace engineering, engineering management or even business administration.
Master's and doctoral degrees in aerospace engineering can be either research-based or professional. Which option leads to better jobs depends on whether you want to increase your technical skills or delve into advanced research.
Related Resources:
Top 10 Highest Paying Engineering Careers