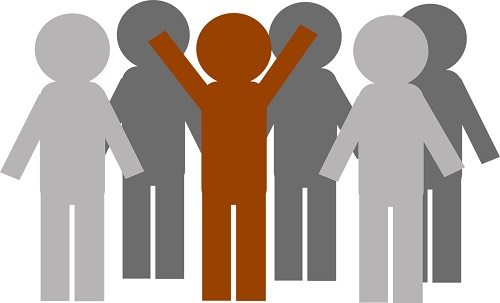 IMAGE SOURCE: Pixabay, public domain.
For most social workers, the occupation isn't so much a job as it is a calling. Unlike many sought-after degrees, a career in social work isn't particularly lucrative or prestigious. However, it is rewarding in many other ways – so much so that competition for admission is fierce. Getting into a Bachelor of Social Work (BSW) degree program might be more challenging than you realize, especially when you're looking at highly-regarded schools.
Competition at Top-Performing Social Work Programs
At some of the top residential bachelor's in social work degree programs in the nation, getting accepted into college is only the first part of the admissions process for aspiring social workers. These degree programs often make students complete two years of general education and prerequisite courses before they can apply for admission into the major. Some programs, like the University of Texas—Austin School of Social Work BSW, start students off as pre-social work majors but require them to apply to become official social work majors during their sophomore year of study.
Even once you complete enough college credits to apply for consideration into a BSW degree program, there's no guarantee you will get in. Rutgers University's Bachelor of Arts in Social Work degree program, for example, regularly sees a great deal more applicants than there are spots available. The sooner aspiring social workers at Rutgers complete their prerequisite courses and apply for consideration, the better. Similarly, so many students seek admission into the undergraduate social work program at the University of California—Berkeley's School of Social Welfare that the school urges aspiring social welfare majors to apply as early as possible. Waiting any later than the end of sophomore year could mean it's too late to be admitted.
Why Competition in Social Work Programs Is So Strong
Of course, not all bachelor's degree in social work programs are equally competitive. Admission at the highest-ranking social work degree programs in the nation tends to be strong because of all that these programs have to offer, including small class sizes, outstanding undergraduate research opportunities and extensive fieldwork opportunities.
If you have your heart set on earning your BSW from one of these top schools, then it's important that you complete all of your prerequisites early on and to the best of your ability. You may need to maintain a minimum GPA from all of your courses. Most programs require additional materials, such as letters of recommendation and a personal statement that illustrates your desire and emotional readiness for hands-on work with clients and community members. This is particularly important, since some of these top programs have students begin gaining real-world social work experiences through internships and fieldwork as early as their junior year of college.
Despite the competition for spots in the best BSW programs, there are plenty of opportunities for social workers. The United States Bureau of Labor Statistics (BLS) expects jobs in social work to increase by 12 percent, faster than the average growth rate expected for all occupations. You might not expect it to be so difficult to earn a degree that prepares you for a sometimes stressful career that isn't known for offering an exceptionally high pay rate. However, a career in social work and social welfare can be incredibly rewarding in that it lets you make a difference in the lives of people who are struggling with financial, emotional, medical and other kinds of problems.