Starting a collegiate career can be overwhelming. For many coming from high school, or who have been out of school for some time, the list of academic topics offered at many bachelor's and associates degree-granting institutions can seem like overkill. For students looking for immediately applicable job skills, the range of liberal arts, social sciences, and degree subjects that require an advanced degrees to find a job can seem beside the point.
And for some students, they know precisely the job they want and the skills they need to get there. That's where occupational studies degrees come into play.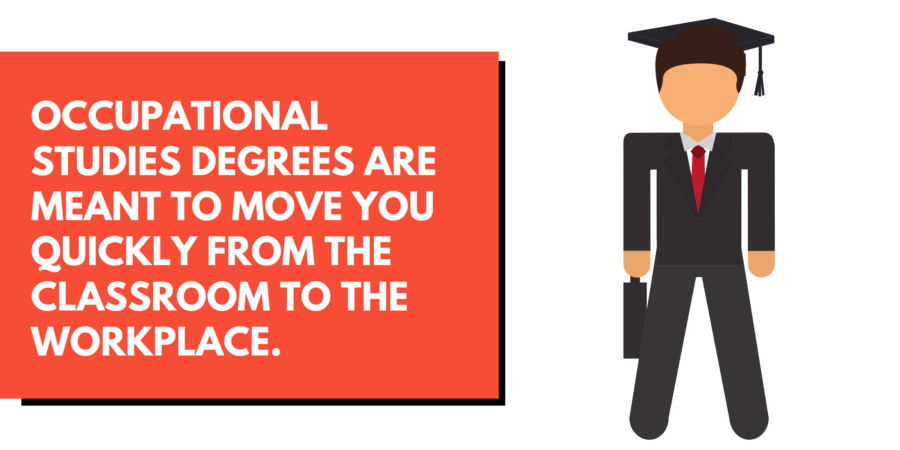 Occupational studies degrees are the applied equivalent of a degree in liberal arts. They incorporate courses from many disciplines and allow students to configure a degree program that provides an academic backdrop to start a career of their choice. Oftentimes occupational studies degrees also offer a range of preconfigured specializations. These specializations can be based on departments that are particularly well regarded at a particularly college or university, or geared towards local demands for skilled graduates within certain disciplines.
Here at DegreeQuery we cover a wide range of degree and job-related topics and occupational studies is no different. We'll cover many of the most searched questions related to occupational studies below. But if you don't see what you're looking for, don't fret! We have a wide range of related resources below.
Table of Contents
Not seeing the information you're looking for? Here at DegreeQuery we've covered one of the widest range of degree and career questions covered anywhere online. Check out our related coverage below:
What Occupational Studies Degrees Are Available?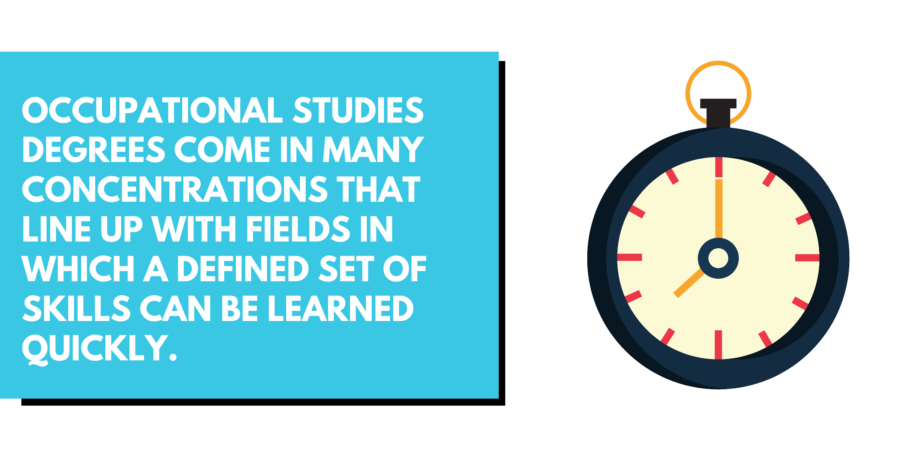 Occupational studies degrees are typically available at the associate's and bachelor's levels. They're meant to fill gaps in job-centered training that may not be directly catered to by other degrees, blending rigorous liberal arts and sciences coursework with coursework centered around a particular occupation.
Typically occupational studies degrees (at the associate's and bachelors levels) offer a range of pre-tailored specializations. While occupational studies programs can offer specializations in a wide variety of career-centered skill clusters, some of the most common specializations include:
Culinary Arts
Facilities Management
Medical Assistant or Technologist Positions
Radiological Tech
Fire Science
Construction Technology
Agriculture
Information Technology
Among Others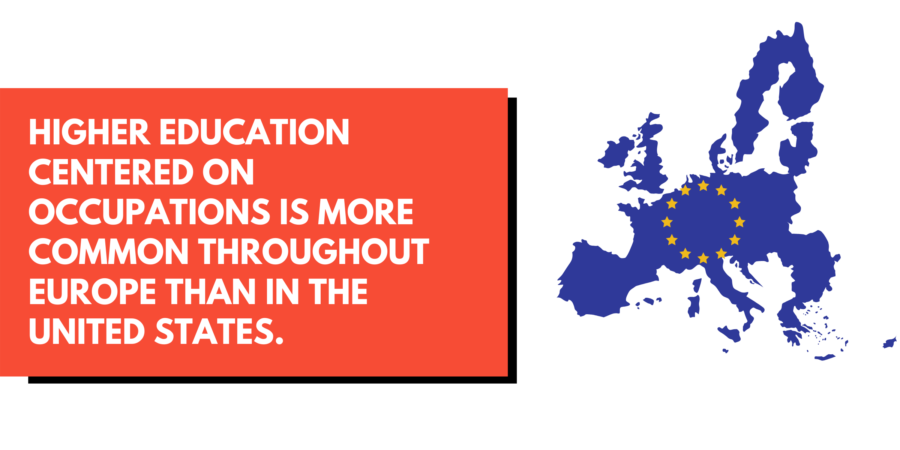 You may note that many of these degree programs are also offered as their own stand-alone degrees. This is true, but not every college or university can afford or choose to build out entire schools around each of the above degree topics. Occupational studies allows schools to create interdisciplinary degrees that provide a small cluster of courses geared towards specific occupations, and a wide range of courses pulled from interdisciplinary departments around the college or university.
For students interested in an associate's in occupational studies, they should expect to spend 1.5-2 years in pursuit of their degree program. Students will likely begin their education by taking general education courses. These courses typically cover a wide range of following topics:
Liberal Arts
Social Sciences
Natural Sciences
Art, Music, or Theater
Physical Education
Mathematics
Ethics, Religion, or Philosophy
English Literature and Composition
Data Literacy
Among Other Courses
The primary goals of general education courses are to ensure that by the time you graduate you have at least been introduced to collegiate-level study in a wide variety of areas. These courses help to support the growth of students as well-rounded thinkers, doers, and citizens. While these courses may not seem directly related to occupational skills you're seeking in an occupational studies degree, they will likely support many soft and supporting skills for advancement and performance within your profession.
Because associates degrees in occupational studies can be pursued with so many differing specializations, it's hard to summarize what courses may be offered. One trend in occupational studies associates, however, is to be able to pursue one of the two following options:
The ability to choose courses from any college or department within your school to pull into an occupational studies program
Pre-defined specializations that focus on particular job types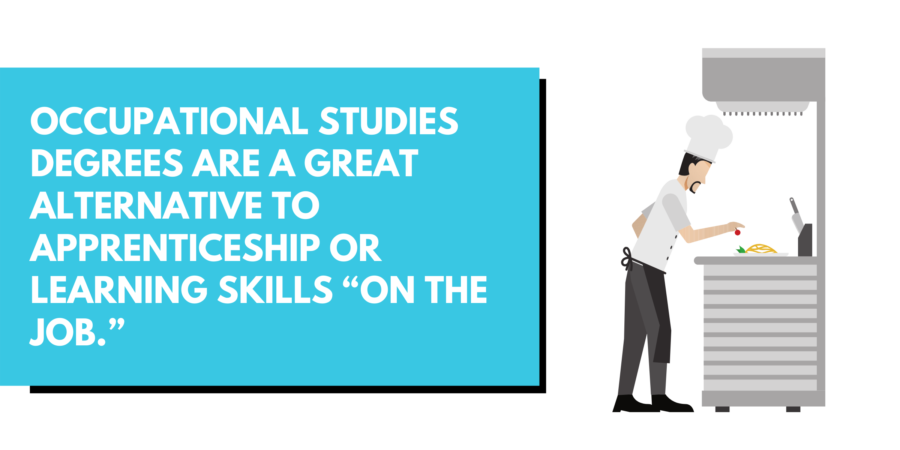 At the associates level, occupational studies specializations tend to focus on career-centered course clusters that aren't offered in another degree. If you're interested in fire science, or being a radiology tech (or a wide range of other positions) and your two-year college does not offer degree programs in these areas, then next check for an occupational studies degree.
In short, occupational studies associates degrees are a way in which colleges and universities expand their career-centered offerings. If you don't see a degree related to what you want to pursue, start looking for tailorable career-centered degrees like one in occupational studies.
At the bachelor's level, students should expect to spend 3-5 years of study and expect to gain 120 credit hours for graduation.
Similarly to associates degrees in occupational studies, students will be required to take general education requirements (often towards the start of their course of study). Even if you intend on pursuing an occupational studies degree, this can be a great time to try out other disciplines and think of creative ways to use college-level coursework to prepare yourself for a career of your choosing.
For major courses, bachelor's-level occupational studies degrees are more likely to allow students to mold their own major than associates-level occupational studies degrees. Typically students may choose from a selection of courses in nearly any occupation-centered major. Many programs also provide preset specializations, often geared towards industries of jobs that are in-demand within the region of the college or university.
Not seeing the information you're looking for? Here at DegreeQuery we've covered one of the widest range of degree and career questions covered anywhere online. Check out our related coverage below: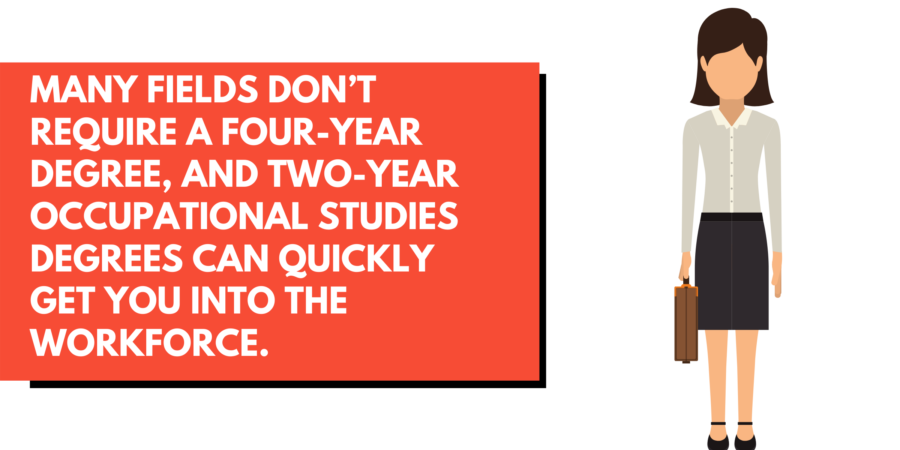 Master's level occupational studies degrees actually focus on an entirely different subject matter area. Occupational therapy is an interdisciplinary study of how to rehabilitate individuals with an aim on job and life skills. This can include psychological, physiological, and behavioral therapies aimed at promoting the best outcomes for clients of any age.
Some master's level occupational therapy degree programs are called "occupational studies" which may lead to some confusion. A quick way to discern if this is the type of program you're looking at is to look for a range of specializations within a variety of occupations. If a program offers these, then it is not an occupational therapy program, but rather an occupational studies degree as we've been discussing thus far in our guide.
Can I Gain an Occupational Studies Degree Online?
Occupational studies degrees at the associate's and bachelor's degree levels are commonly offered online with one exception. Specializations geared towards occupations that require a great deal of hands-on learning are often not offered online. Examples of this may include medical technology-centered degrees, fire technology-centered degrees, among others.
If you've never taken coursework online, you should note a few commonly cited pros and cons of online delivery coursework. While online delivery has worked out great for millions of students, it's not for everyone.
Common Pros of an Online Occupational Studies Education
Doesn't require you to move
Often built for those working full-time
Unique adult student support services
The same degree as in-person
Accepted by employers
Common Cons of an Online Occupational Studies Education
Harder to learn "hands-on" skills online
A greater need to be a "self-starter"
Harder to get to know classmates and instructors
Can be hard to attend career days or networking events
Some students just learn better in-person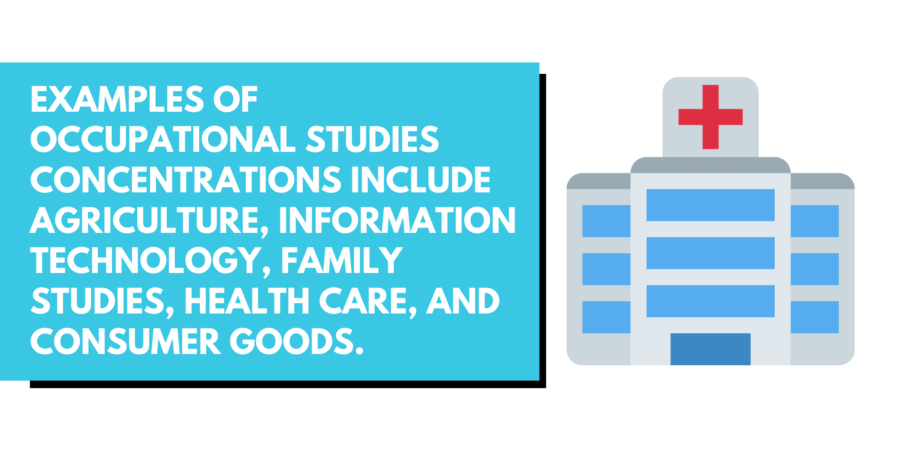 None of this is to say that either option is definitively "the best" for an individual student. But rather than many students slightly prefer one or the other (though can make either option work).
When exploring your online and in-person options, be sure to check out DegreeQuery's related guide on the best online degree programs.
How do I Gain Admission to an Occupational Studies Program?
Because occupational studies programs primarily occur at the undergraduate levels, there are many similarities in how one gains admission to a program (at the associate's or bachelor's level). One key difference for some programs is that some community and 2-year colleges offer something called "open admission" to their degrees.
Open admission isn't truly entirely "open." Rather, students gain automatic acceptance to the program of their choice if they meet a few requirements. This is in contrast to non-open admissions in which the "best" applicants are chosen, and thus the average requirements to gain entrance to a school may fluctuate year-to-year.
For open admissions programs, the typical requirements include you holding a G.E.D. or high school diploma, living in-city, district, or state, and having above a certain high school GPA. Oftentimes the high school GPA cut-off is a minimum of 2.5.
Once students have gained admission into an open admission program, they simply must take above a certain level of courses every semester, and keep their grades above a certain level.
With all of that said, most programs available at the associates and bachelor's levels are not "open admissions." Rather, these programs require standardized test results, a high school GPA within their "accepted range," as well as a statement of purpose. Students should reach out to admissions or look at the class profile for the last calendar year to gain an understanding of what past experience and grades one should have to gain admission to a given school.
What Can I Do With an Occupational Studies Degree?
Occupational studies degrees are some of the most flexible degree programs available. They pair specific job-centered skills with a robust liberal arts curriculum. This means that occupational studies degrees can prepare students for the long list of occupations that liberal arts degrees can prepare one for. For a guide on this particular topic, see this guide.
Additionally, occupational studies degrees provide specializations within a range of disciplines that are in some locations underserved by other degree types.
The most common specialization types within occupational studies degrees include:
Culinary Arts
Facilities Management
Medical Assistant or Technologist Positions
Radiological Tech
Fire Science
Construction Technology
Agriculture
Information Technology
Among Others
Needless to say, there are many roles that can be achieved with these specialization areas. We'll work through some of the most prevalent below.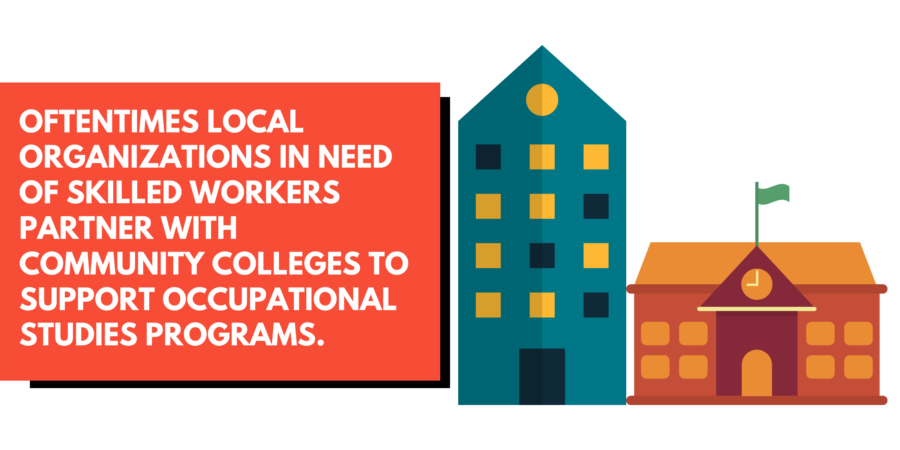 Front of the house managers work in hospitality settings (particularly restaurants, bars, and other venues). They pair culinary and hospitality-specific knowledge with that of marketing, human resources, management, and people skills. These dynamic roles are often populated by individuals who pursue some interdisciplinary course of study that pairs critical thinking, business, management, and domain-specific knowledge such as hospitality or culinary studies (both available in some occupational studies degree programs).
Demand is high for front of the house managers, with job openings in nearly any small to mid-sized city (and larger). The average salary for front of the house managers is $45,876, making the role a solid earning role among associates degrees. Typically there is also room to move up from front of the house roles to general manager roles within hospitality settings over time.
Secondly, facilities managers operate the day-to-day operations within many of the facilities we regularly frequent. This may include universities, hospitals, large stores, malls, athletics facilities, and more. Facilities managers utilize a diverse skill set that many occupational studies degrees can help prepare students for very well. Areas of knowledge needed to excel in facilities management include human resources, logistics, accounting, supply chain knowledge, and domain-specific knowledge of the type of facility you're managing.
Facilities management positions are typically available anywhere where there are facilities (which is to say, almost everywhere). The average salary of facilities managers varies greatly but centers around the number $97,160 nationally.
Third, we'll look at medical assistant or technologist positions. While many colleges and universities offer additional degrees in subjects that may lead to these positions, many colleges use occupational studies degrees to offer coursework they may not otherwise be able to offer. Many community colleges may offer radiological technology coursework through an occupational studies degree. Needless to say, these interdisciplinary degrees tackle medical, logistical, and technique-centered skills (many of which need to be presented in person).
If you're looking to become a medical assistant or technologist, you may first want to look within medical departments within your college or university. If they don't have the degree you're seeking, then look for an occupational studies program.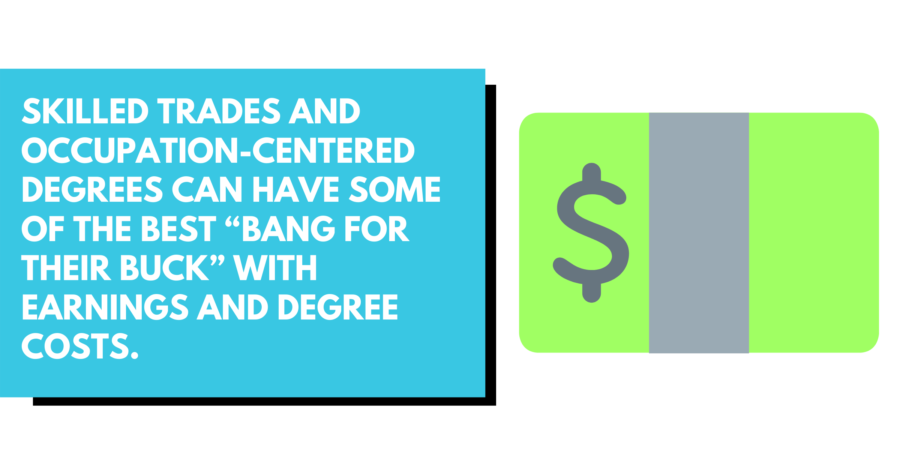 While the average salary of individuals who work as medical technologist and assistants vary based on your precise role, a number of positions can make over $70,000. This makes these positions some of the highest-earning positions available to those with associates degrees.
Next, individuals pursuing fire science concentrations may find employment higher up the career ladder within fire fighting organizations. While many can enter into a fire department with a high school diploma, individuals holding positions such as fire marshall, fire captain, and other leadership positions are often required to hold associates-level degrees or above.
Fire studies is offered a degree unto itself at some colleges and universities, though nearly as often it is offered as a concentration in occupational studies. If you think you may be interested in a fire students degree, be sure to check for an occupational studies (or related) major at your school or choice.
While earnings for fire leadership-related positions vary based on the location in which you work, your level of seniority, and other factors, many fire leadership positions can earn upwards to $80,000 by later in your career.
Finally, construction technology concentrations can lead to a variety of construction tech positions. While there are a variety of construction-related degrees out there. Many may not be available at the associates or bachelor's level, leaving many students to pursue construction technology in an occupational studies degree.
Construction technologists work as a liason between individuals who are managing the entirity of a project or designing a location and those building out each element. Construction technologists may specialize in one particular type of machinery, but also know how to read construction plans, direct small teams, and maintain budgets on construction projects.
The average salary for construction technologists is presently around $52,000 a year, though this number may vary based on experience and location.
Not seeing the information you're looking for? Here at DegreeQuery we've covered one of the widest range of degree and career questions covered anywhere online. Check out our related coverage below: