When you're pursuing a graduate degree in orthotics and prosthesis – one of the highest paying master's degrees – you want to use your time wisely. These degree programs typically require two years of study. The summer between the spring semester of your first year of graduate school and the fall term of your second year is the perfect time to really prepare for your career as an orthotist or prosthetist. Some ways you might keep working toward success during the time between year one and year two of your studies are by taking summer courses, acquiring hands-on work experience in the field or shadowing established practitioners to learn more about the career path.
Continue Your Coursework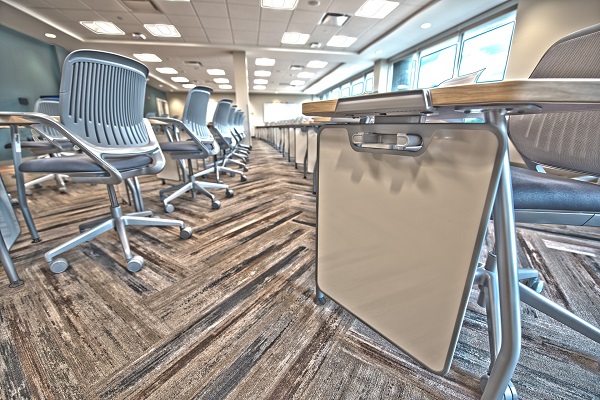 IMAGE SOURCE: Pixabay, public domain
If you're assuming that you'll definitely have a break from classes during the summer between your first and second years of graduate school, you might be surprised. Some master's degree programs in orthotics and prosthetics include courses taken over the summer term as part of the program structure. Summer courses are often shorter, usually lasting between four and eight weeks instead of the traditional 15-week semester that occurs in the fall and spring. As a result, you have to cover the same extent of coursework in a much shorter timeframe, which makes for an intense summer education experience.
Many master's degree programs that include summer coursework require students to take fewer courses during the summer term. However, different programs are structured differently, and some orthotics and prosthesis programs require students to take numerous one-credit or two-credit courses over the summer.
Some programs that stretch over two full years include two separate summer semesters – one at the start of the program and another in between the first and second years of graduate school.
Gain Some Hands-On Work Experience
There's a lot you need to learn in the classroom and the laboratory to become an orthotist or prosthetist. However, there's also a lot you can learn outside the classroom. If your summer schedule isn't completely booked with coursework, this is the ideal time to set out to gain some work experience in the field. Many students of orthotics and prosthesis programs accomplish this through an internship in a clinical setting. Internships in orthotics and prosthesis may or may not be paid, but they provide valuable experience in either case. Other ways graduate students acquire work experience, if a formal internship isn't offered, is by finding a lower-level role in an orthotics or prosthetics clinic or by volunteering with charitable organizations and clinics.
Volunteer opportunities may encompass everything from helping established professionals assess patients' needs and outcomes to sorting through donated medical device components and from assisting with fundraising efforts to leading youth camp activities for amputees.
Shadow and Observe Orthotists and Prosthetists at Work
Perhaps your school doesn't require an internship and you're not able to find a job or volunteer opportunity relevant to the field of orthotics and prosthesis. Maybe you're working full-time in a job outside of this career path, and you can't give up your income to do unpaid volunteer or internship hours. Whatever the case, if you're not able to dive right into clinical work experience over the summer term between your first year and your second year of graduate school, you can still benefit from observing certified orthotists and prosthetists on the job.
Unlike an internship, shadowing or observing an orthotist or prosthetist doesn't have to be a big commitment. Maybe you can't work a full day every weekday, but shadowing opportunities can be as short in duration as a day or even a couple of hours. As you shadow a practitioner in the field of orthotics and prosthesis, you will get to see what these clinicians do on a day-to-day basis and how they approach job responsibilities in patient care and in medical device fabrication.
You may also be able to ask the practitioner you're shadowing questions about their own career path – such as what settings they have worked in and what they liked and didn't like about different job roles in the field. If you have questions about what to expect from your post-graduation residency, how to best prepare for certification exams or what kind of work-life balance orthotists and prosthetists have, arranging a job shadowing opportunity will also give you the chance to pick the brain of a professional in the field.
You may not want to wait until the middle of graduate school to squeeze in observation hours. At some master's degree programs in prosthetics and orthotics, candidates are encouraged or expected to do job shadowing prior to applying to the program.
Additional Resources
What Do I Need to Do to Become Certified in the Field of Orthotics and Prosthesis?
Where Would I Work With a Degree in Orthotics and Prosthesis?
What Does Someone Do on a Day-to-Day Basis in Orthotics and Prosthesis?