Are you thinking about pursuing a graduate education in orthotics and prosthesis? This field is one of the highest paying master's degrees, but before you can start earning big, you may need to earn professional certification, licensure or both. The steps to becoming certified as an orthotist, a prosthetist or a combined discipline practitioner (orthotist and prosthetist) typically include getting a graduate education, gaining hands-on experience through a clinical residency and earning a passing score on your certification exams.

Earn a Master's Degree
Certification in this profession is awarded by the American Board for Certification in Orthotics, Prosthetics & Pedorthics. The first step to certification is getting your degree. A master's degree is the minimum education required to apply for certification, and it's also the entry-level education typically required to get into the field in the first place, according to the United States Bureau of Labor Statistics (BLS).
When seeking certification, you must have a degree in orthotics and prosthetics specifically, and your degree program must be accredited by the Commission on Accreditation of Allied Health Education Programs (CAAHEP) if earned in the United States. Students who earned their master's degree outside of the U.S. may pursue certification if their graduate education is evaluated as being equivalent to an accredited master's degree at an American school by the World Education Services (WES).
Generally, accredited and equivalent degree programs in orthotics and prosthesis include studies in patient assessment and treatment, biomechanics and pathomechanics, anatomy and physiology, kinesiology and gait analysis, according to the National Commission on Orthotic and Prosthetic Education (NCOPE). By the time students graduate from a master's degree program in orthotics and prosthesis, they should have the education needed to work with patients in clinical practice and to construct, modify or oversee the fabrication of orthotic and prosthetic medical devices.
As of 2020, the CAAHEP listed only 13 institutions across the United States as accredited for offering programs preparing students for a career as an orthotist or prosthetist.
Complete a Clinical Residency
After you finish your formal education, you need to gain the hands-on experience required to work in clinical practice. To accomplish this, students must complete a supervised residency. Your residency experience must take place in a clinical setting and be accredited by the NCOPE. Unlike graduate degree programs, which usually encompass the principles and techniques used in both orthotic and prosthetic devices, the residency stage of your career preparation requires you to make a choice.
Students can choose to complete 12 months of residency experience in either orthotics – fabricating and fitting patients with orthopedic braces and other support devices in clinical practice – or in prosthetics, which revolves around medical devices used as replacements for missing limbs and other body parts. If you want to become certified in both orthotics and prosthetics, then you must complete a longer 18-month dual discipline residency.
Candidates seeking single discipline certification finish their residency before they move forward with the next step, taking professional certification exams, but those undertaking a longer residency for dual disciplines may begin taking their exams while still in residency.
Pass a Set of Certification Exams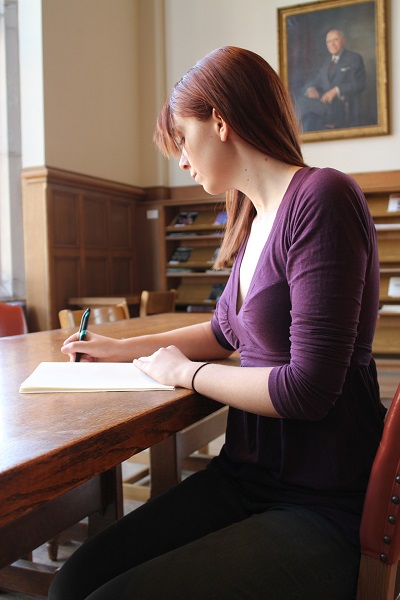 IMAGE SOURCE: Pixabay, public domain
Taking an exam is a typical part of professional certification in many careers, but orthotists and prosthetists must take three different exams: a written exam, a simulation exam and a clinical patient management exam. Written and simulation exams are administered by computer, while the clinical patient management exam is a practical exam that takes place in a clinical setting.
Candidates seeking certification in either of the single disciplines will answer 165 multiple-choice questions over the course of three hours, while those pursuing dual discipline certification have three and a half hours to finish a total of 200 questions in the written exam. All of the written exams test candidates' general knowledge of patient and practice management principles, but the dual discipline exam also includes some content related to prescription criteria. When you get to the simulation test, the exam content differs substantially depending on whether you're taking the orthotics or prosthetics exam, although the format of the exam – seven hypothetical situations in which students might answer questions about the steps they would take or the medical devices they would recommend in a given scenario.
Upon completing all exams – and, for dual discipline applicants, the end of the 18-month residency period – the credential you would receive would be the Certified Orthotist (CO), Certified Prosthetist (CP) or Certified Prosthetist Orthotist (CPO) credential.​
Additional Resources
What Should I Do Between My First and Second Years of an Orthotics and Prosthesis Program to Help Me Be Ready to Graduate?
What Technical Experience or Knowledge Should I Have Before Starting My Master's Program in Orthotics and Prosthesis?
What Kind of Experience Should I Have to Make Me More Desirable to an Admissions Office for an Orthotics and Prosthesis Program?