If you earn your graduate degree in orthotics and prosthesis – which happens to be among the highest paying master's degrees – where might you end up working? More than half of the occupation works in the two largest employing industries for this profession, and three-quarters of all orthotists and prosthetists work in the three top-employing industries. However, when you look beyond the field and industry of employment to specific work settings, you will find a great deal of variety in possible employment settings for orthotists and prosthetists.
A Growing Career in Healthcare
The first thing you should know about orthotics and prosthesis, if you don't know it already, is that this occupation is part of the healthcare field. Orthotists and prosthetists are the highly educated professionals who equip patients with medical equipment – orthotics, referring to orthopedic braces and support devices, and prosthetics, referring to artificial limbs. This means that you work in clinical practice with patients and in the laboratory designing and fabricating medical devices. Orthotists and prosthetists are also part of the patient's healthcare team and, more specifically, their rehabilitation team. As such, they regularly collaborate with the patient's physician, physical and occupational therapists, and other healthcare workers.
Although only 10,000 Americans fit into this job classification as of 2019, the United States Bureau of Labor Statistics (BLS) expects opportunities in this field to grow at an above-average rate of 17 percent over a decade.
Orthotist and Prosthetist Employment by Industry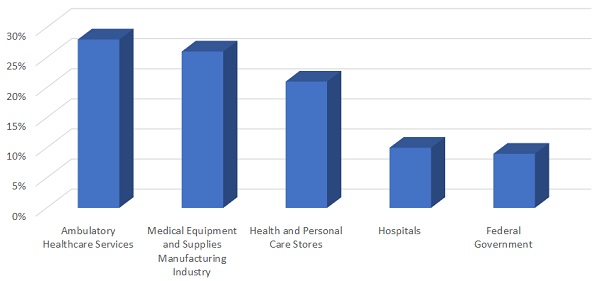 The BLS doesn't only keep track of how many orthotists and prosthetists are working in the United States. The Bureau also analyzes employment in this profession by industry. The industry that employs the largest portion of this profession is ambulatory healthcare services, accounting for 28 percent of jobs in the field. Another 26 percent of orthotists and prosthetists work for the medical equipment and supplies manufacturing industry. Jobs in health and personal care stores make up 21 percent of the field. Rounding out the list of the top five employing industries for orthotists and prosthetists are hospitals, employing 10 percent of the field, and the federal government, employing 9 percent of the profession.
The quarter of the occupation that works in the medical equipment and supplies manufacturing industry has the best earning potential. The BLS reports a $74,400 median wage within this industry, compared to the $68,410 overall median salary for this career.  
Work Settings for Orthotists and Prosthetists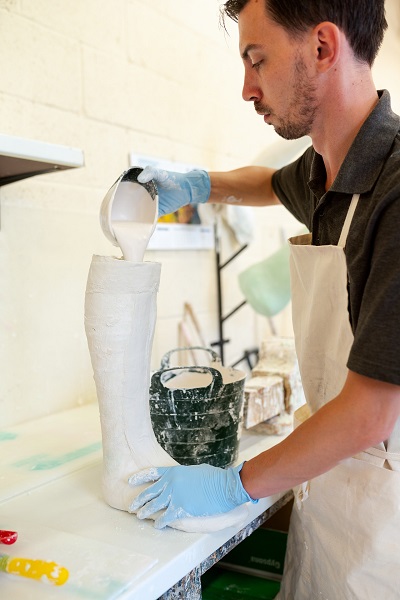 IMAGE SOURCE: Pixabay, public domain
Although knowing which industries employ the most orthotists and prosthetists is helpful, the possible job settings within these different industries are diverse. A study by the American Board for Certification in Orthotics, Prosthetics & Pedorthics breaks down primary work settings for orthotists and prosthetists in a more granular way. According to survey participants, privately owned multi-facility practices employed the largest share of both prosthetists and orthotists, followed by publicly owned multi-facility practices and then privately owned single-location practices. A good chunk of prosthetists – and a somewhat higher percentage of orthotists – worked in hospitals and rehabilitation centers, although the study doesn't distinguish between these types of facilities. Smaller percentages of the field, based on survey responses, are employed in university-based clinics and facilities, teaching and research roles in academic institutions, central fabrication facilities and other settings.
Although certified prosthetists and orthotists can work in any of these settings, your primary job responsibilities can vary considerably from one work setting to another. You may spend little of your time providing direct patient care when you work in a central fabrication facility, while doing so may be the job duty that commands the majority of your time when you work in a role that more heavily emphasizes clinical practice. Similarly, while some orthotists and prosthetists spend a great deal of their workday designing and fabricating medical devices, others have a more hands-off role, focusing instead on clinical interactions with patients and overseeing teams of medical appliance technicians who actually make the devices. Because the duties involved in this job role are so varied, it's important that master's degree programs in orthotics and prosthesis – and the hands-on residency programs that follow them – cover all of the different aspects of the job.
When choosing your career path within this field, consider what aspects of the job most appeal to you and which ones you wouldn't mind focusing on a little less, and look for an opportunity that most closely fits your strengths and professional interests.
Additional Resources
Are Orthotics and Prosthesis Two Different, Related Fields, or Are They More Tightly Connected?
What Does Someone Do on a Day-to-Day Basis in Orthotics and Prosthesis?
What Personality Traits Are Important to Have in Orthotics and Prosthesis?