Access to college or university degrees has never been higher. The emergence of readily available accredited online degrees at nearly every level of schooling has opened the doors to many to obtain the degree of their dreams. Simultaneously, college and university costs have risen for decades, leaving many degree programs as attainable, but only for students willing to take on significant student loans.
Here at DegreeQuery, we've covered a huge variety of educational options. These include coverage of trade schools, online bootcamps, MOOC platforms, and of course, traditional college and university degrees. 
Wherever applicable, we aim to note that there is no "perfect" degree or educational program that's going to work for everyone. There are many routes to a successful and fulfilling career. And individuals learn better in many different styles. 
To this end, we wanted to provide a guide specifically for individuals who may be having second thoughts about whether they should pursue a degree at a college or university. In this guide, we'll answer questions including: 
As well as round up DegreeQuery's many additional detailed guides on types of college or university degree alternatives.
DegreeQuery.com is an advertising-supported site. Featured or trusted partner programs and all school search, finder, or match results are for schools that compensate us. This compensation does not influence our school rankings, resource guides, or other editorially-independent information published on this site.
What Alternatives to College and University Degrees Exist?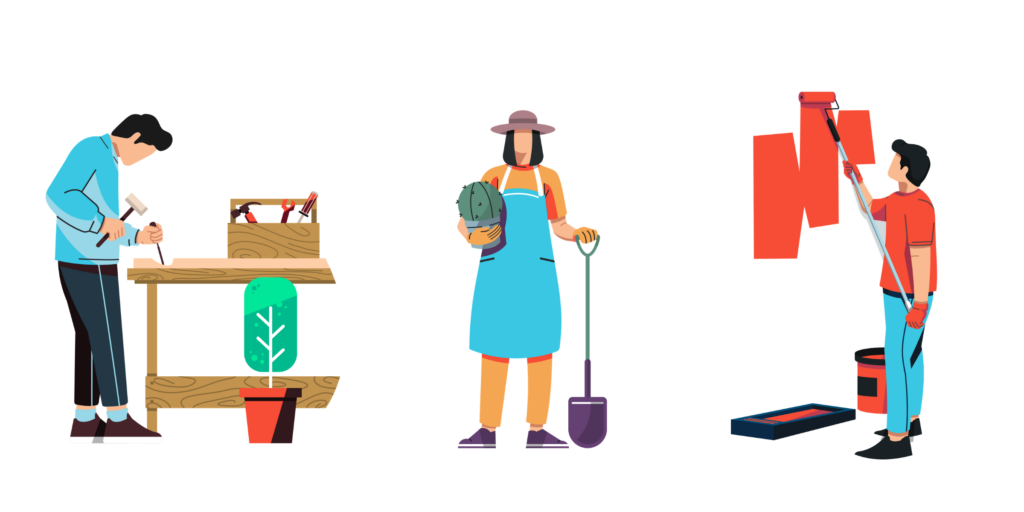 Traditionally — and presently in many nations — there are two ways to specialize in schooling. As seen in present day German schools where students choose one of these paths before their teenage years, the two tracks include:
A "university track" that prepares students in a variety of academic topics that will be required during university and afterwards in graduate degrees
An "applied track" which prepares students for skilled trade work or fields that do not require as wide of a breadth of academic knowledge
Of these two, the "applied track" is still very much alive through many schools for skilled trades as well as diploma programs at community colleges. Additionally, there are a number of relatively new disciplines where employers tend to care more about a workers ability to do the job rather than some arbitrary college or university degree. Broadly speaking, these alternatives to college or university degrees can be organized into a few groups:
Traditional Skilled Trades Include:

Carpentry
Plumbing
Masonry
Electrical Work
Appliance Service Technicians
Boilermakers
Pipefitters
Agriculture Equipment Technician
Crane Operator
Building Inspectors
Among Others

Computing or Digitally-Facing Jobs That Don't Require College Or University Degrees Include:

Web Developer
Full-Stack Developer
Graphic Designer
Product Manager
UX/UI Designer
Data Scientist/Analyst
Cyber Security Analyst
Information Technology Professional
Film Editors

Non-Traditional Medicine, Health, and Wellness Careers

Massage therapy
Reflexology
Herbalism
Eastern Medicine
Radiation Therapists

Aeronautical and Infrastructure Related Careers

Air Traffic Controller 
Aircraft mechanics
Wind Turbine Installers
Civil Engineering Technicians
Construction Managers
While you don't need to obtain a college or university degree for many roles in the above disciplines, you will need some education to get started. Here are some of the key alternative delivery methods or program types that you can pursue in the above disciplines that don't include traditional college or university degrees.
Apprenticeships involve working under the supervision of an experienced worker in the field you would like to enter. They are often accompanied by some self learning. Apprenticeships are common in skilled trades as well as non-traditional medicine.
Bootcamps are a new-ish name for non-accredited hands-on educational delivery methods that tend to be about digital skill sets. In all likelihood, you've heard of web development bootcamps. In recent years, bootcamps have also been applied to data science, business analytics, web design, UI/UX design, product design and management, and related fields. One hallmark of this delivery method is that you work on hands-on projects meant to build a portfolio. You are also often in contact with a mentor who is experienced in the field.
Diplomas are used to describe many delivery methods. Diplomas are non degree offerings provided by community colleges. They can also be used in less-formal ways to include programs meant to prepare individuals for fields such as massage therapy, herbalism, and skilled trades. 
Can College and University Alternatives Lead to Quality Careers?
The short answer here is a definite "yes!"
While college and university degrees tend to push wages and opportunities up, on average, there are a handful of career types that greatly outperform college and university-based careers on these metrics.
Let's dive in a little deeper. 
Does the average individual who does not attend college or university make as much as the average college or university graduate? No. 
The average recipient of a high school degree makes $712 a week. The average bachelor's degree holder makes $1,173 a week. Note that these numbers are for individuals at every stage of their career. So don't expect individuals with high school degrees or bachelor's to make this much right out of the bat. With that said, individuals with higher education tend to have even more options for advancement in their role. Meaning that over a lifetime of work bachelor's degree holders may see greater change in their earnings.
So this means one should go to college to make more money, right?
Wrong. 
A select group of skilled trades and fields make significantly more than the average bachelor's salary (and even graduate-degree salary) without the need to pursue a college or university degree. 
Some of the most common skilled trade and non-college degree required jobs have average earnings much higher than your average bachelor's degree holder.
Average Bachelor's Degree Graduate Salary: $59,124
Average Building Inspector Salary: $59,700
Average Boilermaker Salary: $62,150
Average Aircraft Mechanic Salary: $63,060
Average Pile Driver Operator Salary: $63,770
Average Landscape Architect Salary: $68,230
Average Web Developer Salary: $69,430
Average Elevator Installer Salary: $79,780
Average Construction Manager Salary: $93,000
Average Air Traffic Controller Salary: $124,540
Yes, you read that correctly. There are careers that don't require a college degree that make more than double of the average bachelor's degree recipient salary. In fact, the average salary for some of the highest-paid skilled trades or alternative careers comes in higher than the average salary for those with advanced degrees. 
We should also add that many of the above skilled trades and careers are available throughout the nation and have very high demand. Next, let's look at choosing an alternative to college or university study that can help you prepare for one of the above careers.
How do I choose the right college or university alternative for me?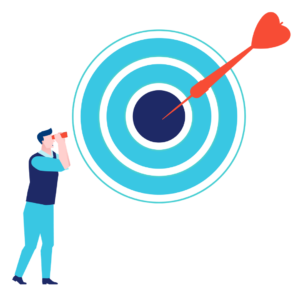 There are many factors that go into choosing one of the careers that we've highlighted. Many of the above roles are in high demand and facing aging populations performing this work. Below we've highlighted some of the key factors in choosing one of these careers:
Are you comfortable or able to perform physical tasks including navigating low-space areas? 
Are you comfortable with interfacing one-on-one with clients?
Are you comfortable running your small business or would you rather work for another?
Are you willing to learn skills within the military that can translate to a skilled technical job?
Are you interested in digital products or working online?
Do you find yourself more interested in human-centered or object-centered jobs?
The answers to many of these questions can help to narrow down your college or university degree alternatives either by dictating what program type you should pursue, or what eventual job may be a good "fit." 
Below we'll work through the answers to the above questions in an effort to provide some guidance on the matter.
Many skilled trades related to building or repair may require you to work for prolonged periods of time performing physical tasks. This may include crawling into small areas, operating in the dark, and otherwise performing tasks that many may feel uncomfortable doing or unable to do. If this is the case for you, skilled trades including carpentry, plumbing, and masonry may not be great choices for you. 
Many individuals in the above careers end up running their own small business at some point. If you aren't comfortable with (or can't see yourself getting used to) interfacing with clients, gaining their input, and generally managing "accounts" then at the very least you should seek out an arrangement where you're performing one of the above roles for another business. 
Some of the best ways to gain skills to become an air traffic controller, aeronautical technician or mechanic, and related careers can be through military service. This can also be a way to gain a "free" education, if you're willing to invest the time and effort to join the military and work your way into a role that will give you the experience you desire. 
RELATED: How to Become an Air Traffic Controller: What Degree Do I Need?
Some individuals are interested in solving physical problems, while others love working on digital projects. If you find yourself interested in digital projects then there are a wide variety of careers that can be entered through digital (or in person) "bootcamps" including web developer positions, UI/UX Design, among other roles. 
Finally, many career experts have noted that individuals tend to be interested in human-centered or object-centered careers. Individuals who think they may want to work in a caring role tend to be individuals interested in human-centered careers. If this is the case, and you want an alternative to college or university, you may be a good "fit" for pursuing alternative health education such as herbalism or massage therapy.
What Are The Best Alternatives to College or University Degrees?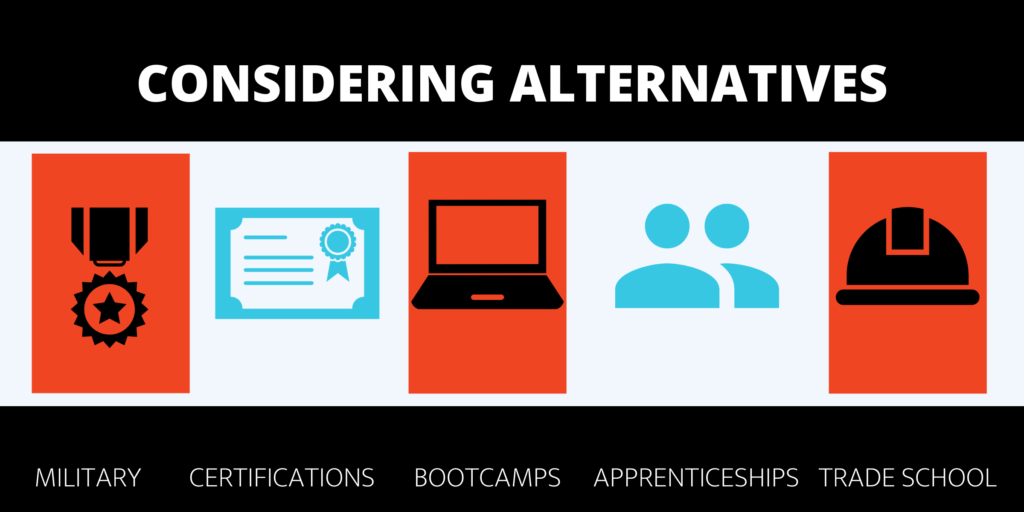 Below we'll work through the most common ways in which individuals find high-paying and in-demand jobs without college or university. For each section, we'll "rank" some of the best options for all of the following scenarios: 
Gaining Skills in the Military
Seeking Tech Certifications
Booting Up a Bootcamp
Pursuing an Apprenticeship 
Going to Trade School
Gaining Skills in the Military
The military can provide access to training with cutting-edge technology, leadership training, and proof that you can handle more difficult situations than you're likely to face in nearly any other job. In fact, many employers seek out veterans for these reasons, even if they don't have the exact skill set required for a job. Veterans have shown themselves to be able to support a cause greater than themselves, shown some level of physical fitness and fortitude, and often have valuable leadership and technical skills.
Seeking Military Air Traffic Controller Training
Air traffic controllers are some of the most well-paid (on average) positions that don't require a college or university degree. While this process may differ slightly depending on the branch of the armed services you're entering, just know that individuals can attend air traffic control training within any branch of the American military. 
For the Army, you'll want to sign up for the Armed Services Vocational Aptitude Battery (ASVAB) which is typically administered at recruiters offices. Score 101 or above on the skilled technical portion of the test to prove aptitude. You'll also need to pass a variety of background tests and be able to prove you aren't a dealing with issues with drugs or alcohol. 
After this you'll be sent to a 15-week training at Fort Bragg where you'll emerge as a beginner air traffic controller. From there you'll apprenticeship under other air traffic controllers and take continuing education courses. Once you're done with your military service you can move into civilian air traffic controller careers, which are often quite lucrative and have great job stability.
Learning Technical Skills in the Military
The military is one of the largest employers of both skilled hardware technicians as well as software and information systems whizzes. They're also one of the best equipped organizations for training you on the job. 
The most common military roles that translate directly to civilian jobs include roles that require technical repair skills, intelligence analyst and knowledge work skills, financial management skills, telecommunications skills, and health care management skills. Each of these areas are areas where, depending on your military assignment you can gain free training on the job, making the miliary one of the best ways to gain an education without needing to attend college or university.
Interested in more coverage of how the military can help you with your learning goals? DegreeQuery has you covered with the following related resources:
Seeking Tech Certifications
While many technology employers care more about whether you can do the work at hand than your credentials, many large employers of information technology professionals do put great stock in certifications you may have. A vast majority of information technology certifications hold no official prerequisites to sit for an exam. While you can take a university class to prepare yourself for an IT certification exam, you can also take more affordable and flexible courses online, buy a book to study yourself, or just learn all of the required information technology skills by yourself over time.
Some of the more common areas where tech certifications may help you to gain employment include:
Information Technology Help Desk Roles
Cyber Security Roles
Information Technology Management
Network Administrator Roles
Systems Administrator Roles
Vendor-specific roles like that of Cisco Network Administrator
And related positions
For each of the above career paths there are a range of certifications, ranging from those for relative beginners in the discipline to complete experts.
Learn more about what degree you need to be a computer technician.
CompTIA is one of the largest providers of certifications on many of the above topics. If you're interested in jumping into entry-level information technology work, the following are often some of the first certifications individuals may pursue: 
CompTIA Fundamentals
CompTIA A+
CompTIA Network+
CompTIA Security+
CompTIA Cloud+
CompTIA Server+
Among Others
There are of course many other organizations that also provide tech and IT certifications. One way to determine whether a certification may be the right path forward for you is to look at jobs you're interested in and determine which certifications are most commonly required (if any). 
Interested in more IT-Specific degree and job coverage? Check out DegreeQuery's related content below:
Booting Up a Bootcamp
Bootcamps have gained popularity in a number of digitally-based fields in recent years. Bootcamps are typically <1 year long programs that center around the creation of real-world projects in an aim to create an employable portfolio. Commonly taught by professionals currently working in whatever field is being taught, bootcamps center around providing applied knowledge quickly. 
Fields in which bootcamps are particularly popular include: 
Front End Web Development
Full Stack Web Development
Data ANalytics or Science
UI/UX Design
Web Design
Or Product Management
These software and marketing-specific job titles often rely heavily on digital portfolios that many students can make in a matter of months. 
Additional perks of many bootcamps is that they tend to be open regarding the number of graduates who become employed in their new fields, as well as initial salaries earned by recent graduates.
One of the major perks that some bootcamps offer involves a variety of tuition forgiveness or payment plans. Some bootcamps have relationships with employers in the field to help them with their staffing needs. Students who end up taking jobs with these locations then get their tuition forgiven. Other programs offer promises stating that graduates who look for a job in their new field and cannot get one can get their tuition refunded. 
As one may imagine with the strong focus on employment results with bootcamps, many bootcamps are able to offer top-notch career counseling and support for placement in real world jobs. 
If you're looking for a top notch bootcamp, make sure to choose one that offers one of the tuition forgiveness of placement promises we've mentioned in our entry here. Or at the very least a bootcamp that provides robust career placement data so you can have some idea as to the value of your education before you begin.
Some examples of some of the top-ranked bootcamps available include:
General Assembly
Lambda School
Bloc
Thinkful
App Academy
Among Others
Among most bootcamps, the most common paths will include one in front end web development and another in full stack web development. If this distinction doesn't make sense to you, you should search for guides explaining the difference between front end and full stack web development to find out more. 
In short, front end web development focuses on interactivity and the visual elements of a website. Individuals focusing on front end technologies are likely to need to know HTML, CSS, and Javascript. 
Full stack web development includes front end web development and back end web development. Back end web development tends to focus on the functionality behind a site or app. Full stack web developers deal with the handling of data, databases, and optimization of app and site performance. 
Interested in more information on Bootcamps? DegreeQuery has you covered with some of the following related resources: 
Pursuing an Apprenticeship 
For many of the skilled trades we listed at the start of this guide, students may elect to pursue either a trade school diploma or to pursue an apprenticeship. For some of the skilled trades listed, both trade school and apprenticeship are required. Typically, potential skilled tradesman will want to pursue whichever opportunity presents itself. If you are planning on entering a family business where you can learn from someone else in the business, or you already work in a business and have found someone willing to "show you the ropes" then an apprenticeship may be a good option. 
Additionally, there are formal apprenticeship programs that are advertised by many organizations. The fields in which apprenticeships are most readily available include:
Automotive manufacturing and repair
Construction
Hospitality and Food Preparation
Energy Jobs
Manufacturing
Holistic Health Care
Apprenticeships very in length and requirements depending on the industry you're seeking to join. Most apprenticeships last between 1 and 6 years. The good news is that you'll get paid (and be working full-time) while learning the skills needed for your new trade.
At the end of apprenticeship programs, individuals typically have to sit for an exam showing they have all of the core proficiencies needed to enter into their new field. 
Going to Trade School
Skilled trades are in demand across the nation, and the most common way to enter these fields is through pursuing a trade school diploma. Trade school and applied technical diplomas are available starting at the high school level as well as through designated trade schools and community colleges. These programs are typically hands-on with some course-based learning. Though you may be required to take college courses in a trade school program, programs are typically much shorter and more applied than traditional college or university degrees.
It's estimated that there are millions of unfilled trade school openings in America. As we've mentioned in other sections of this guide, many of these highest paid and most available jobs that don't require college or university can be learned at a trade school.
Specifically, trade school programs typically offer training in: 
Carpentry
Plumbing
Masonry
Electrical Work
Appliance Service Technicians
Boilermakers
Pipefitters
Agriculture Equipment Technician
Crane Operator
Building Inspection
Fire Science
Among Others
The 10 Best Online Fire Science Degree Bachelor's Programs
Trade schools are available throughout the nation, with many community colleges offering trade school programs online (though many of these hands-on disciplines do require some in-person courses). 
If you're interested in seeing which online community colleges may be able to offer you lucrative and fulfilling trade degree, be sure to check out some of DegreeQuery's rankings on the topic below:
For Further Reading: 
How Much Can I Make With a Degree in Digital Marketing?