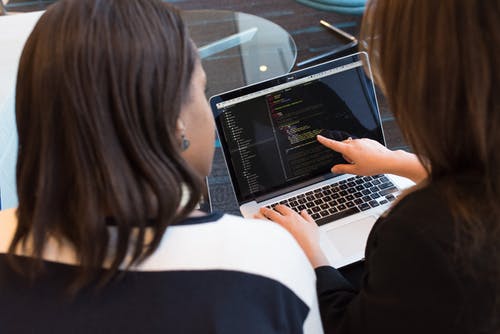 Aspiring web designers who are either unable to attend college or choose not often wonder if they're likely to be hired as a web designer without a degree if their background is strong. The answer to that question varies by the individual, the individual's actual knowledge of web design and his or her work experience. Web design is a field that requires knowledge of things like programming languages, coding and computer science, but do all these things require an actual degree? Learn more here.
What Degree Levels Are Available for Web Design?
Web designers who choose the college degree option can choose from a few different options. Although some candidates choose to complete a diploma from a community college, others earn an associate's or bachelor's degree. The most common avenue towards a web designer career is a bachelor's degree in computer science, business or communications.
Common courses in a web design program include programming concepts; open-source web development; IT development and design fundamentals; web design; web and mobile layout; client-side web development; and animation for web and mobile; data concepts; and statistics. Many graduates of web designer diploma or associate's degree programs advance their careers by pursuing a bachelor's degree in web development.
Web design is a broad field that covers many media and design types. Web design students can choose to specialize in different areas, such as:
Advertising Design
Interface Animation
Mobile App UI
Print Projects
Icon Design
Digital Illustration
Type & Calligraphy
Although many aspiring web designers do choose to earn a degree for whatever reason, there are still many that obtain the essential qualifications needed for this career through self-taught courses, online courses and internships.
Do Employers Prefer Degrees?
Most professionals will say earning a degree is never a bad idea, but it's not always a requirement for employment. At least, this is often the case for aspiring web designers. Many employers state that while they think having a degree is impressive, they put more importance on having specific web design knowledge and experience. In many cases, this is obtained more through on-the-job training, internships and individual courses a candidate might take online or in a community college.
Web designers need to have knowledge of various computer programming and designing software programs. StudentScholarships.org states that experience as a graphic designer or computer programmer is required to be hired as a web designer. The more web design-based courses an individual completes, the better the job opportunities will be. Candidates with knowledge of Photoshop, Flash and similar digital multimedia tools typically see the best opportunities. Web design involves a great deal of programming, so the more programming languages a designer knows, the more positive his or her resume will look to potential employers.
Web Design Requires Keeping Up With Technology
Employers in the media and software industries are not near as impressed with a degree as they are with an applicant's knowledge of current technology. Technology is constantly changing and advancing, and this is particularly true with web design. College and similar learning institutions cannot keep up with the way technology is changing.
A web design graduate a year or two out of college may already have to learn new things that were not part of the degree program. A self-taught individual, on the other hand, is constantly keeping up with the latest courses required for web design careers.
Career Outlook for Web Designers
Although web designers and web developers are not exactly the same thing, they both play an important role in creating and developing websites. The U.S. Bureau of Labor Statistics reports that web developers are predicted to see job growth of 13 percent during the decade of 2018-2028. More than 20,000 new web developer jobs will be created by 2028 based on the bureau's projection.
As of May 2018, web developer wages ranged from $37,930 to $124,480. Because websites contain a large amount of graphics, graphic design is a big part of web design. Graphic designers are expected to see an employment growth of 3 percent during that same decade. These creative artists earn an average annual wage of $54,680.
Talented web designers will continue to be in demand as the world continues to depend on the internet for their personal and professional business needs. This is especially the case for web designers who make it a point to keep up with new technology. It's difficult to say whether the actual growth will be better with or without a degree, but an individual with a strong background in web design will definitely have the best career options.
Related Resources:
Are There Any Certifications Available for Web Design?
What are the Best Cities to Get a Job as a Web Designer?
I Love Where I Live. How Often Do Companies Allow their Web Designers to Work Remotely?
With All the Do-It-Yourself Web Design Sites, What is the Outlook for a Web Designer?