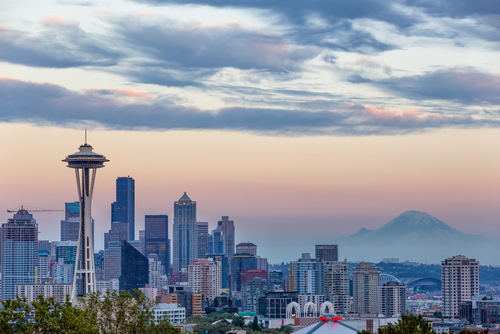 The best cities to get a job as a web designer depends on what your skills are and the contacts that you have. Though many people assume that the only places to work are in Silicone Valley, that changed in recent years as new cities opened technology firms. In addition to tech firms, companies need web developers who can create sites for e-merchants and other clients. Some of the top cities to start a web development career and find work as an advanced developer include Dallas, Seattle and Atlanta.
Seattle, Washington
Seattle, Washington is a popular choice for web developers because of the many employers looking for experienced workers. It ranks as one of the top places to work because of the employment opportunities available for both experienced and less experienced web developers. Workers living here also report a higher average salary. The downside to Seattle is that the cost of living is quite high and your salary may not provide enough for you to live on in terms of living expenses and student loans.
Columbus, Ohio
According to the Bureau of Labor Statistics (BLS), the median salary for web developers is $69,430 a year or $33.38 per hour. The BLS ranks this as the median pay among those with an associate's degree, but those with a bachelor's or advanced degree can earn even more. That salary combined with the low cost of living makes Columbus, Ohio a popular choice for those who want to work in the Midwest. Columbus also ranks as one of the top places to live in the nation because its average home prices are low and its schools are good.
Washington, DC
One of the best cities to get a job as a web designer on the East Coast is Washington, DC. This city lists more jobs for web designers and developers than any other city and lists entry-level positions with fewer requirements that are suitable for those right out of school. Though DC has a high cost of living, you'll find more affordable housing options on the outskirts of the city and in the suburbs. You'll want to keep in mind the hassles of driving and parking in DC and using public transportation to get to work.
Atlanta, Georgia
The number one choice for web developers and designers according to Alexander Harris of Spare Foot is Atlanta, Georgia. Harris claims that around 10% of all jobs in this field are listed in Atlanta and that it has the second-highest salary of $96,000 a year. He also found that workers can buy a home for an average of $244,815 or rent and pay $16,836 a year. Those working in Atlanta pay an average of 18% of their annual income towards rent and spend 39% of their salaries to buy a home. Atlanta also has a strong public transportation system for those who don't want to sit in traffic.
San Francisco, California
Another option for those on the West Coast is San Francisco, California. You can visit Golden Gate Park on your downtime and see the Golden Gate Bridge or head down to Chinatown for some delicious food. San Francisco is one of the cities with the fastest-growing tech sectors in the world and has employers looking for new recruits and experienced talent. One issue with San Francisco is its high cost of living. Housing prices are on the rise, and there aren't a lot of homes to buy or places to rent.
Durham, North Carolina
A good choice for those who want to move at a slower pace is Durham. The tech sector here is on the rise and has new jobs with employers looking to recruit workers from out of state. Fewer than 300,000 people live in Durham, and many of them own their homes. You can get a home in the city or one of the suburbs for less than $330,000 and make between $55,000 and $71,000 a year. Durham is so close to Raleigh that the two cities combine some of their programs. These two cities rank as one of the best places to live in the United States.
Dallas, Texas
Both Dallas and Austin are popular places for web designers and developers to look for jobs. Though Austin has a reputation for keeping things weird and celebrating local companies, Dallas is home to both Fortune 500 companies and local employers. Those who prefer living in the big city will likely choose Dallas over Austin. That is a good choice as the city has a median home price of around $250,000 and a median rent of less than $16,000 a year. Dallas also has a few major sports teams and tons of attractions that you can visit when you're off the clock.
Miami, Florida
When Design Roast ranked the best cities to work and get a job as a web designer, it listed Miami, Florida at number four. You might know the city for its vibrant nightlife that featured in television shows and films or for the hit rap song from Will Smith. This Florida city has more to offer than just what you see on the screen though. It has an average salary among web designers and developers of $61,000 a year and an active tech community filled with engineering and computer science majors. You can attend annual conferences to make connections in the tech sector and join the Technology Foundations of America like a local.
Related Resource: What is the Benefit of Having a Degree in Web Design?
Working as a web designer may occasionally require that you spend long hours on your own or that you work in small groups before working on independent assignments. As you search for a job right out of college or later in your career, there are factors to consider where to live and work. Those factors can include the number of employers, job opportunities, local attractions and cost of living, especially how it compares to the average salary for web designers. Based on these factors, some of the best cities to get a job as a web designer include Miami, Seattle, Dallas, Columbus and San Francisco.