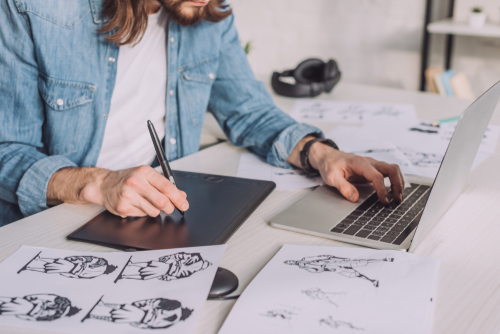 When students express interest in becoming multimedia artists, many will research topics such as the highest-paid animators, modelers, or designers. Knowing what to look forward to in regards to salary is undoubtedly useful potential. As shown by the Bureau of Labor Statistics, an average animator salary in the United States currently stands at approximately $72,500. This calculation is based on almost 74,000 animators as of 2016. Also, the industry is moving in a positive direction with an eight percent increase in the annual job outlook. Therefore, it comes as no surprise that the market is expanding.
Nonetheless, every compensation analysis has to review different factors that could be impacting the results. For instance, while it is very unlikely that the data obtained from 74,000 people could be skewed with individual outliers, it might happen. So, how would one figure out why someone is the highest-paid animator?
An animator's salary earned is based on several factors including things such as animators' experiences, training, levels of responsibility, portfolios, and abilities to negotiate compensation.
DegreeQuery.com is an advertising-supported site. Featured or trusted partner programs and all school search, finder, or match results are for schools that compensate us. This compensation does not influence our school rankings, resource guides, or other editorially-independent information published on this site.
Highly Experienced
According to a PayScale analysis, animators can expect to earn the most when they have about a decade worth of experience.
At this point, their starting salary will be raised by an extra $10,000 to $15,000. Several years of experience makes animators much more valuable compared to new graduates as their productions will often be more profitable. This is because having ten years of animating knowledge will be much more valuable than recent graduates can bring. Payscale also states animators who remain in the field for over two decades are very likely to see a rate of diminishing returns and therefore experience a decrease in their annual earnings.
Trained and Certified
Besides experience, highest-paid animators are usually the ones with the highest level of training and most valuable certifications.
While this relates to experience, it is analyzed as an individual factor because individuals could possess a high level of technical knowledge without major experience. An example of this is an animator who holds a master's degree but lacks tangible experience outside of an internship or two.
Animators who decide to extend their area of expertise to include some administrative or management work will rapidly improve their annual compensation. In other words, the highest-paid professionals will usually be in charge of large departments and many employees. Only those who also carry an appropriate amount of experience and training will be eligible to take on leadership roles.
Outstanding Portfolio
Fortunately, not all of the reasons why a certain animator might have a mind-blowing salary are related. Having an outstanding portfolio may have nothing to do with experience, training, or even level of responsibilities. On the contrary, it simply deals with one having a solid list of prior engagements. Sometimes, people can build their portfolio to near-perfection by spending a lot of their college career working on successful projects. While this requires a lot of extracurricular effort, it is a much easier route to a high-paying position than waiting for a decade or longer and getting multi-certified.
High-Profile Projects
The nature of animators projects impacts their salary. For example, an animator with significant experience will have more opportunity than animators who mostly work on short commercials or video game trailers. While both of those types of ventures are great for building skills and getting to network within the market, those with several years of experience with typically generate more revenue. Consequently, the animators behind such lucrative projects are going to be in high demand in any industry they decide to enter.
Negotiate and Leverage Talents
In the end, all of the skills mentioned above will be futile absent one's ability to leverage talents in exchange for a high salary. Employers looking to hire animators with the right combination of experience, training, leadership, and portfolio versatility, are often willing to negotiate contracts until both parties are satisfied. If the animator in question understands just how much their prior work history is worth, they will be able to easily recognize under-market offers that are unfair. Expectedly, the odds of them ultimately arriving at a very high salary that matches their talents is much greater. Thus, learning how to properly negotiate is a timeless skill that will allow animators to get closer to earning the highest salary in the business.
Most animation students will have to spend a significant amount of time in their career gaining experience and building their portfolio before reaching their dream compensation. This is true of all other fields as well and the animation market is no different. While it may be challenging to become the highest-paid animator right after attaining the necessary credentials, it is achievable given the right exposure, talents, hard work, and fruitful negotiations.
Related Resources:
What Degree Do I Need To Be An Animator?
What Can I Do With An Art Degree?
What is the Median Salary for an Animator?
What is a Typical Day in the Life of an Animator?
Is it Easy to Work for Myself as an Animator?
Are Their Certain Parts of the Country Where It's Easier to Find a Job as an Animator?