The curriculum for aspiring computer hardware engineers has a reputation for being challenging. You will have to take plenty of math, science and highly technical computer and engineering courses. Before you can graduate, you will need to prove that you can apply engineering concepts to creating electrical and computer-based solutions to problems. However, students who have the dedication to complete this difficult curriculum are rewarded with a career that carries a high earning potential, including a six-figure median salary.
Choosing Computer Engineering as a Major
Most computer hardware engineers enter the field with a degree in computer engineering from an ABET (Accreditation Board for Engineering and Technology)-accredited program. This degree path provides students with a strong combination of engineering knowledge and computer science skills. However, some aspiring hardware engineers begin preparing for their career by earning a computer science or electrical engineering degree instead, the United States Bureau of Labor Statistics (BLS) reported.
Computer science degree programs include less of an emphasis on engineering, which is the application of science and math principles to real problems. Instead, this major focuses more on programming, database administration and network communications, which are valuable skills for computer hardware engineers. The drawback of majoring in computer science is that the degree program may not provide the extensive coursework in science, math and engineering theory or the creative design opportunities an engineering program would.
The field of electrical engineering is similar to computer engineering. In fact, many engineering schools group these two disciplines together as one department or one major. Electrical engineering is a good alternative to computer engineering in that it still covers core engineering science and design coursework. Its focus is slightly broader than computer engineering, encompassing a more diverse range of electrical and electronics systems and processes. However, students who choose electrical engineering must make sure that they take a sufficient number of computer science courses.
Some engineering schools may consider computer engineering a concentration rather than a full-fledged major. The skills you learn are more important than the exact title of your program of study.
Math and Science Courses for Computer Engineers
Math and science classes make up a big chunk of a computer engineer's education. For a computer engineering program to achieve ABET accreditation, the curriculum must at a minimum include courses in discrete mathematics, mathematics through differential and integral calculus, and probability and statistics. While ABET requires students to complete a minimum of one year of college mathematics and science courses, don't be surprised if your school requires quite a few math and science courses, including classes devoted to linear algebra, differential equations, physics, chemistry and calculus at multiple levels of study.
Computer science, too, is a big part of a computer engineering curriculum. Engineering students may be required to take courses offered by the computer science department, such as introduction to computing and programming, data structures and mathematical foundations of computing. Your technical electives may also include computer science coursework, perhaps in subjects such as computer algorithms and systems programming.
Some programs allow students to use electives to complete a concentration in a topic such as networks, computer systems, software languages or algorithms.
Engineering Courses
Naturally, you can't graduate from an accredited engineering degree program unless you take a lot of engineering classes. ABET requires programs to include at least one and a half years of engineering coursework that focuses on the theory of engineering sciences and application of those concepts through creative design. By the time students graduate, they should be capable of analyzing and designing electrical components, devices, systems and processes that include both hardware and software.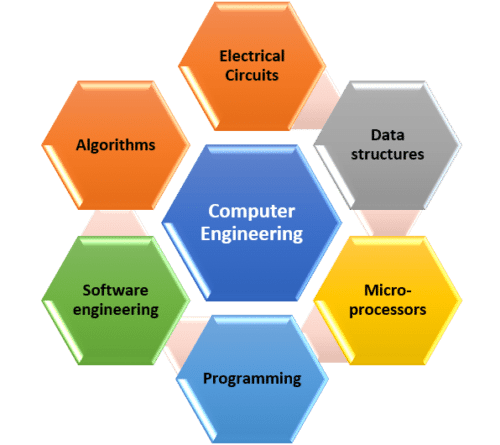 Exact curriculum requirements vary from one school to another, but students should expect to take introductory coursework in engineering foundations, logic design, embedded systems and VLSI design. Courses in subjects such as electronics, computer organization, circuit analysis, discrete and continuous signals and systems, digital systems design, computer communication networks and advanced computer architecture often make up the core computer engineering curriculum.
An engineering education includes classroom learning, laboratory research and fieldwork.
Applying What You've Learned
Engineering is a hands-on career. To develop the skills you will need as a computer hardware engineer, you must practice applying the theories and concepts you have learned to designing solutions to real problems. There are many ways you can do this even before you graduate from college. The real-world experience you gain in engineering can help you get your first job with your degree.
Often, students gain this practical experience through an internship in which they spend a term working for a company or organization in their field of interest, the BLS reported. Though internships may or may not be paid, the training they offer is valuable. Students can also look for cooperative engineering programs, or co-ops, that take longer but provide more in-depth training as full-time paid positions. Students who participate in a co-op program might graduate later than their peers, but they also graduate with up to 18 months of full-time work experience under their belts. Cooperative program opportunities for computer engineers are available with a variety of organizations, including the Central Intelligence Agency (CIA).
Students who don't complete an internship or co-op will still gain practical engineering experience through a senior capstone design project. ABET requires this major design experience to be judged against appropriate engineering standards and to include constraints similar to those a student would encounter when designing a solution in the real world.
For computer engineering students, coding conventions and hackathons are other ways to gain hands-on experience – which can potentially impress prospective employers such as Google.