You made the big decision to go back to school for your Master of Business Administration (MBA) degree, and one of your top schools has offered you an interview. While that achievement in and of itself is something to celebrate, you shouldn't overlook the importance of preparing for this interview. An interview for admission into an MBA program is just as important, and just as tough, as an interview for a competitive job. As you get ready for your interview, remember to speak about your work experience and your future goals, act professionally at all times and practice your answers to common interview questions.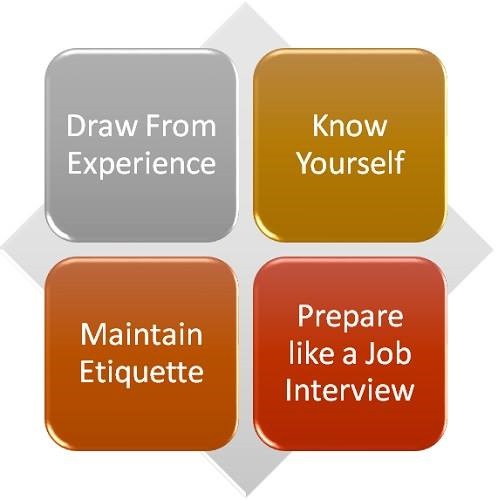 Draw From Your Experience
When you applied to college as an undergraduate student, you probably didn't have much work experience. Most business schools require MBA applicants to have a considerable amount of work experience. Your experience doesn't only affect your eligibility for admission to the program but also how you will answer questions during your interview. Interviewers will expect you to draw from real workplace challenges and victories in your answers to behavioral questions – which, without experience, you won't be able to do.
Even with experience, it's important to think through your answers. You always want to keep your responses, even to questions about your weaknesses and what you would change about your job if you could, positive and avoid talking negatively about a role, supervisor or company. For example, experts often recommend that interviewees respond to questions about their weaknesses honestly, by naming skills they are actively trying to develop or improve.
What happens if you haven't yet faced a scenario like the one your interviewer describes? This possibility is more likely if your experience is on the lower end of the required range, or if the MBA program you are seeking admission into is somewhat of a shift from your current career. Since the goal of this question is to understand your thinking and behavior, not judge your experience, it's acceptable to look outside of your professional work experience for answers if needed. Prospective MBA students can often point to scenarios that arose during their extracurricular involvement, education, volunteer experience or pursuit of their personal hobbies to find examples of leadership skills, challenges they had to rise above and similar situations.
Experts consider three to five years of work experience in a business role to be the ideal amount of experience for MBA applicants, according to U.S. News & World Report.
Know Yourself
Some questions you are sure to encounter in your MBA admissions interview are questions pertaining to your goals. What is motivating you to earn your MBA? What made you decide to go back to school? If you focus all of your preparation on reviewing your resumé and practicing answers to technical or behavioral questions, you might feel stumped when asked about your choice to further your education.
The best way you can prepare for questions of this nature is to delve deep and remember why you want this advanced degree. If your most immediate goal is to boost your pay or qualify for a promotion within your company, dig a little deeper. Maybe you have a thirst to prove yourself or you have been longing to really develop your natural leadership skills. Ultimately, you want your answers to these questions to be sincere but somewhat more profound than merely earning more money or acquiring a more prestigious title.
Aim to keep your responses concise while fully answering the question. Otherwise, it's too easy to find yourself rambling in response to questions about your goals, which can weaken your interview performance.
Etiquette Matters
Although you aren't seeking a job, it's crucial that you act professionally throughout the interview process. Practice proper etiquette on the phone if you coordinate an interview time or hold an initial interview through that channel. You should also maintain a professional tone in any email correspondence you have with any company representative.
Arrive to your interview early and dressed appropriately. You may interact with any number of people during your time on campus, so make sure that you are acting friendly and professional to every person you meet. Not only does this ensure that you make a good first impression on everyone you interact with, but it also reinforces the generally good practice of treating everyone around you politely and respectfully.
Deserved or undeserved, there's a commonly held conviction that many MBA graduates exhibit too little of qualities like self-awareness, humility, authenticity and approachability. Colleges want their MBA applicants to buck this trend.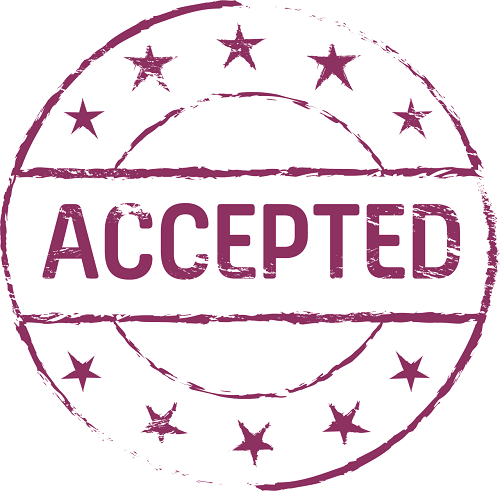 IMAGE SOURCE: Pixabay, public domain
Prepare as If for a Job Interview
If you want to be accepted into this MBA program as much as you want a great job you have applied for, then you should prepare for the admissions interview the same way you would prepare for a real job interview. The stakes are just as high, if not higher.
Although you might feel silly doing so, career experts often recommend practicing your responses to interview questions out loud. Familiarize yourself with the most common interview questions for MBA applicants. Be prepared to answer questions about what drew you to the particular business school or MBA program, what your goals (both short-term and long-term) are and what challenges you expect that you will have to overcome as you work toward your degree.
Don't forget to prepare your own questions to ask your interviewer. MBA applicants often ask questions about industry partnerships, the business school's biggest advantages and any changes in store for the program.
Additional Resources
What Should You Know About Getting Into an MBA Program?
What Should You Know When You Interview for a Job With an MBA?