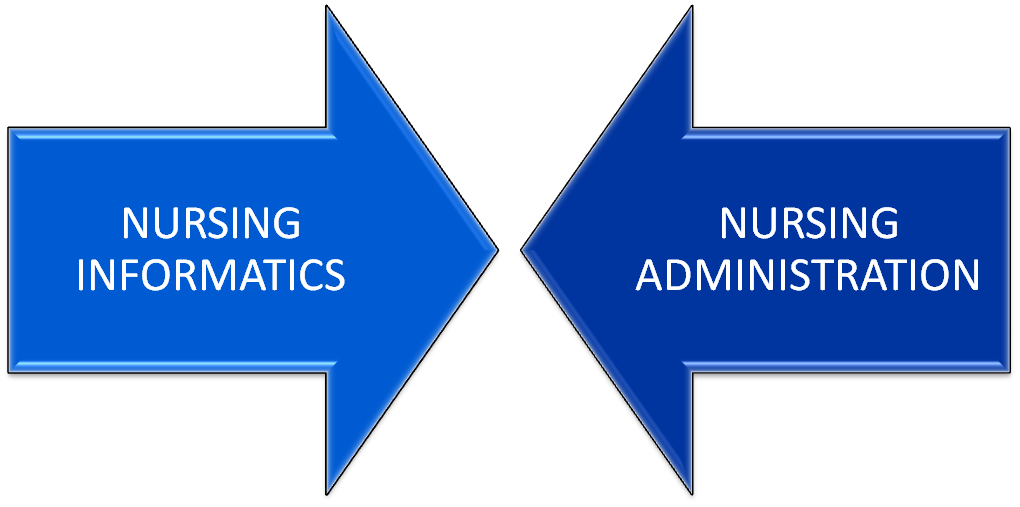 There are several similarities between the two degrees. The educational paths parallel one another, as do the degree requirements. However, the informatics nurse and the administrative nurse each play a vital role in the healthcare system. Because of the correlation between the two, it is difficult to arrive at a definitive benefit of one degree. Regardless, we will examine each nursing specialty to see if one is more beneficial.
What is Nursing Informatics?
The Healthcare Information and Management Systems Society (HIMSS) define Nursing Informatics (NI) as a combination of nursing with information management. This branch of nursing blends information and technology to advance each patient's health. It is a method of communication using computers so that healthcare records and data are available to health professionals.
What is Administrative Nursing?
Nurse administrators, in general, come from the ranks of experienced nurses. They supervise the staff nurses to make sure there is compliance with applicable policies for the facility and healthcare laws and regulations. In this capacity, they become involved in hiring nurses, training, adopting nursing schedules, confer with doctors, and oversee the treatment of patients.
Education
After earning your RN (Registered Nurse), a Bachelor of Science in Nursing (BSN) is the next step toward becoming a nurse administrator. Some programs expedite the process by enrolling in an RN to BSN, or by selecting an accelerated BSN degree. You can complete some programs while working as an RN in as few as nine months. Some hospitals assist with the expenses by offering tuition reimbursement.
The informatics nurse also requires the RN to BSN route. According to Nurse Journal, to obtain your RN, you can take an Associate Degree in Nursing (ADN). You can complete your ADN within two years at an accredited college. This compressed timeframe is your quickest way to be eligible for the national examination in nursing (RN).
NCLEX (National Council Licensure Examination) conducts the licensing examination for nurses in the United States and Canada since 1994 and 2015, respectively.  All nursing boards in the United States require candidates to pass this exam for licensure as a registered nurse (RN).
A four-year Bachelor of Science (B.S.) in nursing is a popular degree for registered nurses who want to advance their education. A B.S. degree expands on subjects covered during RN training. These include chemistry, anatomy, pharmacology, biology, and mental health issues. Informatics and administrative nurses are specialized fields of registered nurses. Both necessitate degrees beyond the minimum requirements to be a clinical nurse.
Certification for Informatics
The American Nurses Credentialing Center (ANCC) offers certification to those who meet the requirements. To become a certified informatics nurse, you must have your RN and at least a bachelor's in nursing. Other prerequisites pertain to continuing education and clinical practice experience. Nurses who do not meet these requirements need to have at least two thousand hours of work within the prior three years.
Certification for Administration
The ANCC offers a variety of certification options related to this position, such as the Nurse Executive-Board Certified (NE-BC) credential. Before applying for this certification, you must have an RN license, at least a bachelor's degree and have been in a management/administrative position for a minimum of twenty-four months. Additionally, applicants must complete 30 hours of continuing education that is specific to nursing administration within the past three years. However, continuing education is unnecessary if you have a graduate degree in nursing administration.
Certification for both professions is voluntary. While certification may not be required, state licensing is mandatory. Anyone entering administration should check with your respective state laws.
Salary Potential
The U.S. Bureau of Labor Statistics (BLS) does not track salary for those working in nursing informatics. Based upon a 2017 survey conducted by the Healthcare Information and Management Systems Society (HIMSS), nurses working for consulting firms had the highest salary ranging from $116,000 to $130,000. Almost 50% of the respondents reported a wage of more than $100,000.
The U.S. Bureau of Labor Statistics (BLS) reports the median pay for Medical and Health Services Managers (includes healthcare administrators) at $98,350 as of May 2017. PayScale has a median salary of $83,168 annually for nurse administrators. However, their pay can vary between $59,687 and $124,291 per year. Salary is dependent on location, experience, credentials, and other factors.
Nurse.org reported on the Top Highest Paying Nursing Careers. They place Informatics at #8 and administrative nurses at #10.
Job Growth
The AMIA (American Medical Informatics Association) sees this profession to be in high demand over the next five years. They project nursing informatics will need an additional 70,000 specialists. The BLS estimates that health services will require at least 72,100  managers over ten years through 2026.
Summary
There is not a clear benefit to a career in informatics versus administration based on this information. The educational requirements, certification, salary, and job growth are comparable. If there is any discernible benefit to either profession, we leave it up to you to decide.
Additional Resources
What Is the Benefit of a Nursing Degree Vs a Medical Degree?
What Are the Highest Paying Jobs With a Degree in Nursing?
What Is the Fastest School for a Degree in Nursing?