What is Environmental Science?
Environmental science involves all things concerned with protecting and preserving the natural world. This field encompasses land, air, and sea. On land, it addresses agriculture, soil conditions, landscaping, and animal life. It involves the environmental laws about the ocean. It embraces the fields of geology, ecology, meteorology, biology, chemistry, and other sciences. It is the study of environmental problems caused by human activities, as well as natural phenomena that influence the environment.
What is Environmental Design?
The environmental designer strives for a design that is ecologically viable and sustainable. Design can apply to industrial products and manufacturing processes. It also refers to city planning, landscape architecture, and architecture are relatives of environmental design. The latter places emphasis on the natural habitat. Design can be aesthetic: however, not at the cost of causing harm to a community's natural surroundings.
Foremost are the environmental effects on the landscape, buildings, urban construction will have on resources. How can the designer's design buildings and landscapes that are functional, attractive, and environmentally satisfying? This question is paramount to the environmental designer.
Degree Path
Both paths should begin with a bachelor's degree, preferably a Bachelor of Science (B.S.). The Bachelor of Science in Environmental Science examines how science can manage, maintain, and improve environmental conditions. The courses, therefore, explore the physical sciences, life sciences, and social issues. Consequently, you may have classes in marine science, geography, biology, sociology, and economics.
Similarly, you can start with a B.S. in Environmental Design, which will be less science-intense than the degree mentioned above. This type of design is a relative of architecture; therefore, you will have courses in this subject. You can also expect architectural design, general physics, urban environments, technology, and a math course. This degree may be more beneficial for students who want to shy away from courses in biology, chemistry, marine science, geography, and geology. The environmental design program will appeal to those who contemplate pursuing a professional degree in architecture.
The following are selected examples of classes you may encounter in an environmental science program.
Marine Science:  This science can be a major itself. As it relates to the environment, the coursework examines the perils facing the oceans. You may study ocean acidity levels, food supplies from the sea, and how ocean temperature affects climate.
Geological Sciences: This can cover numerous topics, for example, the use of geographic information systems (GIS), climate changes, volcanoes, earthquakes, and similar geological events.
Geography: Addresses spatial problem solving by focusing on both the theoretical/conceptual and practical aspects of geographic information systems modeling.
Compare this to examples of an environmental design curriculum with fewer science classes:
Graphic Design History: The course investigates relationships between graphic design and related disciplines, technological, industrial, and social influences.
Design and Human Behavior: The application of conceptual design to issues of programming and space planning, user needs, and behavior.
Architectural Technology: Studies load distribution on structures, including the static analysis of determinant beams, trusses, arches, and rigid frames.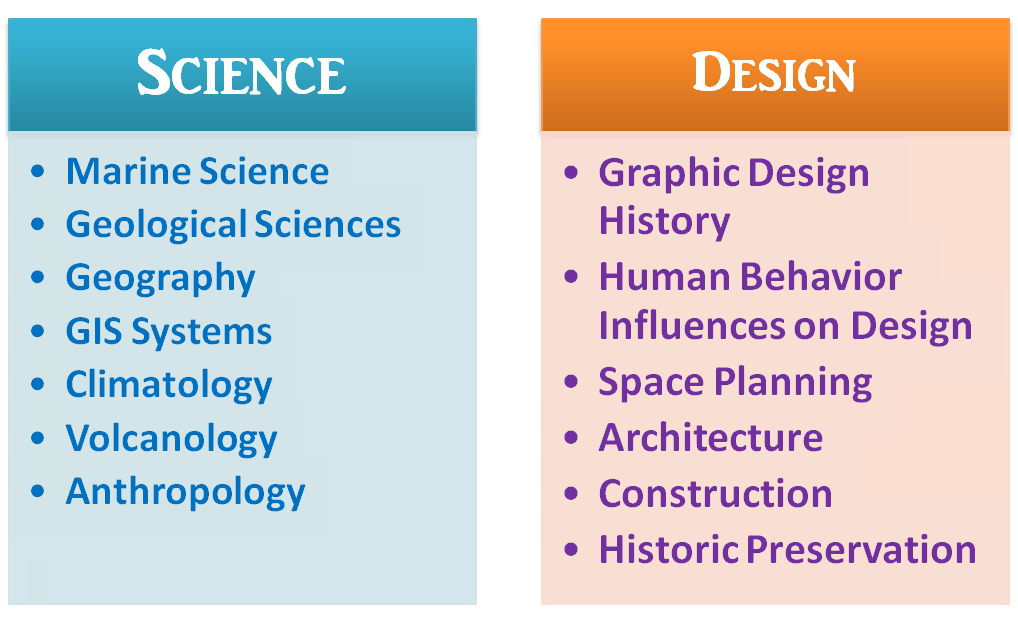 Master's Degree
A Master of Science in Environmental Science concentrates more on the sciences. Examples are marine microbiology, the ecology of bird migration, genetics, plant biology, anthropology, Geographical Information System (GIS), and more. The two-year programs come in both thesis and non-thesis options. A graduate of such a program will have scientific knowledge, as well as the skill to communicate, read, and comprehend technical research information.
As mentioned, environmental design is related to architecture. The relationship could be the reason some schools refer to the degree as a Master of Science in Architecture and Environmental Science. You will explore architectural subjects, such as construction materials, fabrication, historic preservation, and building design.
An advantage of a master's program in design is the availability of selecting diverse areas. Since environmental design is all about sustainability, you could combine it with fashion, for example. This unlikely pairing is for creative individuals who have an interest in apparel design as it focuses on environmentally friendly manner.
In essence, both degrees will benefit individuals who are empathetic to the environment. These are people who want to bring about a change through recycling, renewable energy, sustainable products, energy efficient designs, cleaner air, and water. Therefore, this is a mutual benefit that the two degrees offer for the environmentally conscious person.
The information in the previous two paragraphs comes from a 2015 Dissertation published by Walden University, titled-Personality Traits Associated with Environmental Concern. Perhaps, one could conclude from the various studies in this report that the profession (environmental field) chooses you. This assessment is based on the theory that certain traits can be predictors of behavior. This study indicates that your personality may affect your choice of careers.
Additional Resources
How Advanced Does My Degree in Environmental Engineering Need to Be to Get a Good Job?
What Master's Degrees Should I Consider If I Want to Help the Environment?