You have already decided that your caring, compassionate nature and excellent communication and critical thinking skills would make you a great registered nurse (RN). As you start looking into career preparation, you will find that there are different educational paths you can take to become a nurse. In particular, many aspiring nurses start out in an Associate's Degree in Nursing (ADN) or Bachelor of Science in Nursing (BSN) degree programs. Why would you spend an extra year or two in school, paying the extra tuition costs and delaying your entrance into the workforce, just to attain the same job you would get with an associate's degree? As it turns out, even though you can become an RN with either degree, there are a lot of advantages to earning a four-year degree in nursing over a two-year degree. The benefits of getting your BSN include studying a broader curriculum, gaining more extensive clinical experience, meeting the growing expectation for nurses to have a bachelor's degree and enjoying better salary and employment prospects.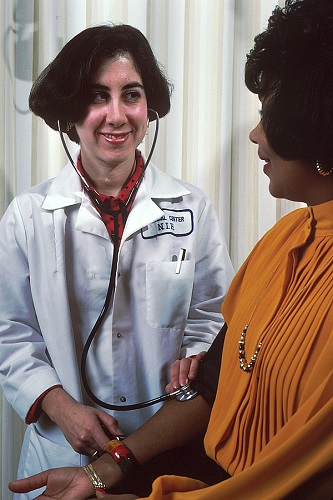 IMAGE SOURCE: Wikimedia Commons, public domain
Broader Curriculum With More Clinical Experience
Whether you choose an ADN or BSN program to prepare for your career as an RN, you will complete core coursework that equips you with the basic nursing competencies needed to care for patients. You will also need to meet clinical experience requirements, through which you apply the skills you learned in the classroom to real clinical situations.
However, an ADN degree program requires just two to three years of study, while a BSN program takes four years of full-time study, the United States Bureau of Labor Statistics (BLS) reported. During the additional one to two years of education, BSN students receive more training in a number of other subjects, including public health, management and leadership, nursing research and the social sciences. This extra coursework doesn't just check off items from a list of general education requirements. It prepares future nurses to understand important aspects of the healthcare delivery system that an ADN program doesn't have time to examine. This knowledge can ultimately help RNs to advance to leadership and educator roles that are often not available to nurses with only an ADN.
A BSN curriculum doesn't fill all of a nursing student's schedule with social science classes. In fact, part of why BSN degrees take longer to earn is because the clinical requirements are more demanding. Exactly how many clinical hours nursing students complete varies depending on their state's requirements, the degree level and the institution's requirements, but some BSN degree programs require as many as 1,000 clinical hours before a student can graduate.
Research shows that BSNs are associated with better patient outcomes. In hospitals in which more RNs have a bachelor's degree and individual nurses care for fewer patients at a time, patient mortality rates can decline by as much as 30 percent.
Increasing Pressure for RNs to Have BSN Degrees
For now, an ADN is sufficient preparation to take the National Council Licensure Examination (NCLEX-RN) and become a registered nurse, the BLS reported. However, the profession is seeing increasing demand for nurses to have a bachelor's degree. New York's BSN in 10 law, enacted in 2017, now requires nurses with a diploma or ADN to complete their BSN degree within 10 years of starting their career or risk losing their license. The American Association of Colleges of Nursing (AACN) first advocated for a baccalaureate degree to be the minimum standard for entry into a nursing position more than 50 years ago and continues to push for that change today.
While New York's BSN in 10 law exempts students enrolled in ADN programs at the time the law was enacted, future nursing students will have to meet legal requirements like this one. The security of knowing that you will already be starting off with your bachelor's degree and that your license is not at risk is a big benefit for students in a BSN program.
If you started your nursing career with an ADN, an RN-to-BSN program can help you build on what you have already learned in the classroom and in clinical practice and attain your BSN degree. There are hundreds of RN-to-BSN programs across the United States.
Better Earning and Advancement Potential
A more advanced degree carries a number of perks. In the case of the BSN vs. the ADN, those perks include salary increases and opportunities for career advancement. Studies suggest that registered nurses with a BSN earn as much as $5,000 or more per year than those with only an ADN degree, according to Monster.com's Nursing Link. If a nurse uses his or her BSN to move up to a leadership or educator role, that salary boost can be even higher. Charge nurse, registered nurse supervisor and nursing director roles all offer higher salaries than RN positions, according to U.S. News & World Report.
Some employers, like hospitals, prefer or require candidates for RN jobs to have a BSN, the BLS reported. With 61 percent of RNs working for hospitals, not having the required degree means that a lot of registered nurse positions are out of reach for ADN holders.
 Additional Resources
How Advanced Does My Degree in Nursing Need to Be to Get a Good Job?
What Is the Difference Between an Associate's in Nursing Degree and a Bachelor's in Nursing Degree?