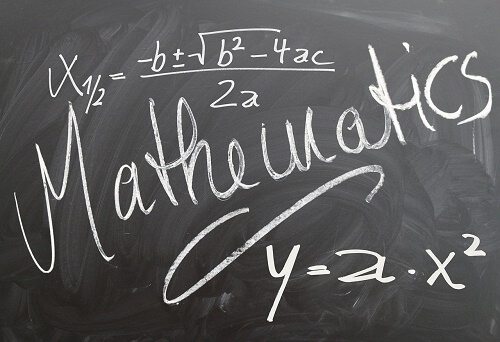 IMAGE SOURCE: Pixabay, public domain
DegreeQuery.com is an advertising-supported site. Featured or trusted partner programs and all school search, finder, or match results are for schools that compensate us. This compensation does not influence our school rankings, resource guides, or other editorially-independent information published on this site.
Overview
For mathematicians, arithmetic isn't just a subject in school – it's a vocation where they put their advanced skills to work evaluating data and resolving practical problems. Mathematicians find employment with federal government agencies, scientific research and development firms, educational services, company management and manufacturing companies. In these roles, they devise theories and the equations, models and formulas to test those theories. They gather, assess and interpret data.
Some mathematicians work in theoretical mathematics, where they investigate mathematical mysteries in areas like geometry and algebra and concoct new theories, concepts and rules to better understand and explain mathematics. Other mathematicians apply their models and theories to study and enhance the efficacy of pharmaceutical medications, improve the aerodynamics of a vehicle, or guide business decisions. Many mathematicians in the educational services industry teach at the college level as well as conducting their mathematical research.
Education
A formal education is absolutely essential to attain a position as a mathematician.  The first step is to earn a bachelor's degree in mathematics. Students will cover a wide range of math areas during the course of their undergraduate studies, including linear and abstract algebra, differential equations and calculus. Often, students choose to double-major or minor in a field such as computer science, statistics, engineering or physics to enhance their skills and job marketability. Some colleges even require undergraduate students to take courses in these or related subjects. A bachelor's degree can qualify graduates for entry-level mathematician positions with employers such as the federal government.
Candidates aspiring to work in the private sector or at academic institutions must spend more time in school. Mathematician careers with employers of this sort call for an advanced degree such as a master's degree or doctoral degree in mathematics. At the advanced level of study, students may have to choose between pursuing a degree in theoretical and applied mathematics, though they are likely to use both sets of skills during their careers. Often, students will choose to earn a Ph.D. if they want to work at a college or university and a master's degree if they'd prefer a position in company management, manufacturing or research and development.
Employment
Mathematicians earn a median salary of $101,360 per year, according to the United States Bureau of Labor Statistics. The top-paying industries for mathematicians are scientific research and development services, in which the median salary is $118,030, and manufacturing, where the median salary is $116,860 annually. The pay is less lucrative, though still profitable, in industries like educational services (with a median salary of $66,590) and company management (with a median salary of $74,980).
In addition to earning wages substantially higher than the median salary for all occupations, mathematicians also enjoy a positive job outlook. Though the profession is currently small, the BLS anticipates opportunities in for mathematicians to increase by 23 percent over a decade, as compared to just 11 percent job growth expected across all occupations. In particular, candidates with backgrounds in computer science, computer programming, statistics or business will have the best prospects for attaining positions related to data security and analysis of business data collected online.
Conclusion
Mathematicians spend their careers studying mathematics to develop new breakthroughs in the field or to solve practical problems in disciplines like science, healthcare and engineering. They work for academic institutions, the federal government, scientific research and development firms and private companies in manufacturing and management positions, where they use advanced mathematics skills to create and test theories and analyze data.