If you love a good mystery, you might wonder how to become a private investigator. These detectives perform investigative work of all kinds for private clients – both individuals and companies – instead of for law enforcement agencies. Not all private investigators have a college education, but pursuing a degree in any relevant field of study can help you on the path to a career as a successful private investigator.
Careers in Private Investigation
Around 37,000 American workers had jobs as private investigators or private detectives as of 2021, the United States Bureau of Labor Statistics (BLS) reported.
Private investigators are far less common in the U.S. workforce than police detectives and criminal investigators. Criminal investigators outnumber private investigators three to one, with the BLS reporting 112,900 jobs for police detectives.
What Do Private Investigators Do?
Like criminal investigators and police detectives, private investigators make a career out of conducting investigations. The term "investigation" can refer to any kind of systematic research, inquiry, or examination through which the investigator may come to discover facts.
Private investigation can include many types of evidence gathering, including conducting physical or digital surveillance, interviewing people familiar with the matter being investigated, performing background checks and going through old news articles, police reports, photos, letters or other documents. When interviewing people involved in their case, private investigators should actively listen to the subject, ask follow-up questions and take notes as needed.
RELATED: What Degree Do I Need to Be a Crime Scene Photographer?
The main thing that differentiates private investigators from criminal investigators is the types of cases they investigate. Rather than investigating criminal activity on behalf of government law enforcement agencies, private investigators take on cases of all kinds that are brought to them by private clients.
Additionally, private investigators aren't official law enforcement officers, so they aren't authorized to investigate criminal matters by collecting evidence from crime scenes or apprehending and questioning suspects, as police detectives do.
The work that private investigators perform may overlap with criminal matters in some instances, however. A family may hire a private detective to investigate a missing persons matter, particularly if the trail has gone cold and there is no active police investigation. Additionally, if the private investigator uncovers matters involving fraud, embezzlement, blackmail, abuse or assault, murder, or any other type of crime in the course of their missing persons investigation, they should notify the authorities, and criminal charges may result.
RELATED: What Are My Degree Choices in Fraud Analysis?
In general, though, private investigators are hired to apply their investigative skills to non-criminal situations, often pertaining to civil legal matters. For example, private investigators often undertake marital infidelity cases on behalf of individuals who suspect cheating spouses or partners. This isn't necessarily a legal matter if the client only wants to know to satisfy their own curiosity, but it may become a family law matter if the infidelity uncovered prompts a divorce and, for some couples, a child custody battle.
Private investigators often investigate other types of legal issues, too, such as insurance fraud, personal injury claims, and identity theft. A business may hire a private investigator to investigate suspected accounting fraud, embezzlement, conflicts of interest, contract violations and other acts of impropriety. If the investigation finds evidence of these occurrences, it may result in legal disputes among business partners, regulatory investigations, fines or even criminal charges.
Where Do Private Investigators Work?
If private investigators don't work for government law enforcement departments, where do they work?
The largest share of the occupation, 22%, is self-employed, the BLS reported. Self-employed private detectives run their own private investigation firms or agencies. Another 18 percent of the private investigator workforce is employed in the investigation, guard and armored car services. Whether a private investigator works for someone else in the investigation industry or is self-employed, private investigators working in this space primarily provide investigative services to individual clients or businesses such as law firms, often on a consulting basis.
Jobs in the finance and insurance industry account for 12% of the private investigator workforce. Financial institutions may have investigators on staff to examine potential fraud and financial crimes and to gather the information needed to hold perpetrators accountable. The insurance industry also relies on private investigators to ferret out potential fraud, but they often do this in different ways, conducting both physical and digital surveillance on claimants rather than auditing paper trails.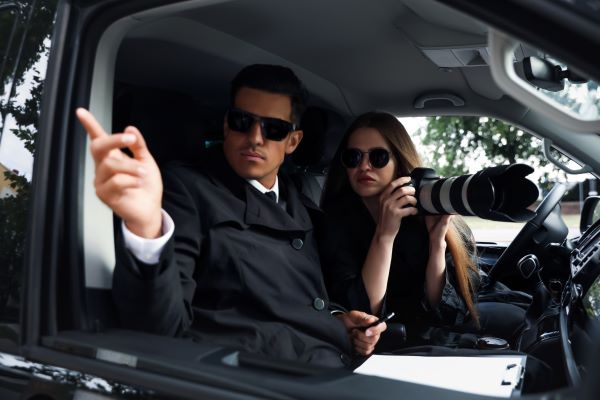 RELATED: How Do I Become a Financial Forensics Investigator?
The last of the largest employment industries the BLS listed for the private investigator occupation is the government. One in 10 private detectives works for the government. These private investigators are still private citizens, not sworn law enforcement officers, so you won't find them arresting and interrogating suspects. They may, however, perform background checks, undertake investigations of non-criminal (civil) legal matters and conduct investigations of fraud involving government programs, benefits and resources.
The Career Path for Private Investigators
Strictly speaking, private investigators may not need to have a college degree. They do, however, need to cultivate skills in a variety of areas, undergo training, gain work experience and, in many states, acquire a license.
RELATED: How Do I Become a Private Detective?        
Often, the path to a private investigator career resembles the following steps.
1. Earn Your High School Diploma.
The lowest level of formal education you need to become a private investigator is a high school diploma or an equivalent, like a GED. According to O*NET, 25% of industry experts surveyed responded that a high school diploma or equivalent is the level of education new hires need to be prepared to perform the job.
Private investigators need to have strong skills in conducting research, documenting and communicating their findings and using logic and reasoning to make inferences and deductions. For certain cases, they may need knowledge of specific industries, including science, business and computer technology. Students who wish to become private detectives should take an array of courses in high school, including electives in areas like law and legal studies, business and accounting, psychology, the social sciences and computers.
Students should also strive to get the most out of their required courses, such as science, math and English. To make sure that they have the option to go to college if they choose to, a student who wants to become a private investigator should consider pursuing a college preparatory course of study. Any clubs or extracurricular activities that can help you build the kinds of skills required to work as a private investigator can be valuable preparation for your future career. For example, working on the school newspaper may allow you to get involved in some basic investigative journalism.
2. Go to College.
Even if it's not required, having some level of a college education is beneficial if you want to become a private investigator. O*NET found that 38% of respondents listed a bachelor's degree as the level of education needed for new hires in the field, while another 16% recommended an associate's degree.
Not only can having an associate or bachelor's degree help you build the skills you need for success as a private investigator – skills like research, writing, public speaking, critical thinking, problem-solving and the use of computer technology – but a degree may also be required for licensure or allow you to meet licensure requirements with fewer years of experience. Most private investigators enter the field after gaining at least a few years of experience in another related field. Having a college degree may make it easier to gain entry into your initial career, as well, which in turn prepares you for a private detective career.
Having real-world work experience is critical if you want to become a private investigator. Whatever major you choose, look for internship opportunities through which you can build a repertoire of skills that would be useful in conducting private investigations.
3. Gain Relevant Work Experience.
The initial careers that can lead you to a private investigator career are varied, but they all involve solving problems, conducting research or investigations or otherwise gathering or managing information in some capacity.
Law Enforcement Experience
Most commonly, private detectives get their start in local law enforcement agencies or the military, where they work their way up the ranks to detective roles. This experience investigating criminal cases is the most directly relevant experience for a private investigator career. Over the course of their career as law enforcement personnel, aspiring private detectives may advance to roles in state or federal agencies.
Through work in these roles, you acquire experience in matters like interviewing people of interest related to a case, collecting and handling evidence properly and conducting surveillance, background checks and other sorts of research on an individual, a company or another entity. You can also develop skills in critical and analytical thinking about motives, means and opportunity, as well as skills in deductive reasoning and assessing whether interview subjects are telling the truth or whether they are hiding something.
Paralegal Experience
Despite the advantages of coming to the private investigator occupation from a career in criminal investigation, there are other roles through which you can develop the capabilities required for this work. Paralegals, for example, assist lawyers in conducting research, drafting legal documents and maintaining case files. They become skilled at ferreting out relevant information needed for an investigation, documenting and organizing evidence, drawing conclusions from data and interviewing clients (as well as contributing to or sitting in on depositions, legal proceedings during which parties must answer questions under oath).
Paralegals work in all areas of law, from criminal defense and prosecution to personal injury, family law and corporate law. Because paralegals also know the legal process and system well, they understand what kind of evidence is admissible in a legal matter and what sort of evidence is needed to achieve the desired outcome of the case, such as illustrating or debunking claims against the client and documenting damages or wrongdoing on the part of other parties.
Experience in Process Serving and Collections
Process server is another career that can serve as a springboard to the private investigator occupation. Process servers refer to someone whose job is to deliver legal documents like warrants, subpoenas and writs to an individual. The job can require doing research to track down the individual named in the document and thinking outside the box to find and deliver those documents. In some cases, process servers are sheriffs or deputies, while in other cases, they are third parties —  who, in some states, must be licensed or registered.
Similarly, collections agents whose job is to get payment from individuals who are overdue or delinquent on paying their debts often develop skills that can be applied to a career as a private investigator. Collection agents have to first track down the person whose debts are in collections and find a means of contacting them, just as private detectives may need to do when working on a case.
Insurance Claims Experience
Another relevant area of professional experience is the insurance claim adjuster occupation. Claims adjusters work for insurance companies handling claims for benefits. Insurance companies, naturally, don't want to pay out any more money in claims than they have to. Part of an insurance claims adjuster's job is to investigate the claim and identify any reason that the insurance company should not have to pay or be able to pay less compensation.
Insurance claims adjusters may conduct field investigations, gather and review data such as medical records and property damage repair estimates, interview claimants and defendants and maintain case files. In some instances, insurance claims adjusters may even conduct surveillance on a claimant, either digitally by scouring social media sites or physically by following the person in their real-world travels.
Fewer than five years of work experience in related careers are required for becoming a private investigator, the BLS reported. However, it's not unusual for police detectives to retire from public service after 20 or 25 years and become a private investigator.
4. Get Training in Matters Related to Private Investigation Work.
To become a private investigator, you need strong skills in a variety of areas. You can develop these skills in different ways. Often, new private investigators cultivate the skills needed for the job through either formal training or on-the-job training.
Some detectives develop these skills by attending private investigator schools. In a private investigator school, you may study topics like state and federal laws, legal principles and private investigator requirements, surveillance methods, evidence collection and handling, observation, background checks, undercover investigations, interviewing, security and more. Some programs even cover studies in the business-related field of private investigators' work, such as marketing your investigation services.
If you intend to carry a weapon on your person for protection, you must follow state laws, which often include mandatory firearms training. Private investigators who undergo firearms training will typically learn about gun maintenance and operation and when they are legally permitted to use deadly force (for the most part, defending themselves or others from serious threats to physical safety). Armed private investigators must comply with all state firearms licensing requirements, or they could face criminal charges.
5. Meet Any Licensure Requirements in Your State.
Although you aren't working for the government as a private investigator, your work may still be regulated by it. The BLS reported that "most" states require private investigators to acquire a state-issued license.
Licensing requirements for private investigation work vary by state laws, but licensing requirements may include minimum levels of education and experience, as well as passing a licensing exam. For example, New Jersey requires a minimum of five years of investigative experience, while in California, having an associate or bachelor's degree reduces the amount of experience required for licensure. In some states, new private investigators must gain experience working under the supervision of licensed investigators before they can apply for their own licenses.
RELATED: How Do I Get Licensed to Become a Bounty Hunter?
Many states require private detectives to hold a current surety bond, or a detective bond, of a certain dollar amount. Although a surety bond may seem similar to an insurance policy, its purpose is to protect your clients and ensure that you and your firm act in accordance with the law rather than to protect your company.
To maintain your private investigator license, you may be required to complete continuing education courses throughout your career.
5. Pursue Professional Certification.
Some private investigators choose to enhance their reputation by seeking professional certification. The National Association of Legal Investigators offers the Certified Legal Investigator credential, and ASIS International offers the Professional Certified Investigator certification.
Degree Options for Private Investigators
Given the variety of paths people can take to a career as a private investigator, it may come as no surprise that there's no one major that's right for an aspiring private investigator. You might choose a college major because it will prepare you for the career through which you first begin gaining the skills to become a private investigator or to develop knowledge of and competencies in a range of fields and industries.
Depending on which path to becoming a private investigator you have in mind, you might consider popular majors such as criminal justice, law enforcement, computer forensics, business, political science and psychology.
Criminal Justice and Law Enforcement
Whether you want to prepare for any number of careers in criminal justice – including investigation – or just develop a solid foundation in the legal system and criminal procedure and evidence handling practices, an interdisciplinary degree in criminal justice can help you achieve these goals.
Criminal justice majors study every aspect of the criminal justice system, ranging from the history of the criminal justice system to social theories of crime, concepts and methods used in corrections and research methods used to study criminal behavior and rehabilitation. Often, courses in a degree in criminal justice program include at least some study in criminal investigation methods and criminal procedure. Majoring in criminal justice allows aspiring private investigators to keep their options open and work in private investigator jobs and for law enforcement agencies.
Law enforcement careers, like police officer and, eventually, police detective, are among the most common stepping stones on the path to becoming a private investigator. It makes sense that students interested in this path might major in an area such as law enforcement administration or the related areas of police science and homeland security studies.
RELATED: How Do I Become a Police Detective?         
Degrees in these areas have a lot in common with criminal justice degree programs, but they tailor the curricula to work in law enforcement roles more specifically, while a degree in criminal justice may still prepare students for work outside of law enforcement. A degree in homeland security emphasizes areas like public safety, emergency management and security in general beyond what you would find in a typical criminal justice curriculum, according to Pace University. In that sense, neither major is broader than the other, but both include both breadth and depth in different areas of the curricula.
Evidence matters in private investigations, just as it does in criminal investigations. If you want to learn about the methods used to handle, process and glean insights from physical evidence, you might consider majoring in forensic science or crime scene investigation. Forensic science programs include a great deal more coursework in the life and physical sciences – and how to apply them to criminal investigation matters – than criminal justice programs.
RELATED: What Salary Can You Expect With a Master's Degree in Criminal Justice?
Computer Forensics
Private investigator work today involves using computer tools and technologies to acquire information. Taking courses through which you can develop relevant computer skills can prove valuable.
RELATED: What Is the Benefit of a Degree in Cybersecurity vs. Network Security?
Students majoring in this subject take courses in areas like network forensics, mobile device forensics, digital forensics pertaining to various operating systems, cybercrime and cybersecurity and reverse engineering of malware. Major coursework in this area of study may also include studies in criminal law and criminal procedure.
Business, Finance or Accounting
Private investigator work often overlaps with areas of business, finance or accounting. As such, many private investigators come to the field with some background in business.
Whether the private investigator is investigating suspicions that an employee is stealing from the company, committing corporate espionage or otherwise acting improperly, being familiar with business practices is valuable. Majoring in business administration generally, or areas like finance and accounting more specifically, can give you the tools to generate and interpret financial reports and find evidence of bribery, embezzlement, identity theft, fraud and other business-related wrongdoing.
Political Science
One potential major for prospective private investigators that might surprise you is political science. However, majoring in political science can be valuable for private investigators because this field of study equips students with knowledge of the criminal and judiciary systems, state and federal law and how law enforcement agencies at various levels work together, The Houston Chronicle reported.
Psychology
Studying the human mind can give you a glimpse into how people think and behave and why they do the things they do. This knowledge can be valuable not only in figuring out the motive for a person's improper or unethical behavior – and what that person will do next – but also conducting interviews and getting persons of interest to reveal valuable information effectively.
Work as a private investigator isn't always as glamorous as television shows, movies and detective novels would have you believe. Private investigators work long hours, including working on weekends, evenings and holidays. Still, the career is rewarding for those with an unquenchable need to find out the truth.