So much of how humans process and interpret the world around us is through what we see. As a phenomenon, visual communication is ever-present in our lives. We make meaning of what we see, often without having to consciously think about the stimuli (in the form of visual images) in front of us.
The visual communication field of study and work is broader than you might think. If you're interested in how people communicate visually and in using the principles of visual communication to achieve actionable goals, consider studying visual communications. Students who earn a degree in visual communications can go on to work in many careers, each with some sort of visual or artistic focus.
What Is Visual Communication?
The field of visual communications involves more than just creating media that is visually appealing. The goal of any effort in visual communications is to express visual concepts, or information presented in a visual format.
The Differences Between Visual Communication and Art
In the case of visual communication, unlike art, these concepts are being communicated in a visual format for a specific purpose – often, to market a business or to inform and educate the viewer.
RELATED: 10 Creative Careers That Won't Require You to Be a Starving Artist
Art is subjective and thought-provoking and is often intended to be open to the beholder's interpretation. In contrast, the goal of visual communication design is to create visual media that directly tells the audience a clear message.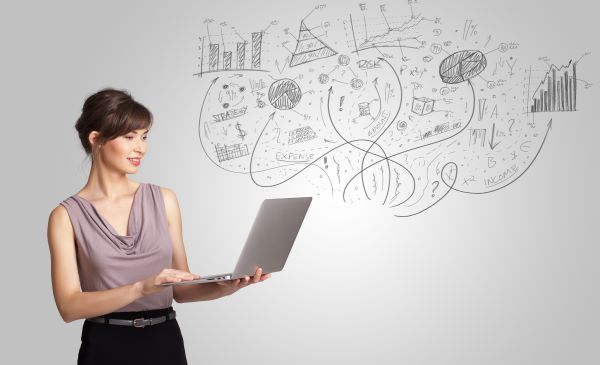 That message may be to patronize a particular business, in the case of marketing campaigns. Alternatively, visual communications may serve to educate the audience on a topic, whether the artistic work appears in a textbook, on a website, on a billboard or in a brochure.
Of course, some visual communications aim to both educate viewers and promote a company – explaining, for example, how a new technology or a pharmaceutical medication works in hopes of persuading the viewer to purchase and use the product.
What Is a Degree in Visual Communications?
A variety of college degrees arising out of studies in the visual arts can fit into the category of a visual communications degree.
Visual Communications and Related Majors
Some visual communication programs are called, simply, visual communications majors. Other degree programs that may fit into this field include visual arts, graphic design, web design and photography or photojournalism.
Visual arts and visual communications majors are the broadest programs of study in this field. The curricula found in graphic design, website design and photography majors have a narrower focus.
Degree Programs That Overlap With Visual Communications
Majors in other areas of study may also offer a visual communications concentration.
Marketing, Advertising and PR
Marketing, advertising and public relations degree programs include some emphasis on creative skills but focus more on the practices of crafting, coordinating and evaluating campaigns.
Mass Communication
A bachelor's degree in mass communication covers the media and how it affects (and is affected by) society. A mass communication degree doesn't inherently prepare students for visual communication careers, but if such a degree offers a visual communication concentration, students can learn the foundations of developing visual media messages and the technical skills to do so. Some people working in visual communications major in an area like television and film studies and go on to become video editors.
Art and Fine Arts Degree Programs
Fine arts and studio arts degrees in a particular visual medium – for example, drawing, painting, sculpture and printmaking – don't necessarily constitute visual communications majors.
Although art of this nature certainly can communicate ideas, its goal typically is not to express specific, direct, succinct and purposeful messages. However, some schools do offer a fine arts degree program in visual communication or in visual art, art design or digital media.
Crafting effective visual communications is an art – a fact that is reflected in the titles of many degrees in this field. A visual communications program may draw upon a fine arts-based or liberal arts-based curriculum. You might also encounter science-based or applied science-based programs in visual communications.
Levels of Visual Communications Degrees
Degrees in visual communications are offered at every level of college study, from associate's degrees through doctoral degrees. Most professionals working in the visual communications field have at least a bachelor's degree.
Associate-Level Visual Communications Programs
Apart from non-degree certificate programs, the lowest level of college-level study at which you could pursue a visual communications degree is the associate's degree level.
Can You Qualify for a Job in Visual Communications With Only an Associate's Degree?
A bachelor's degree is recommended for most jobs in visual communication design, according to the United States Bureau of Labor Statistics (BLS). However, a four-year degree isn't a strict requirement. Jobs in this field rarely require licensure, and voluntary certifications often depend more on technical capabilities and the quality of your portfolio than on formal academic instruction.
As such, earning an associate's degree can help you learn the basics of design concepts and start developing proficiency in the use of design software. With a strong portfolio and the motivation to keep developing your technical and artistic skills, you can carve out a career for yourself with only a community college education. For example, you might use your impressive portfolio to land your first entry-level graphic design job and build up your skills and reputation from there, eventually even earning a promotion to an art director role.
Earning an Associate's Degree in Preparation for a Bachelor's Degree in Visual Communications
Alternatively, you might pursue an associate degree in visual communications in preparation for transferring to a four-year college. Going to community college first can save you a great deal of money over attending a four-year university from the get-go. You still end up with the same Bachelor of Arts or Bachelor of Fine Arts you would receive had you paid full university prices for the duration of your college career.
What to Expect in an Associate's Program in Visual Communication Design
Whether you're pursuing an Associate of Arts, Associate of Fine Arts or Associate of Applied Science program in visual communications, your coursework will have a lot in common. Students pursuing an associate's degree in visual communications will take introductory through intermediate classes in the history of art and design, principles of design, studio art and the use of technical design software. Studies of color theory, typography and two-dimensional and three-dimensional design practices are common.
Most visual communication students pursuing an associate's degree devote a good chunk of their curriculum to fulfilling general education requirements. The shorter duration of an associate's degree curriculum – typically encompassing two years of full-time study – means that students don't have the opportunity to take the more advanced and specialized courses that they encounter in bachelor's degree programs.
Bachelor of Arts and Bachelor of Fine Arts Degree Programs
At the bachelor's degree level, Bachelor of Arts (BA) and Bachelor of Fine Arts (BFA) programs are the most common among visual communications majors. Either type of bachelor's degree is an undergraduate degree that can generally be completed in four years of full-time study and which commonly encompasses around 120 credit hours of college study.
A More Comprehensive Curriculum for Visual Communications Majors
Students seeking a Bachelor of Arts or Bachelor of Fine Arts degree in this field of study can expect to delve deeper into more advanced and specialized areas of study compared to what an associate's degree curriculum permits.
A visual communications degree program doesn't only help design professionals perfect their artistic aptitudes. Through this degree program, students acquire the technical skills to bring their creative visions to life using Adobe Creative Suite (Adobe Creative Cloud) and other software programs.
Students' Best Bet for Preparing for a Visual Communications Job
A Bachelor of Arts or Bachelor of Fine Arts is the recommended level of degree for launching a visual communications design career. Although it's not impossible to break into one of these careers without a four-year degree, the Bureau of Labor Statistics lists a bachelor's degree as the entry-level education required for most graphic designer, art director and related job roles.
A bachelor's degree curriculum allows for more extensive study of the field and gives visual communications majors more opportunity to develop a strong portfolio of their work.
Master's Degree Programs in Visual Communications
If you're ready to practice skills in visual communications graphics design at a higher level, it might be time to consider going for your master's degree.
Why Earn a Master's in Visual Communication Degree
At the graduate level, you can earn a visual communication online degree or take traditional in-person courses. Master's degree options are excellent for those who want to develop advanced or specialized visual communication skills, as well as those interested in research in digital imaging and communication design.
RELATED: Should I Get a Master's in Graphic Design?
A master's degree may also help give you a boost in your pursuit of senior-level roles like communication manager and art director. A Master of Fine Arts (MFA) program will typically focus more on artistic skill development, while a Master of Arts (MA) may include more of a focus on business leadership and management.
Doctoral Degrees in Visual Communications
The MFA is generally considered a terminal degree, or the highest level of degree a person can earn in the field. Why, then, would someone need to pursue a PhD in visual communications?
A Focus on Research
Most visual communications majors are interested in creating, coordinating or managing visual communications in some way. Suppose, however, that you are less interested in working as a graphic designer, art director or other creative or creative-adjacent professional than you are in understanding how visual media affects humans.
A PhD program with a concentration in visual communications usually includes a research emphasis and, often, a thesis or dissertation that may be based on the student's own original research.
When Should – and Shouldn't – You Pursue a Doctorate in Visual Communication?
You might pursue a doctorate with a concentration in visual communication if you want to teach at the college level or conduct your own research into fields like communication studies and industrial design.
If you're not interested in research or academia, though, a PhD in visual communication – most commonly offered as a concentration within a more general communication degree program – may not make sense for you.
This research-focused degree may not cover areas of study that are important to industry roles, such as exposing students to new digital tools for content creation or covering more specialized areas of practice in visual design. If anything, a PhD may make you appear overqualified – and prohibitively expensive – to prospective employers or clients.
The Best Job Fields for Visual Communications Majors
Graphic Designer
Learning the basic principles and practices for creating visual images that express ideas is excellent preparation for a career in graphic design.
What Does a Graphic Designer Do?
Graphic designers are the creative professionals who develop visual images in forms like infographics, advertisements, brochures, signage and more.
Nearly one-fifth of the graphic designer occupation was self-employed as of 2020, according to the United States Bureau of Labor Statistics (BLS). Other graphic designers work in specialized design services, advertising and public relations services, printing and support activities and the publishing of newspapers, magazines, books and directories.
There are separate graphic design majors, but students can also prepare for a career in graphic design by pursuing a broader visual communications major. A graphic design degree program primarily emphasizes the development of skills in the graphic arts, while a visual communications major emphasizes the communication aspects of the field – focusing on
Graphic Designer Salary Potential
The median, or midpoint, salary reported for graphic designers in 2021 was $50,710, according to the United States Bureau of Labor Statistics. While the 10% of the field with the lowest earnings made less than $31,310 per year, the highest-paid 10% of the profession reported earnings above $98,260.
The specialized design services industry paid the most money out of the top employment industries for graphic designers. The median annual salary for graphic design work in this industry was $58,610 in 2021.
Visual Designer
Developing a consistent brand "voice" is an art that involves visual elements as well as written content and auditory content like music, sound effects, podcasts and the audio components of videos. This consistent branding of visual communications is the main focus of visual designers.
What Does a Visual Designer Do?
Due to the similarity in names, visual design is easily confused with graphic design. While pretty much everyone has heard of the field of graphic design, the field of visual design is nowhere near as well-known. While a graphic designer's role is to create visuals that communicate specific messages for either print or digital media, a visual designer is more concerned with the consistency of visual elements across a brand's or organization's digital messaging.
Graphic design has more to do with graphic communication presented through specific projects, while visual design emphasizes the creation and coordination of a unified brand image that appears throughout all of its digital media. Visual designers focus less on the artistic representation of ideas and more on adhering to the best practices of branding informed by business communications principles.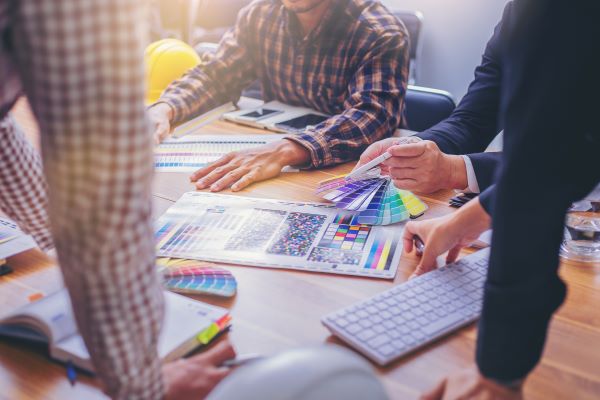 There's some overlap between the work that a visual designer and a graphic designer may perform. For example, either design professional may create logos or icons. However, a visual designer's projects tend to be larger, broader and more comprehensive in scale.
Visual Designer Salary Potential
Visual designers also have somewhat higher earning potential than graphic designers. PayScale.com reported an average salary of $66,337 per year for visual designers in 2022, nearly $20,000 more than what the website reported for graphic designers.
Web Designer
Websites are another form of visual communication – one that uses strictly digital imaging elements. It takes a skilled designer to put together a website theme and layout.
What Does a Web Designer Do?
Web design is exactly what it sounds like: the design of websites. The look of a website is both aesthetic and functional. The visual images that make up the aesthetic appearance of a web design set the tone for the audience's experience of the site and their perception of the company or organization it represents. To maximize user-friendliness, web designers also need to pay attention to the functional aspects of web design, including the structure, style and appearance of menus, navigation bars and tools and contact forms.
There's a difference between web design and web development, although the two fields overlap. Both web design and website development have to do with producing a website or webpage. Generally, design has more to do with the look and feel of the site and with functionality on the user's end. Website development pertains more closely to the actual building of the website through the use of coding written with computer programming language.
Often, the project of creating a website involves both a web designer and a web developer, who are experts in different aspects of the project. Visual communications programs can help prepare students to be web designers, but a degree in computer science or software engineering would be a better option for a student interested in web development.
Web Designer Salary Potential
For web developers and digital designers, the Bureau of Labor Statistics (BLS) reported a median annual salary of $77,200 for 2021.
Photojournalist
If you enjoy viewing the world from behind a camera and transforming what you see into art, a career in photojournalism may be the right fit for you.
What Does a Photojournalist Do?
A photojournalist applies photographic techniques to capture images in a way that tells a story or expresses a thought or idea. Because of this difference between photojournalism and photography in general – where there may be no goal to expressly communicate any particular message –photojournalism can also be referred to as "communicative" photography. A photojournalist is just as much a storyteller as a journalist or reporter who uses words, but they accomplish this feat through strategic photographic design and through the visual means of using digital photography to capture images.
RELATED: What Degree Do I Need to Become a Photographer?
Thanks to the widespread availability of smartphone cameras, anyone can take a photo at virtually any time of any subject. What most people not trained in photography or visual communication studies fail to realize is that capturing a photo that tells a truly compelling story requires more than just getting a lucky shot or even having excellent photographic techniques. The composition of the content of the image, along with factors like lighting, angle and perspective, are all critical parts of photographic design that go into the story the picture tells.
Photojournalist Salary Potential
Salary.com put the median annual salary for photojournalists in 2022 at $42,880 per year.
Art Director
A visual communication degree prepares students to create works of graphic design art, but the curriculum can also equip you with skills for leading teams of creative personnel and managing projects in the visual arts.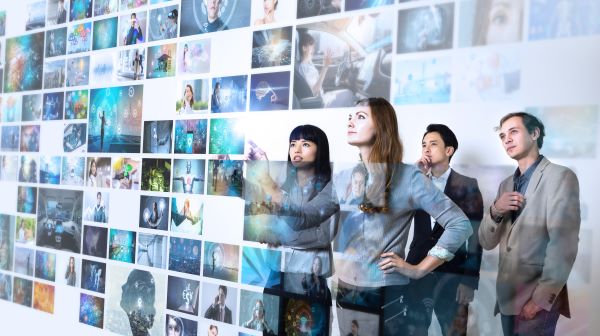 What Do Art Directors Do?
Art direction refers to the overall look and visual style used in a visually creative endeavor. While art directors are primarily concerned with the big picture, they need to understand the details of artistic creation – particularly because they also oversee and direct the efforts of the creative professionals working on their projects.
Art directors play a critical role in many different types of art and graphic design efforts, including branding and marketing campaigns, newspaper or magazine layouts, film or television productions, product packaging artwork and any other product that has a creative visual element.
Most art directors have years of work experience in other creative roles, such as graphic designer, fine artist or photographer, before they advance to this leadership position.
Art Director Salary Potential
Art director is a high-level role, and its lucrative salary reflects that. The Bureau of Labor Statistics (BLS) reported a median annual wage of $100,890 as of 2021. The top 10 percent of the occupation reported earnings in or near the $200,000 range. Generally, art directors who worked for the motion picture and video industries earned the most, with a median wage of $137,380.
Video Editor
Many types of visual arts and design projects produce still images, but the visual communications field also encompasses the media of video. Visual communications professionals in the field of motion picture production typically focus on work in video editing.
What Do Film and Video Editors Do?
Film and video editors do exactly what the job title suggests: edit, organize, arrange and manipulate video footage to create videos that align with the art director's big-picture vision of the production. Video editors use special computer software to edit digital footage and add visual effects.
Video Editor Salary Potential
For film and video editors, the United States Bureau of Labor Statistics (BLS) reported a median salary of $62,680 in 2021. Film and video editors earned considerably more than camera operators, for whom the BLS reported a median wage of $49,230.
Communications Manager
Communications manager is a high-level role with a general focus that encompasses responsibility for all types of communications produced by or for an organization.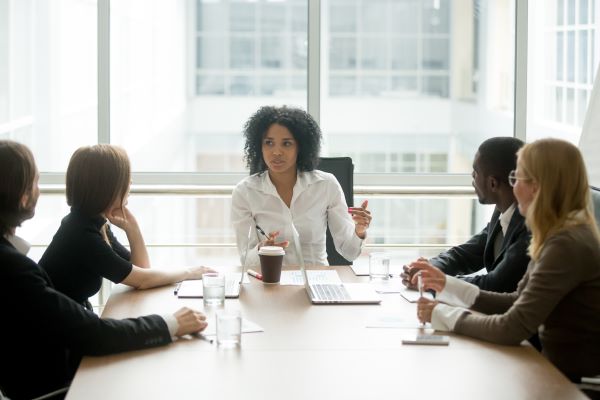 What Does a Communication Manager Do?
A communications manager oversees all of an organization's communications – internal and external, visual and text-based. This high-level role is primarily concerned with the strategy and big-picture direction behind a company's communication design efforts.
Communications Manager Salary Potential
Salary.com reported an average salary of $115,663 for communications managers as of 2022.
Public Relations Specialist, Marketing Specialist and Advertising Specialist
Many visual communication majors go on to work in PR firms, marketing departments or agencies and advertising agencies.
What Do Visual Communication Design Professionals Do in Public Relations Firms, Marketing Agencies and Advertising Firms?
The creative content created for public relations, marketing and advertising campaigns encompasses visual media, written copy and other forms of creative materials. Creative professionals in each of these roles are responsible for creating or coordinating the creative elements of campaign materials.
PR specialists work to build and manage a brand reputation, while the fields of marketing and advertising focus more on promoting an organization's products and services to an audience of potential clients and customers.
PR, Marketing and Advertising Career Salary Potential
For PR specialists, the Bureau of Labor Statistics (BLS) reported a median annual salary of $62,800 in 2021. PR managers earned significantly more, with the BLS reporting a median annual salary of $119,860.
PayScale.com reported an average salary of $46,418 for creative marketing specialists as of 2022.
RELATED: Highest Paying Degrees in Communications – Majors & Careers
Coursework in a Visual Communication Degree Program
Some of the course content you are likely to cover in visual communications programs include studies in art and graphic design history, the fundamentals of visual design, studio arts classes, courses devoted to the use of technical software programs and courses in a specialized concentration area.
Art History
Many visual communication design programs include one or more courses in art history or graphic design history, either as a whole or from one or more specific time periods.
Design Fundamentals
Students learn the fundamentals of both two-dimensional and three-dimensional design and the concepts of color theory and typography.
Studio Arts Courses
Through studio courses in drawing, painting, printmaking, photography and design, students practice their art and build up their portfolios.
Technical Skills in the Use of Design Software
The visual communications degree programs at most colleges and universities introduce students to widely used design software programs.
Image Editing Software
The hottest technology for graphics and photo imaging includes software programs like Adobe Creative Cloud, Adobe Illustrator, Trimble SketchUp and SmugMug Flickr, O*NET reported.
Computer-Aided Design Programs
Coursework in the use of computer-aided design (CAD) software programs like Autodesk AutoCAD, Autodesk Revit and Bentley MicroStation can be useful for a career in visual communications, as can studies in the use of desktop publishing programs like Adobe InDesign, Microsoft Publisher and QuarkXPress.
Web Platform Development Software
Aspiring web developers should learn to use web platform development software programs like AJAX, CSS, Drupal and Oracle JavaServer Pages.
Video Production and Editing Programs
Students interested in video editing should take courses in the use of video creation and editing software programs like Adobe After Effects, Apple Final Cut Pro and WeVideo.
Commercial Art
The types of artistic content created by professionals who graduated from visual communication programs are sometimes referred to as "commercial" because they are commissioned for business purposes, most often by commercial companies.
Although you may need to be a technically skilled artist to succeed in working in graphic design, the visual communication elements you create in this field aren't made for the same reasons as art created purely for art's sake. Coursework in commercial art is often technical in nature and covers the techniques of creating a visual corporate identity and developing product and packaging designs and other types of content for commercial ventures.
Areas of Concentration in Visual Communication Degrees
Besides the core courses required of visual communication majors at most institutions, students often have some choices in the classes they take. These choices may include free electives or course options within your major. A visual communications major may also have the opportunity to pursue studies in a specific area of concentration related to visual communication design, such as visual communication management and information graphics and interactive design.
Gaining Experience as a Visual Communications Major
Throughout your coursework as a visual communications major, take advantage of ways to start gaining real-world work experience and create a portfolio. Opportunities may include completing one or more internships, working on school publications and entering design competitions.
Choosing the Top Visual Communications Degrees
There are a lot of factors to consider when choosing a school for a degree in visual communications. Look at school rankings and reputations, opportunities for gaining experience, formal tracks and elective courses offered in your particular areas of interest and a low student-to-faculty ratio, which is particularly important in your upper-level studio courses.
How to Become a Visual Communications Professional
Earning your college degree is both a big achievement and a big step toward working in visual communications, but most of your success in this career path is based on the quality of your work, as reflected in your portfolio. Keep practicing your skills and updating your portfolio to demonstrate your best work. Prospective employers and clients will likely be more impressed by your portfolio than by any formal educational credentials you could provide.
Related Articles: