Are you thinking about a degree and career in mechanical engineering? There are many reasons why mechanical engineers have high rates of job satisfaction, with almost nine in 10 mechanical engineers reporting that they would pick the same career path again. Earning a degree in mechanical engineering offers you the opportunity to design engineering solutions that help the world and fulfill your own intellectual curiosity, all while enjoying high wages and growing job prospects.
A Breadth of Academic Options
Some degree programs are so narrowly focused that it can be difficult to find an employer looking for such a small set of specialized skills. Graduates of mechanical engineering degree programs don't have this problem. Mechanical engineering, one of the oldest engineering fields, also happens to be one of the broadest and most versatile disciplines of engineering. A mechanical engineer may apply science and math principles to creating designs that involve anything that includes moving parts. A mechanical engineer's work ranges from heating and cooling systems to robots and from automotive vehicles to escalators and elevators.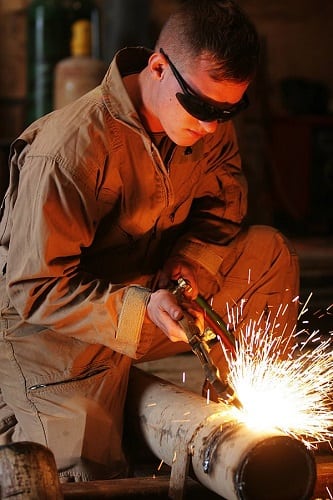 IMAGE SOURCE: Wikimedia Commons, public domain
A typical mechanical engineering program includes coursework in science and math but also in practical design. Students will take advantage of multiple ways to learn, with research opportunities, laboratory science projects, traditional classroom lectures and hands-on fieldwork. Some students choose to gain a year or more of hands-on work experience during their college studies by completing a five- or six-year cooperative program, or co-op.
Don't worry about the degree program or the career path being too broad, either. Students in mechanical engineering degree programs take core courses in fundamental mechanical engineering concepts and practices, but they may also pursue a specialization or concentration. This option allows mechanical engineering students to experience the best of both worlds and get an education that is neither too broad nor to narrow.
The concentrations students may pursue in a mechanical engineering program include applied mechanics, biomechanical systems, energy systems, automotive engineering and design and manufacturing.
Diverse Career Opportunities
 After graduating, the opportunities for mechanical engineers are just as diverse. Mechanical engineers are among the engineers employed in the largest numbers in a number of top industries. Approximately 138,100 mechanical engineers work in manufacturing, the United States Bureau of Labor Statistics (BLS) reported. The engineering services industry employs 52,700 mechanical engineers. Another 19,800 mechanical engineers work in scientific research and development.
About 22 percent of all mechanical engineers work in engineering services, according to the BLS. Another 13 percent work in machinery manufacturing, 12 percent in transportation equipment manufacturing, and seven percent in electronic product manufacturing. About seven percent of mechanical engineers find work in scientific research and development services.
Mechanical engineers split their time between offices, where they use computers to plan, design and develop engineering solutions, and worksites, where they solve problems with tools and processes and work with machinery.
High Salary Opportunities
Engineering is known as a profitable career. Mechanical engineers earn wages that are more then double the median wage across all occupations. The median salary for mechanical engineers is $85,880, according to the BLS.
The median wage for mechanical engineers is slightly below the $92,220 median salary for all engineers. However, salary potential can be a great deal higher depending on industry of employment, education, experience and other factors. Working in the machinery manufacturing industry typically offers a lower salary, with a median of $77,400. On the other hand, mechanical engineers who work in scientific research and development enjoy a median wage of $98,530.
Mechanical engineers who earn a master's degree can make nine to 13 percent more than their peers with only a bachelor's degree, the BLS reported.
Positive Job Outlook
Mechanical engineering is one of the largest engineering disciplines, second only to civil engineering. Approximately 288,800 mechanical engineers are working across the United States. Over a decade, the BLS expects that number to rise by nine percent, or 25,300 new jobs.
A mechanical engineering degree is particularly in demand in industries such as engineering services, automotive manufacturing, robotics, alternative energy and nanotechnology. Developing a background in three-dimensional printing and keeping abreast of evolving software tools used for design and simulation can further improve job prospects. Some mechanical engineers also find value in attaining voluntary professional certifications, such as Engineer in Training (EIT) and Professional Engineer (PE) credentials, as they gain work experience.
If you're not interested in attaining a state license as a Professional Engineer, you can also enhance your job prospects by seeking specific certifications from professional engineering organizations.
Related Resources: