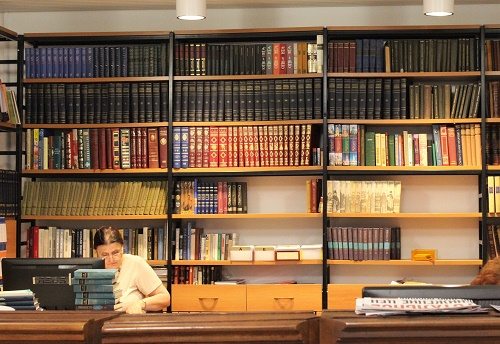 IMAGE SOURCE: Pixabay, public domain.
If you aspire to become a librarian, archivist or information specialist, then you will need a Master of Library Science (MLS) or similar graduate degree. Of course, before you can start your master's-level studies at one of the top library science graduate degrees, you will need to complete your undergraduate studies. You can pursue a master's degree in library and information science no matter what you majored in as an undergraduate student, the United States Bureau of Labor Statistics (BLS) reported. However, some undergraduate majors may do a better job of equipping you with more of the skills you will need for your future librarian training and career than others. While prospective library science students have plenty of freedom to choose an undergraduate program of study that interests them, they may want to consider degree programs that will be more relevant to their future careers.
Undergraduate Degrees in Library Science
If you're eager to get started in your library and information science studies, you should look for a college that offers bachelor's degrees in the subject. More than a dozen schools across the United States offer such programs, the American Library Association reported. These programs of study have names such as Library Science and Media, Information and Library Science, Library Informatics, Information and Library Services, Information Science, Information Studies and Education and Library Science.
Students in an undergraduate library science program take a combination of required courses and electives that begin preparing them for careers in information management and services, whether in a library setting or elsewhere. Coursework may include studies in technical services, information service, user services, information sources, media and the organization of an information center. Often, students also have the opportunity to take courses in computer science and programming, technology, management, communication and psychology as part of their undergraduate library science studies. Some undergraduate programs of study in library science are majors, while others are minors or concentrations that students pursue in conjunction with an academic major.
Alternative Majors for Aspiring Librarians
Since a relatively small number of colleges offer bachelor's degree programs of study in library and information science, many students choose different undergraduate paths. If you want to work in a specialized type of library, it might make sense to earn your undergraduate degree in the field. For example, if you want to become a corporate librarian, then you may benefit by studying business as an undergraduate student. Similarly, aspiring health science librarians or medical librarians might benefit from choosing a biology, health sciences or pre-medical major. If you want to be a government or law librarian, you might want to start your education by majoring in political science or pre-law. A history degree is a good option for aspiring archivists, while studying education might make sense for future school librarians.
Even if you're not looking for a niche librarian role, choosing an undergraduate major that's relevant to library and information science may be a smart decision. Many librarians enter the field from an English or communications background. As a general program of study that helps you develop thinking, speaking and writing skills, liberal arts is another strong option. You could also choose a major related to computer science, science knowing how to use technology to locate information is such an important part of a librarian's job duties.
While no college major will disqualify you from consideration for a Master of Library Science degree program, choosing the right academic path as an undergraduate can help you put your best foot forward.