Rehabilitation counseling is a unique field in the community and social service occupations. In this role, you would work directly with clients who have a physical, mental, emotional or developmental disability, according to the United States Bureau of Labor Statistics (BLS). Rehabilitation counselors provide counseling services that help clients adjust to a disability and its effects on life, but they also aid their clients in other ways. They are, in part, professional problem-solvers. They identify clients' strengths and ways to improve them or make the most of them, develop a treatment plan that addresses weaknesses and search for the resources and services that can help clients become more independent. If rehabilitation counseling sounds like the occupation for you, then you should choose college prep classes during high school, have realistic expectations for undergraduate studies in the field, volunteer to gain hands-on work experience with people with disabilities and expect to go to graduate school.
Choose a College Preparatory Curriculum in High School
When you decide to become a rehabilitation counselor, you're committing to many years of college studies. You should expect to spend six years – and potentially even longer – studying, unless you complete an accelerated program with an intense workload. To develop the skills you will need to succeed through several years of college, you should opt for college prep classes as a high school student. These courses are more sophisticated than the minimum classes you must take to graduate high school. The coursework helps students cultivate skills in communication, reading comprehension and critical thinking as well as learning enough introductory materials in subjects like English, science and mathematics to serve as a foundation for your college studies.
College-bound students often take advanced placement (AP) coursework in high school. Though many different AP courses are valuable for this interdisciplinary program, those that strengthen communication and critical-thinking skills are among the best.
Know What to Expect at the Undergraduate Level
You generally won't find many rehabilitation counseling degree programs at the undergraduate level. Most degrees in this major are master's degrees. Instead, undergraduate programs usually go by titles like Bachelor of Science in Rehabilitation and Disability Studies or Bachelor of Arts in Disability Studies. The missing term "counseling" makes a crucial difference. Unlike programs at the graduate level, undergraduate programs in the field don't focus on counseling theory and techniques. Instead, they emphasize the problems an individual with disabilities is likely to face along with studies in rehabilitation services, the BLS reported. Coursework in these bachelor's degree programs often includes Introduction to Rehabilitation, Assessment in Rehabilitation, Professional Communication in Rehabilitation, Independent Living Services in Rehabilitation, Rehabilitation Assistive Technology and the Medical and Psychosocial Aspects of Disability. Clinical residencies and practicum experiences are often part of the curriculum and allow students to acquire real-world experience working with individuals who are living with disabilities.
Volunteer or Work With People With Disabilities
Although you will have the opportunity to begin getting experience in the field during college, starting to work with people with disabilities even earlier can only improve your education and career prospects. Many high school students begin working or volunteering in environments like rehabilitation clinics or other community-based settings.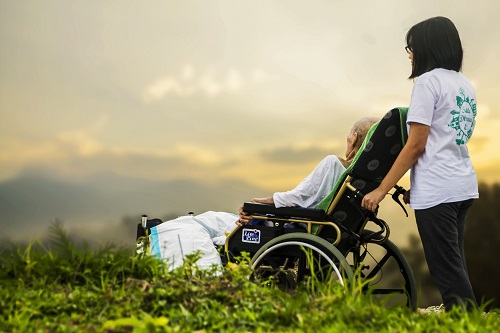 IMAGE SOURCE: Pixabay, public domain
You also may find volunteer or part-time work opportunities with local or national nonprofit organizations or with nursing and residential care facilities – some of the same settings that employ certified rehabilitation counselors. Other volunteer opportunities – especially those that help you develop patience, compassion and excellent listening and communication skills – can also be valuable.
It's not unusual for graduate schools to give preference to prospective rehabilitation counseling students who already have some work or volunteer experience working with the population of individuals with a disability.
Be Prepared to Go to Graduate School
There are few rehabilitation counseling jobs out there for candidates who have only a bachelor's degree, according to the BLS. These students lack the crucial advanced education and focus on counseling skills and techniques that their peers with a master's degree have. Earning an advanced degree gives you a much better chance of achieving your dream of becoming a rehabilitation counselor.
This requirement doesn't just necessitate a longer period of schooling. Students must be mindful of the requirements to get accepted into graduate school throughout their undergraduate coursework. You need to maintain good enough grades not only to earn your degree but also to get into a master's degree program later. You may also need to take the Graduate Record Examinations (GRE) standardized test and submit your scores to be considered for the program. Many master's degree programs look for letters of recommendation from past instructors and employers.
Another way to prepare for a rehabilitation counselor career is to choose a school that offers a five-year dual degree program in rehabilitation counseling, which will allow you to begin working toward your master's degree during your undergraduate studies.
Related Resources